We select a table-book for each room - living room, bedroom, kitchen. Tips for choosing: a table-book with drawers and shelves. The advantages of such tables. What material is better to choose? Photo gallery with vivid examples in the finished interior.
The content of the article
General information about the tables-books
Materials for the table-book
Varieties of tables-books

Simple table-book
With | boxes
With shelves
На колёсиках

Table-book in the interior

In the living room
On the kitchen
In the bedroom

Table book with your own hands
General information about the tables-books
Recently, tables-books have become increasingly popular. These are such tables, whose model provides for a drop-down construction, somewhat resembling the cover of a book. Usually such a "mechanism" is expressed by two or three panel planes, interconnected by loops. The main advantage of these models is the ability to change the size of the working area of ​​the tabletop, opening or closing the corresponding panel of the table.
When folded, it will occupy the minimum space. But when guests unexpectedly descend into your house, you can easily make a sufficient number of seats for everyone from the book table. The best solution to this issue is difficult even to imagine. In just one minute, you can change the size of the table in the version you need - by opening one side of it or both at once.
With the help of ergonomic furniture, to which the table-book belongs, you can skillfully change the living space of a small apartment. Even putting it together, as unnecessary (at the moment), you free up a place for yourself and a normal psycho-emotional state of health.
​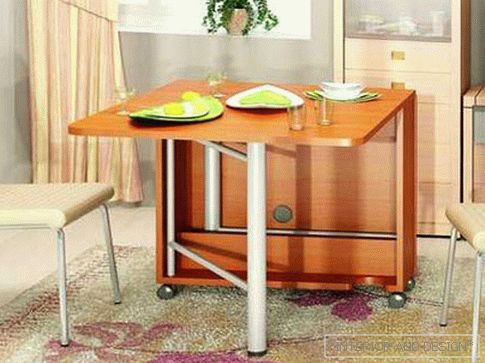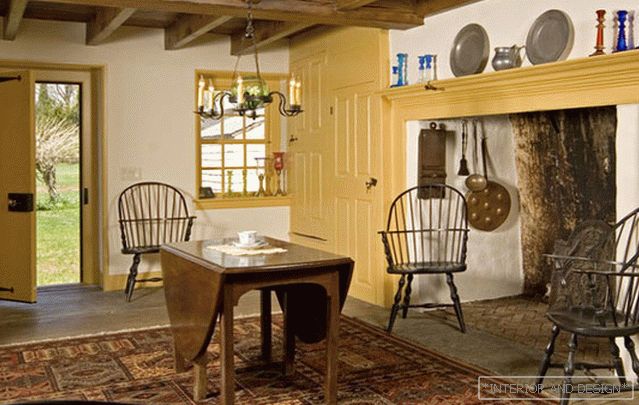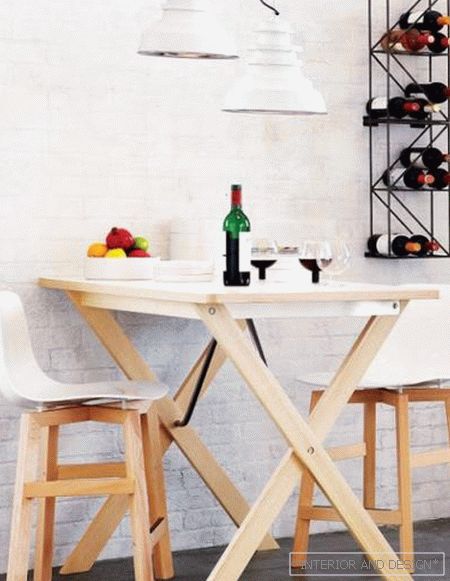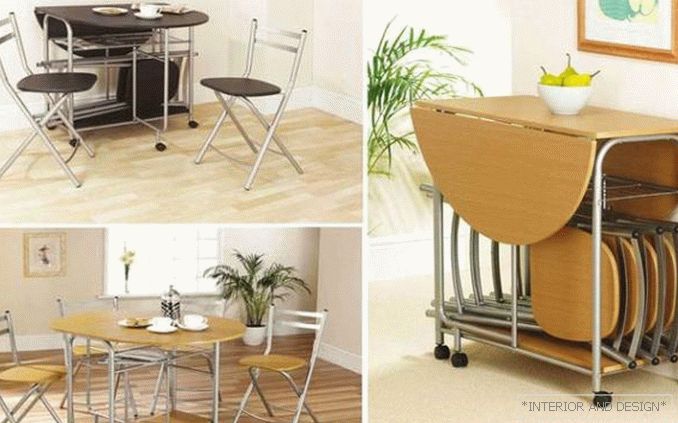 Regardless of their well-being, people try to acquire a table-book, as the most functional and beautiful folding furniture. And the more functions of this furniture - additional storage space (shelves, drawers, niche for chairs), the better. This is quite a mobile and ergonomic piece of furniture.
Let's sum up. What are the distinctive abilities of the table-book? So:
ergonomics;
functionality;
mobility;
additional storage space;
wide choice among materials from which they are made;
bright assortment of colors and accessories.
Table-book: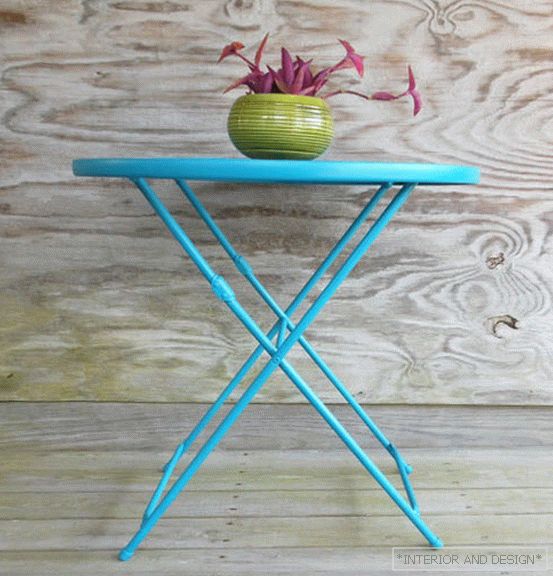 The table book made of wood particle board (DSP), has good durability. It will successfully fit into any interior and room. All thanks to a huge range of color shades, textures and variety of models.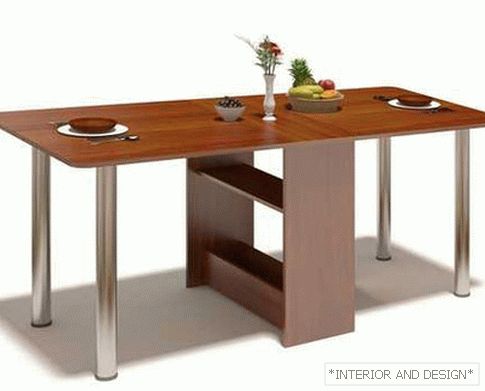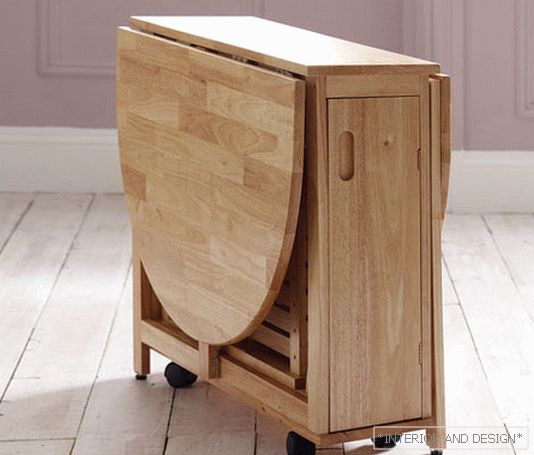 Wood is truly the most common material from which tables are made, the book-table is not an exception. For example, if you compare wood and metal, then a wooden table-book will cost several times cheaper and dozens of times - lighter in weight. In addition, wood is easy to process and you can even make such a table at home, spending a minimum of time and money. Wood is an eco-friendly material that does not emit any toxic substances. The wooden table book will ideally fit into the nursery where safety and non-toxicity are so necessary.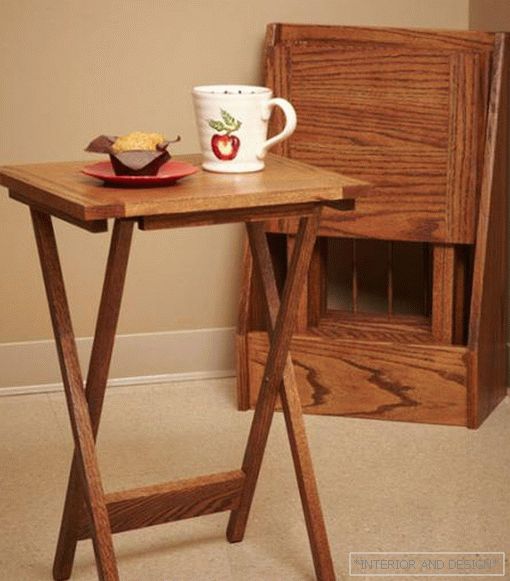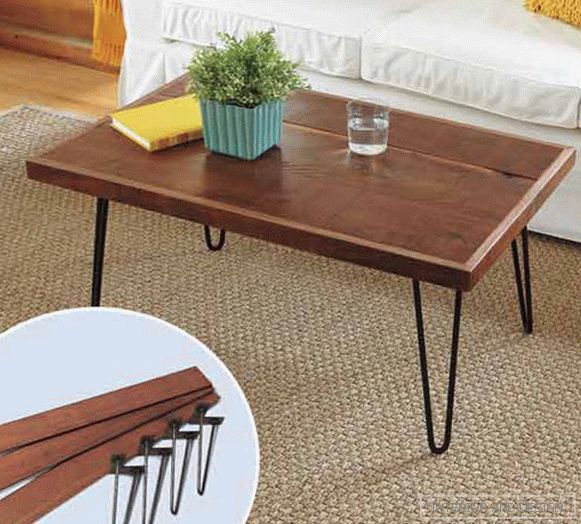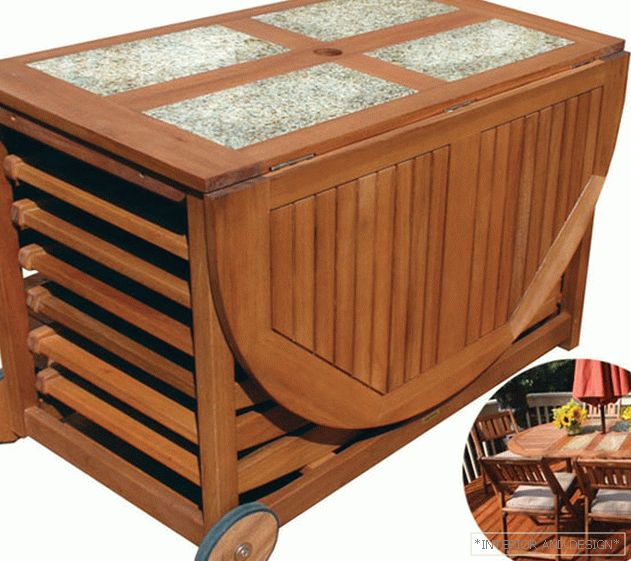 Plastic tables, books are no less durable and resistant to all sorts of mechanical damage and temperature extremes. This table will fit perfectly into the interior of your kitchen. You can buy it cheap in Ikea. If you are going to choose such a table model, then take a closer look at the tables with a transparent table top - it will be a great addition to the summer terrace at your summer cottage.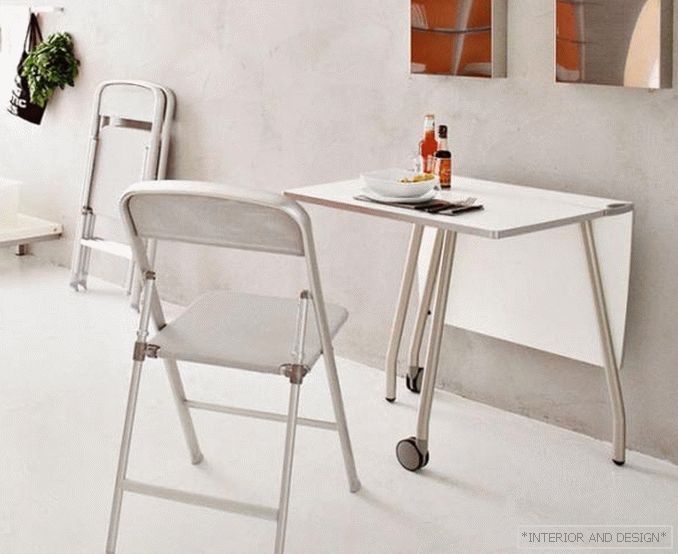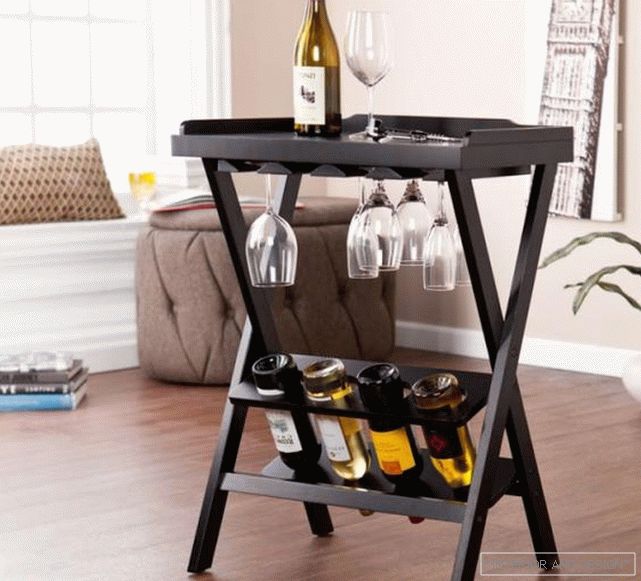 Much less often for the manufacture of tables, books use tempered glass. By weight, such tables are heavy, difficult to manufacture. The tops of them are durable, but during operation may appear chipped.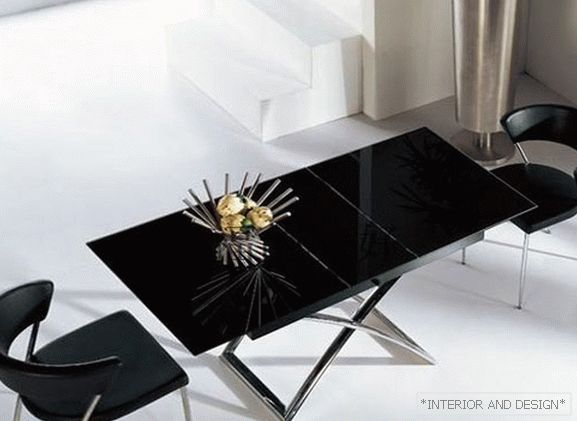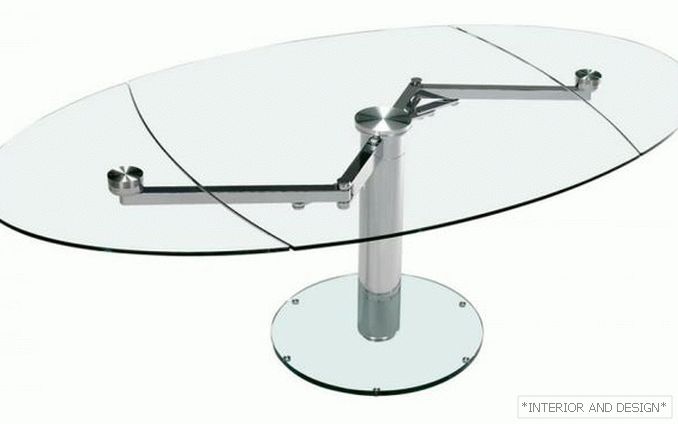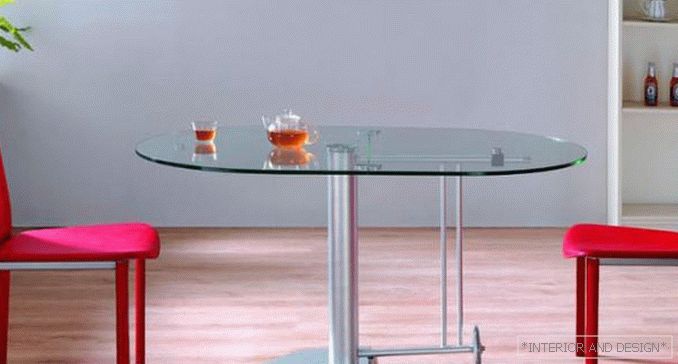 Varieties of tables-books
Go to the nearest furniture store. You see how many models of tables-books exist - from small to large, from simple coffee tables-books to various computer transforming tables. And that's not all. Among them, the most common are:
simple (primitive, without any frills and additions);
with drawers (which is very convenient for dining areas, here you can store cutlery, table-drawer);
with shelves (extra storage);
on wheels (such models are convenient to move around the room).
Prices for such models vary based on the material of manufacture, the shape of the tops (round, oval, square, rectangular) and the availability of additional functions. Let's look at each view in a little more detail.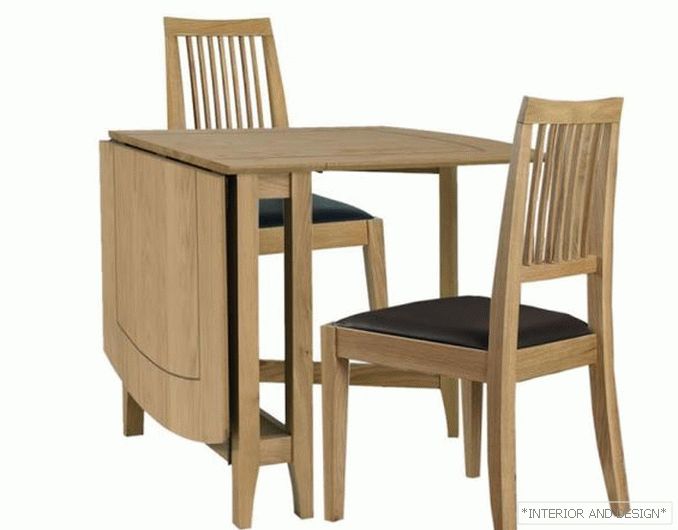 Table-book, color - hazelnut. Simple in execution, complemented by two chairs with a soft harnesses.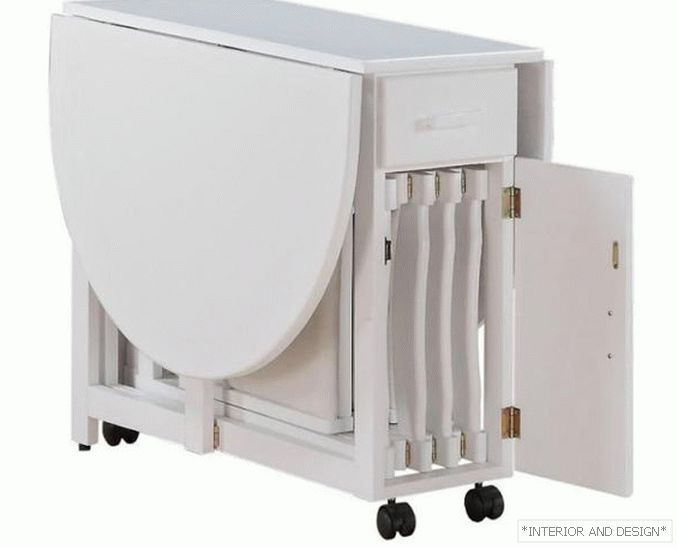 Table book, white. Several drawers are included in its design. In the niche of the table are stored chairs that come with it.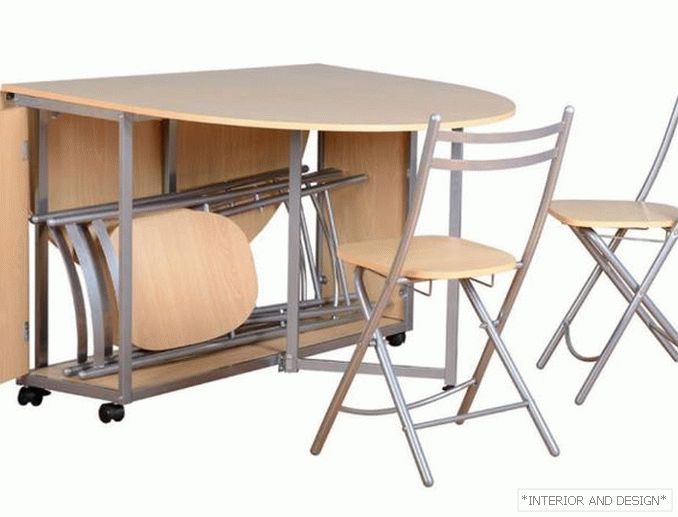 Chair book of chipboard. It has a metal frame. In the niche are stored manned chairs from the headset.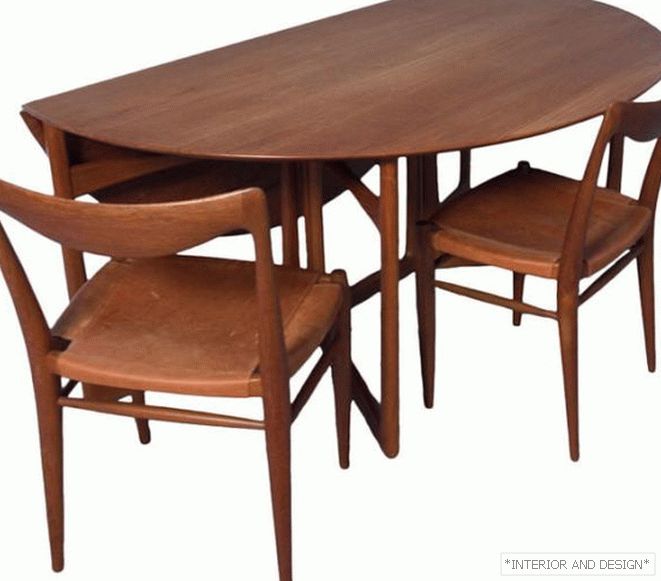 Simple table-book. The table top is round, consists of two parts. Perfectly complemented by matching chairs.
Simple table-book
This is the most primitive table that has nothing superfluous: a common surface and one or two planes on the sides, raising and lowering which you can vary the size of the tabletop at your discretion.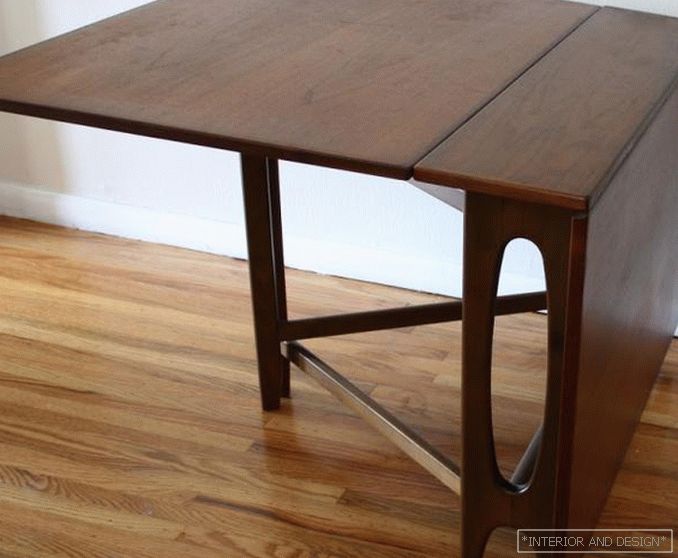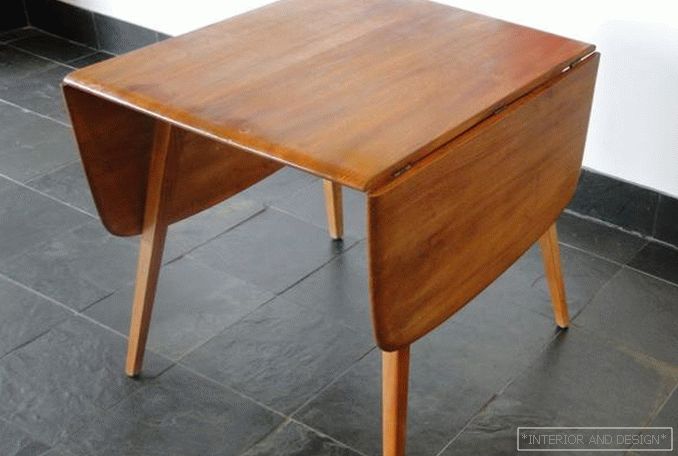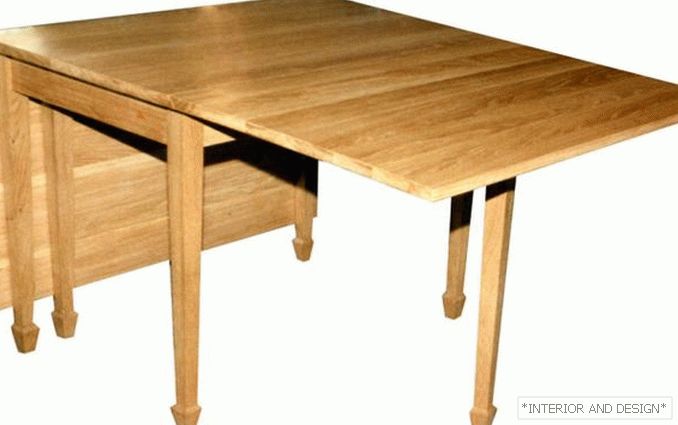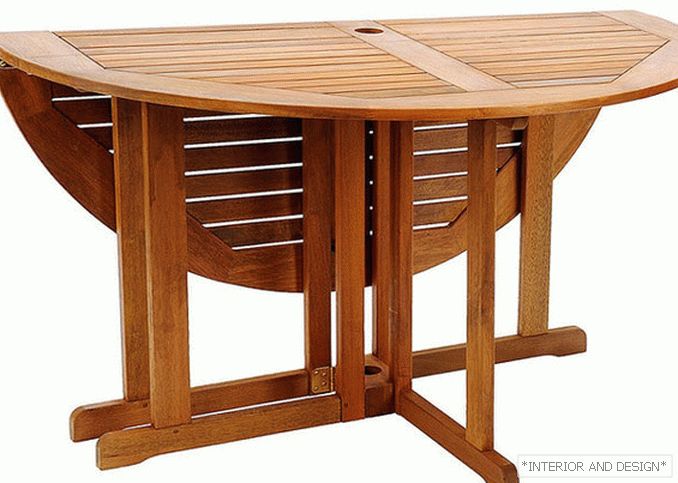 With drawers
This model already provides for the presence of drawers (from one to several) - table-thumbus. It is convenient for storing cutlery and other useful things. For example, this type of table-book will successfully fit into the needlewoman's room. Here she will be able to cut and sew, and keep everything you need at hand - spreading out your belongings in separate boxes:
threads;
needles;
beads;
scissors;
centimeter tape and much more.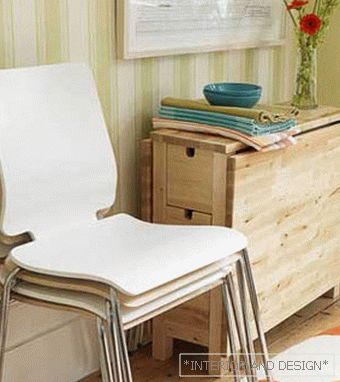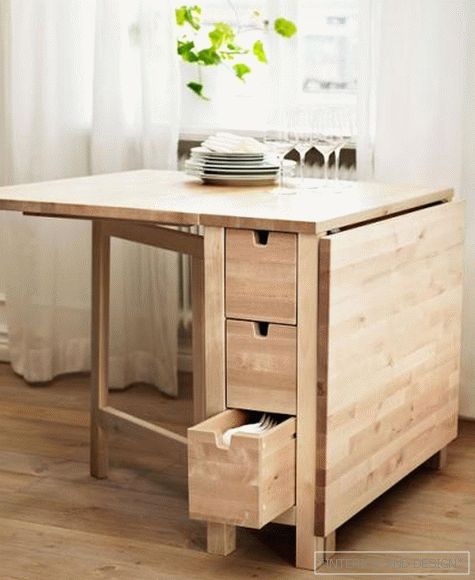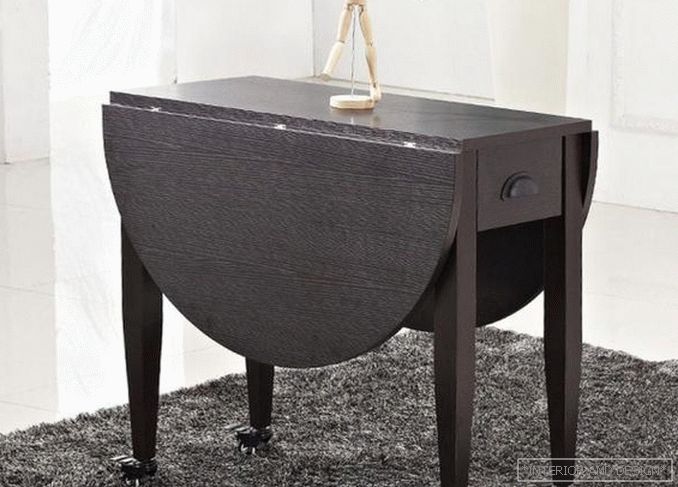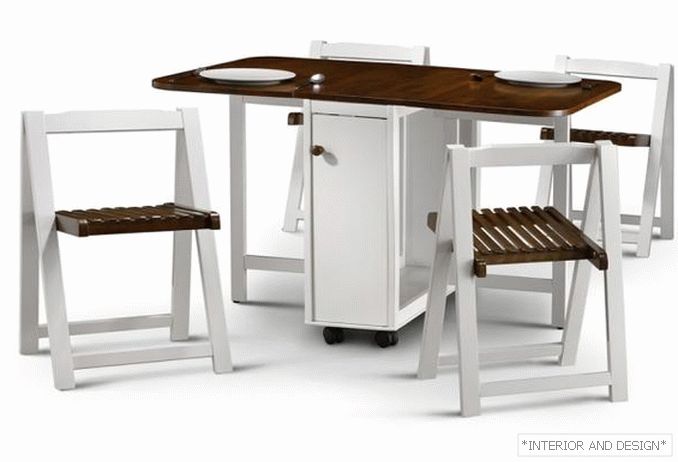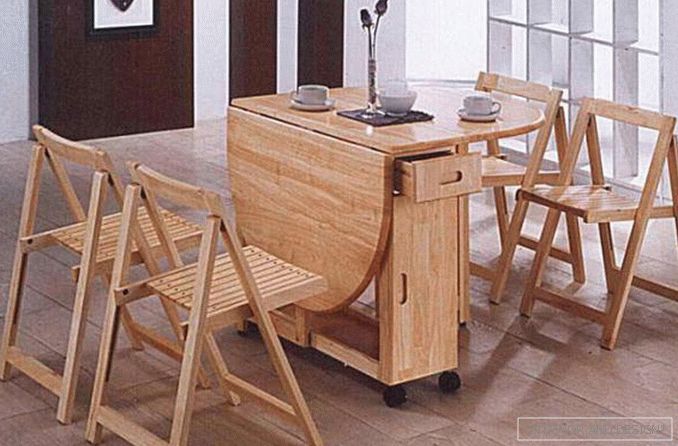 With shelves
A better solution for the living room and not to find - a coffee table-book - on its shelves inside a table niche, you can store magazines, books, newspapers. Yes, and other equally useful things (for example, chairs that come with it).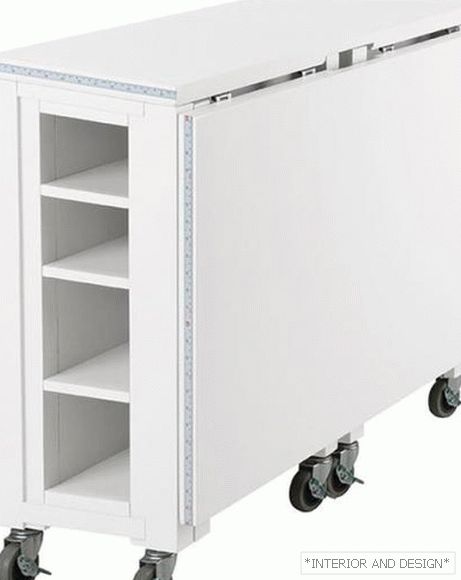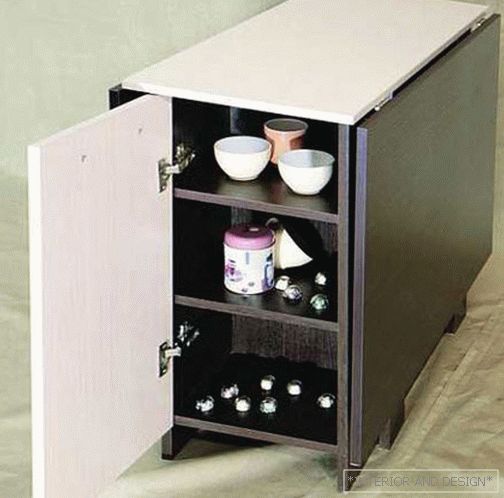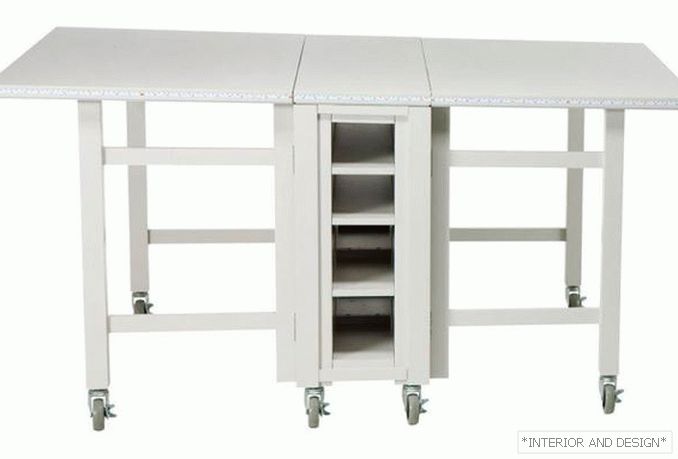 На колёсиках
Such models have excellent mobility - they are easy to move, not only inside the premises, but throughout the house.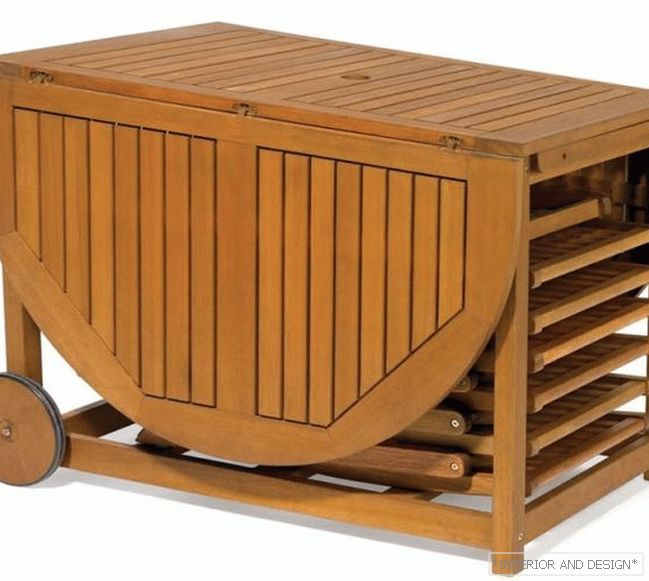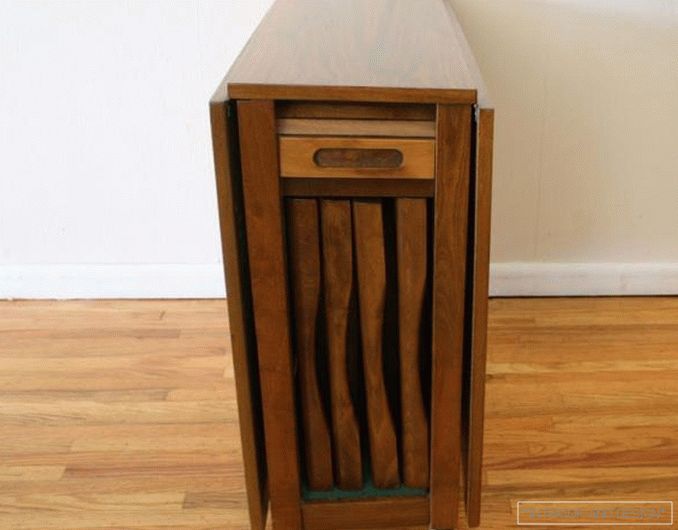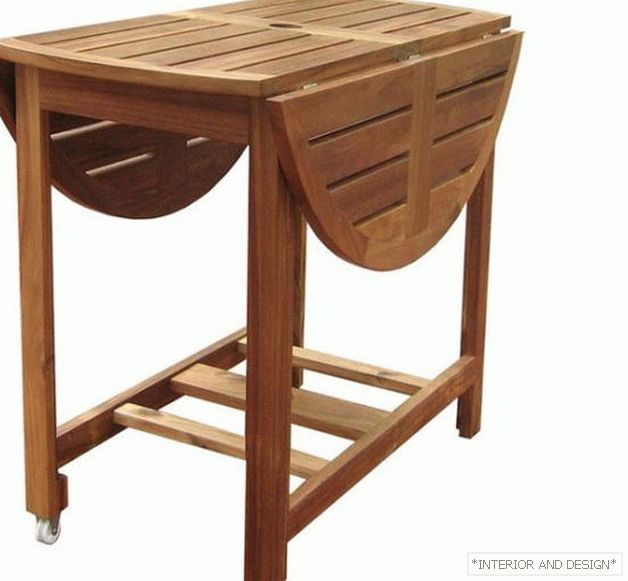 Table-book in the interior
What is a good table-book? Yes, the fact that it can be put absolutely in any room, and he will be there as a "native".
In the living room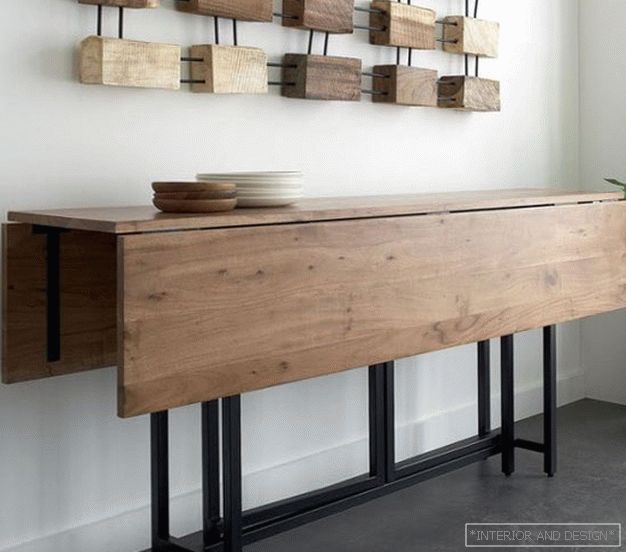 The table is perfectly matched to the decor on the wall. The metal frame makes the table more stable.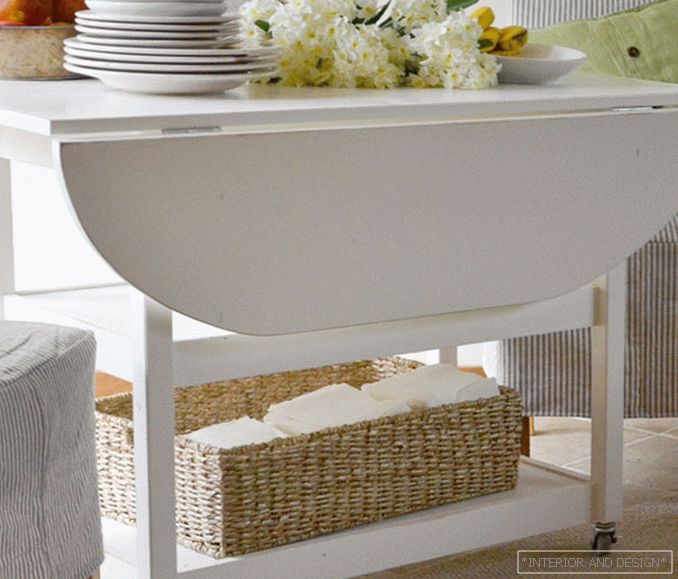 Table-book on wheels with convenient shelves.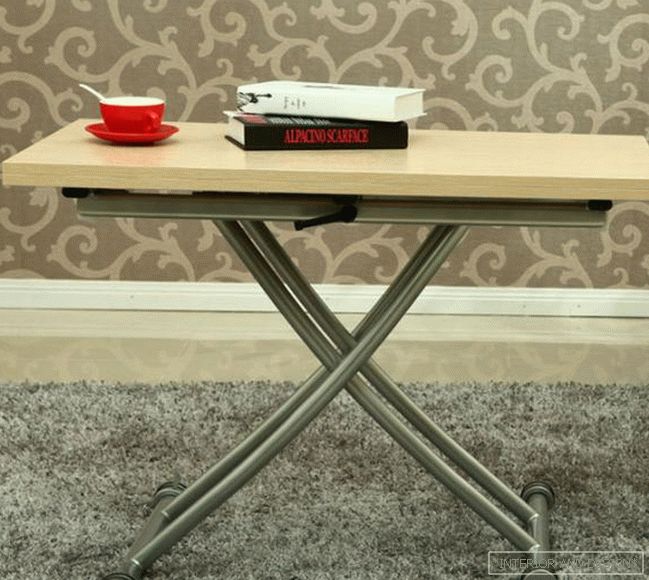 Coffee table-transformer, convenient for a small living room.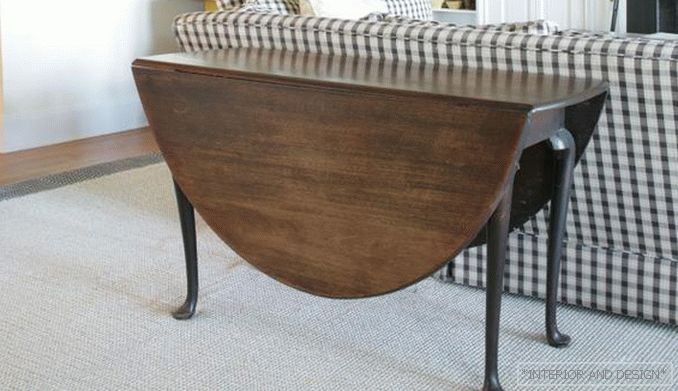 The usual table-book with graceful legs will be a great addition to any style.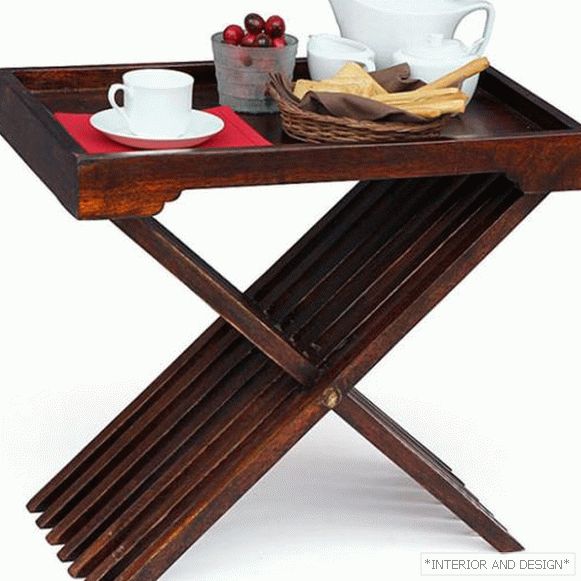 A small book-table with a table top in accordance with the type of tray fits perfectly into a small living room.
On the kitchen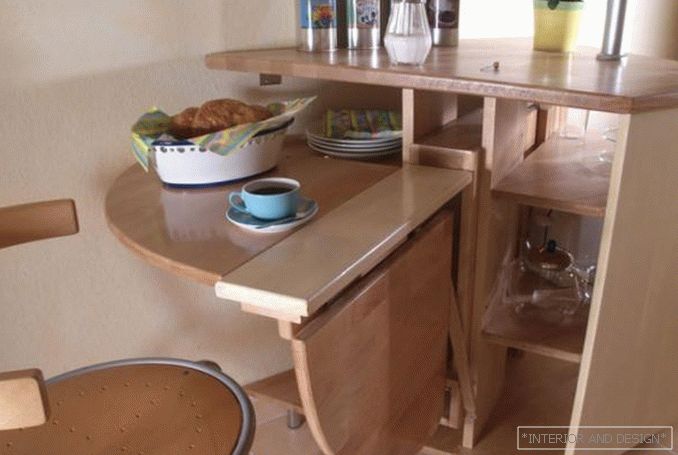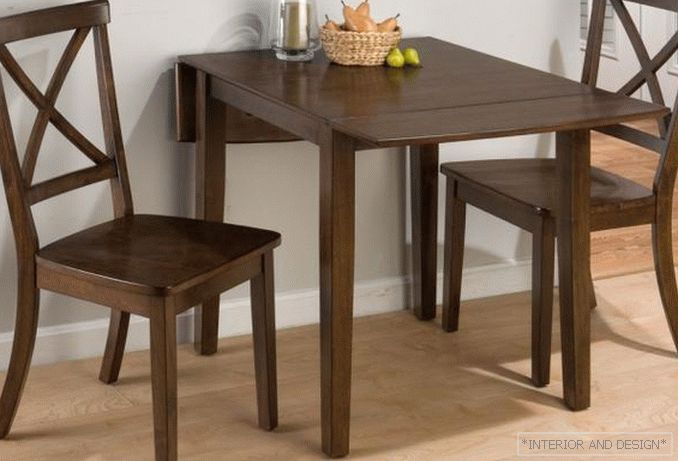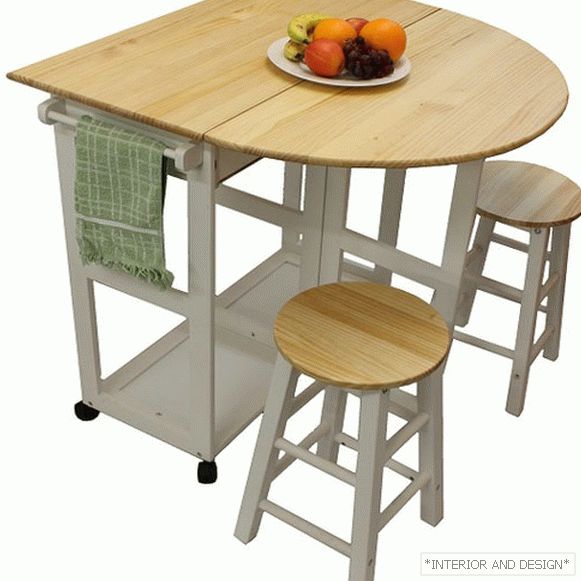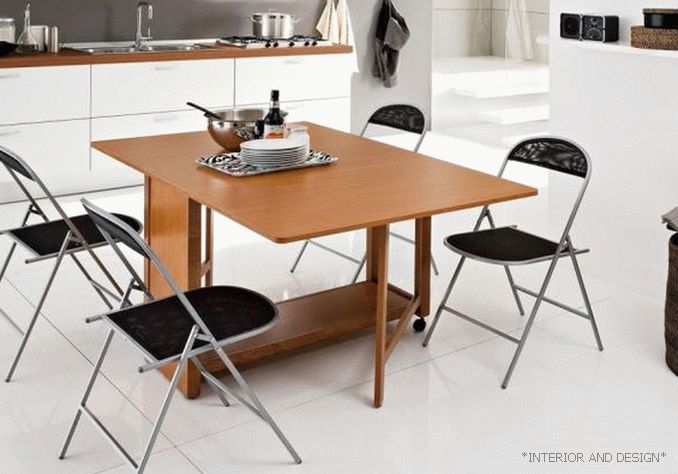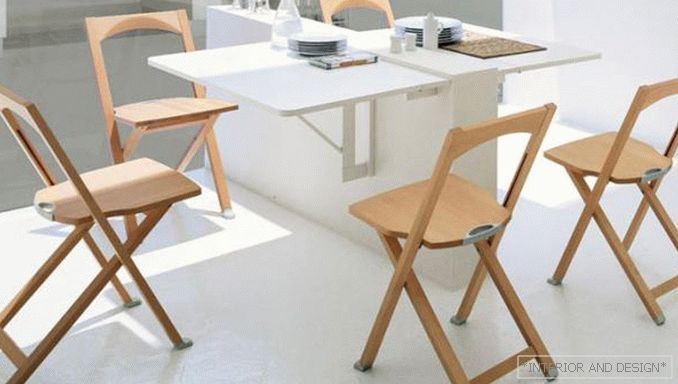 In the bedroom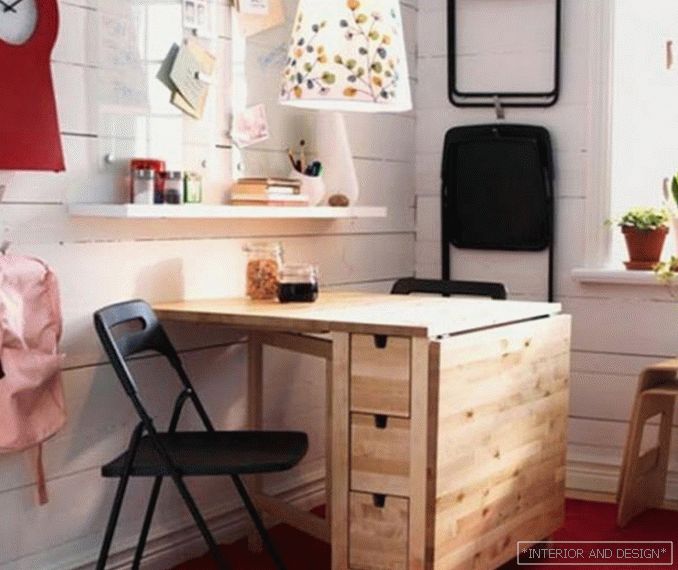 Learn how to choose curtains for the bedroom!
Table book with your own hands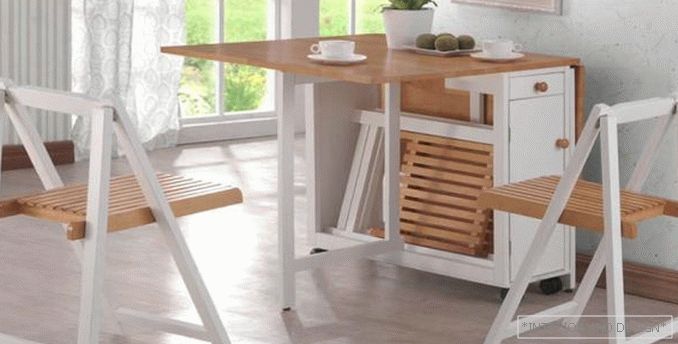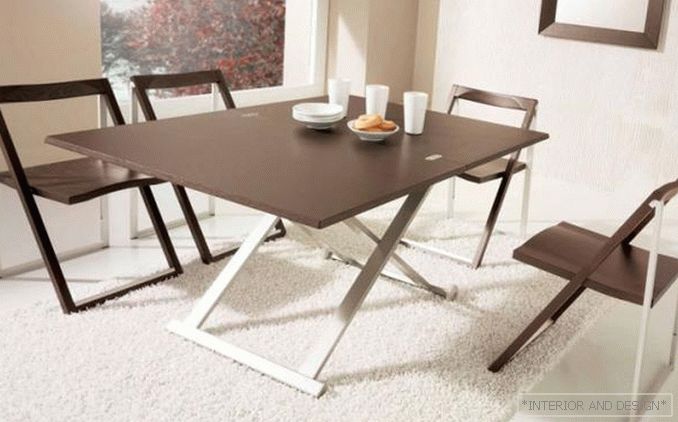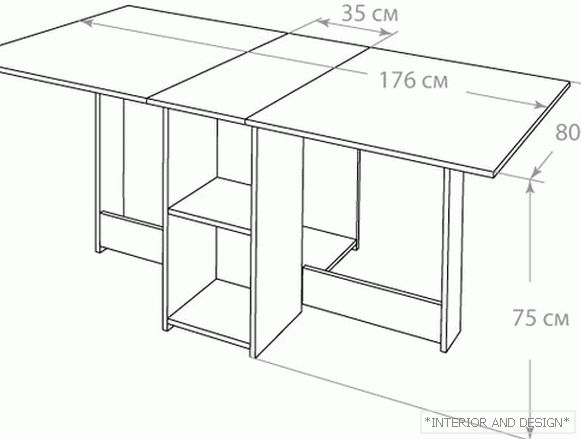 Benefits:
Disadvantages:
Advantages and disadvantages of the table-book

ideal for a small kitchen;
compact;
mobile and ergonomic (if necessary, you can remove it from your eyes to the closet or behind the couch);
may have additional storage space (drawers, shelves);
multifunctional (used not only for its intended purpose, you can put on it a TV or use it as a computer desk;
can be made to order according to your own design and size.

when unfolded it is difficult to move;
heavy weight;
due to frequent unfolding, the fastener structure of the hinges is "loose" (periodically it is necessary to tighten the screws and bolts).
Table book is one of the most convenient table models. How to make it personally we will now tell.
Materials and tools:
The process of doing the work:
How to make a table-book yourself

worktop (2 chipboards = 70.5 * 80 cm and 1 plate = 35 * 80 cm);
legs and frame of the table (table height will be 75 cm, so you need a bar = 4 * 4 cm, slats = 2 * 4 cm);
sidewalls (2 boards = 35 * 73 cm);
melamine edge (for the decoration of the ends of the table top).

melamine edge is applied at the end of the table top and ironed with a hot iron, removing the unnecessary at the edges with a sharp knife;
the box (frame base) is assembled for confirmatories (after which a special plastic cap is put on them for a decorative effect;
then loops connect the frame and the halves of the tabletop;
connect the top of the table with legs.
Original table-book with your own hands: