The new project of the Swiss studio Maison Dupin, an elegant refuge for romantics on the shores of Lake Geneva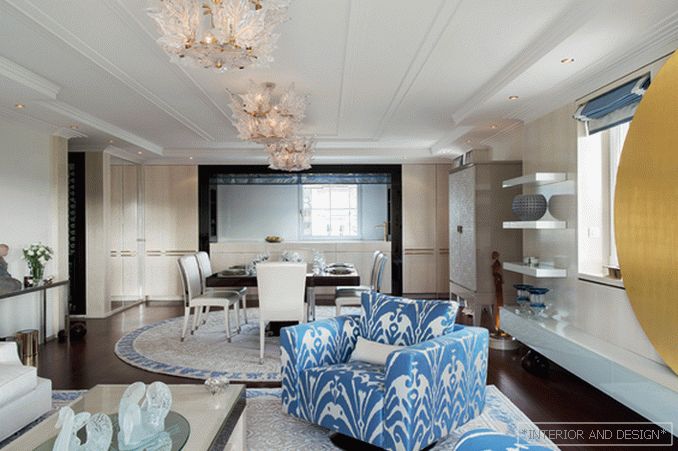 Passing the gallery
Magazine: Nha (197) 2014
The new project of the Swiss studio Maison Dupin, an elegant refuge for romantics on the shores of Lake Geneva
To say that the Luty brothers, including Pascal, Jr., designed this interior, it would not be entirely correct. This is only half the truth. Atelier MAISON DUPIN, which is led by the brothers, is engaged in everything from and to what is called turnkey. The company has not only designers, but also carpenters, mechanics, electricians. People say they are used to keeping everything under control. But the matter is not in the thirst for power, but in the sense of responsibility and hyperperfectionism. Apparently, the Swiss, the main in the world for various ultra-precise mechanisms, it is in the blood. In addition, the studio has its own handwriting: the Luty brothers love to use expensive, rare materials, in which they need both skill and many years of experience. The decoration of this interior, in particular, used gold leaf, satin crystal, tiger maple and difficult to manufacture opalescent, iridescent glass (such as in the most famous works of Rene Lalique). Designers wanted to create in all senses a light interior. It is filled with natural light thanks to large windows, which are numerous in the apartment. This effect is enhanced by reflective and shimmering surfaces of the very crystal and glass (for example, they have decorated interior partitions, and there are such mirrors made according to the designs of the studio by his own masters). "Light image" is created through the use of pastel colors. Pascal calls her pearl.
The owners of this apartment are desperate romantics, and it is these sentiments that should reflect the interior. The house where the apartment is located is located on the shores of Lake Geneva; designers say that the sunrises here are milky, and the sunsets are really flaming. Well, how can I not be noticed! And landscapes, and the interior "whisper."
Read the full text in paper or electronic version of the journal.