Co-owner of the Room Design Gallery and the architectural studio of the same name talks about gifts in Russia and abroad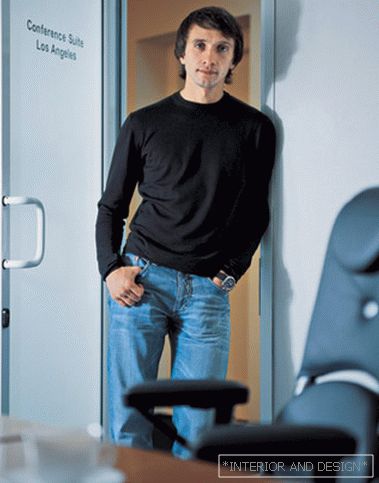 Passing the gallery
A photo: Sergey Morgunov, Ekaterina Morgunov
Interview prepared: Vasily Konov
Magazine: Gifts N3 (103) 2006
Evgeny Bakaev - co-owner of the design gallery Room and architectural studio of the same name. Holds two programs on the radio station "Silver rain" - Point of style and "Listen to football"
SALON: Which of the gifts ever received was the most desirable for you?
- When my son was three years old, he gave me a plane. Cut out of paper, painted it. This is by far the most welcome gift for me.
S: Remember what gift you made from the first paycheck?
- By tradition, from the first salary you need to make a gift to your mother. It was a long, long time ago. I was then at an unconscious age and gave her various accessories - beads, bracelets. As a child, I dreamed of giving her a car. She never wanted to drive herself, so I give my mother a car with a driver when she needs it.
S: And now?
- And now I just want to give presents, which she will be glad to. It is very important to guess the mood of the person to whom you give a gift, to guess his desire. And this is regardless of whether the mother is, or another close person, or just an acquaintance. It's nice when they get excited about your gift!
S: You are well acquainted with Italy, can you compare the situation with gifts there and in Russia?
- The difference, of course, is huge! In Italy, it is much easier to buy a gift, based on a different budget, and it will always be quite interesting. In this country, many companies that specialize in the production of small gizmos, on some design tricks. There are a lot of shops with such gifts. We also have them, but this has not yet become an industry. Gifts in Russia are of the same type, mostly some oriental things, to a lesser extent designer ones, there is no such thing as the Italians, they have chic and charm. I know little in Moscow stores where you could buy really interesting gifts. These problems are connected, in my opinion, with our remoteness from Europe, where the production of designer stuff and chips is concentrated.
S: And yet, is it possible, while in Russia, to make an original or designer gift?
- Can. You just need to dream! For example, I still think that a wonderful gift is a book! And in Moscow you can buy good books. You can give a smartly decorated book or photo album on the history of the costume. Or, for example, a book on the history of Ferrari, BMW or Mercedes is a great gift for a man. Also a good gift is the work of a famous photographer.
S: A gift can be a journey - do you agree?
- I have never had this happen, but it happened to one of my friends. She was given a trip to Amsterdam. Her friends, a man of six, put her in a limousine, blindfolded ... Before that, everything was accompanied by the abduction of a foreign passport, a Dutch visa. Her friends collected her bag ... And now she comes out blindfolded at Sheremetyevo Airport, and her friends say she is traveling with them to Amsterdam for the weekend. I think this is a terrific, great gift! But such a gift is associated with a huge amount of complexity.
S: Does brand matter when choosing a gift?
- There are brands that do interesting things. And they need to pay attention. Buying a brand for the brand is not worth it. In the interior world there are many companies that do good design things. These things can be wonderful gifts!
S: Well, suppose you can give a sofa?
- Of course! And a sofa, and a chair, and ottoman. This is a gift that will take a worthy place in a man's house ... But an unconditional hit among gifts is such a folding crocodile thing (from SAWAYA & MORONI), which is placed on the seat of the chair in the stadium, so as not to freeze. So, when you give a gift to a wealthy person who already has everything in this life, you can tell him how he will leave the house, go to the stadium with this thing in a beautiful box, how he will come to the VIP box and there in the presence of the people will open the box, pull out this crocodile skin work of art and put it on the chair, and it will be warm, and everyone around will envy him! This is a fantastic gift in my opinion! Sign such a gift! Of course, a gift can be quite stupid, but if it is accompanied by some interesting and beautiful story, then why not? There is still such a company - FLOSwhich produces chandeliers, lamps ... In short, the light. So they have a great flashlight from designer Mark Newson (Mark Newson). The flashlight is gorgeous, aluminum, very designer, in a plastic orange case. I think every person will be happy to receive it as a gift.
S: Have you already started preparing gifts for future holidays?
- I generally prepare gifts in advance. I use a lot of what I bring to Moscow, and in the gallery Room many different gifts. I love to give handmade dolls, which makes Oksana Yarmolnik. These are great things, and you can always order a doll directly for some person. I remember that on the birthday of a partner who has a colorful appearance (he has very short hair and he goes in for sports), I ordered a giant doll that looked exactly like it. It was a very funny gift!
S: What would you like to receive as a gift?
- I am glad to any gift if a person puts his soul into it and thinks that I would be interested. It is always nice to receive gifts, but the pleasure of having someone rejoice at your gift is incomparable.