Recipe from the brand-chef grocery store "Globus Gourmet"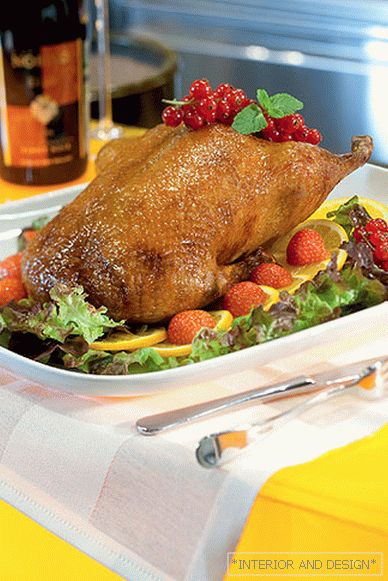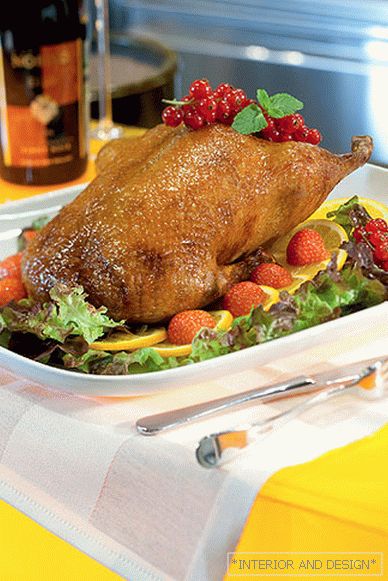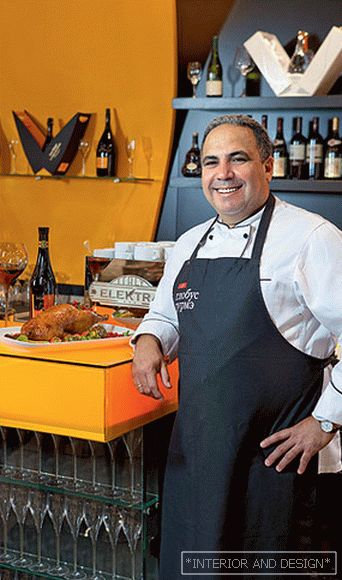 Passing the gallery
A photo: Sergey Morgunov
Text: Julia Sakharova
Magazine: Decor N1 (145) 2010
Christmas duck with apples is a classic. But to make it especially tasty, add mango and oranges to apple stuffing. There are other subtleties
Jorge Sevilla, brand chef of Globus Gourmet grocery stores, says: "Peel the fruit, remove the center of apples and the bones of mango and orange. Cut the fruit into cubes, mix and let it brew for about an hour. Rub the duck with salt and pepper, stuff with fruit, sew with a nylon thread. Scald the duck with hot oil (to make the skin elastic) and bake in the oven for two hours: the first half hour - at a temperature of 200 degrees, then - at 120 degrees. Grinding, periodically we grease the duck with caramel, then the crust turns out to be especially appetizing. "
Duck
Mango - 50 g
Peeled apples - 125 g
Peeled oranges - 100 g
Salt - 20 g
Ground white pepper - 1g

For caramel:

Fresh Orange Juice - 0.5 L
Sugar - 0.5 kg
Honey - 100 g
 
For a duck we recommend red dry wine Nobilo Icon Pinot Noir (New Zealand). This wine has a rich ruby ​​color with an intense aroma and distinct tones of spices, ripe plums and cherries.
We thank the Globus Gourmet grocery store in the Seasons Gallery for assistance in shooting