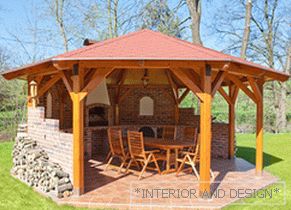 The cottage provides an excellent opportunity to provide yourself with vegetables and fruits for the autumn-winter period. In addition, at the cottage you can have a good vacation or weekend, relaxing in the shade of the garden or having fun behind a barbecue in the company of friends. And so that this fascinating event (meaning kebab) was not spoiled by the sudden rain, the best option would be to build a gazebo with a barbecue in your villa.
This construction will be not only functional, but, with the right approach, will effectively fit into the landscape of the summer cottage and become its decorative highlight.
And it is absolutely not necessary that the construction of a gazebo with barbecue will require large financial costs. Having carefully studied the models offered in a large number on the market, you can choose for yourself reasonably economical option or build a gazebo with a portable or stationary barbecue in their own country house.
Content
1 Features of summer houses with barbecue
2 Varieties of arbors with barbecue
3 Materials for gazebos
4 Covered recreation area with a barbecue
5 Wooden arbor с мангалом своими руками
Features of summer houses with barbecue
Garden arbors with a brazier have a number of features distinguishing these structures from similar arbors, but without brazier:
The area of ​​the gazebo with barbecue is always larger than that of its counterpart, but without the barbecue. This is due to considerations. safety and convenience. In the design it is assumed that in the gazebo will not only cook, barbecue, but also relax. The size of the gazebo should be one thing. another did not interfere. Usually, as a rule, rather large companies are going to the kebabs.
For any brazier, be it portable metal, or stationary brick, will require hood organization or chimney.
According to the prescription of sanitary norms arbor with barbecue must be removed from the walls of the house and from the trees not less than 5 meters.
Even the most economical option gazebos with barbecue cost in a serious amount. The price of such facilities varies greatly depending on the size, materials, barbecue (metal or stone). When contacting companies that offer services for the construction of garden arbors with barbecues, the construction of a standard design will be somewhat cheaper than an exclusive model. Still, the issue price will be several tens of thousands of rubles. Construction of a stone barbecue with a corner or wall will cost as much as the gazebo itself.
Much cheaper and more economical will build a gazebo with barbecue itself.
Varieties of arbors with barbecue
Appearance of structures, dimensions, design entirely depend from the wishes of the owner, his financial capabilities and skills in construction. And, nevertheless, all arbors can be classified:
by type of building construction;
on the materials of which they are made;
by the look of the barbecue itself.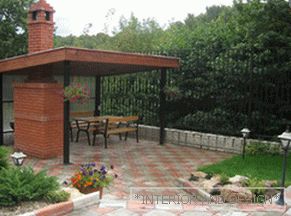 By construction arbors with barbecue can be open or closed type
In open barbecue facilities, usually from the windy side protective wall is being built or angle. The brazier in such an arbor can be both portable and stationary, made of stone or brick. In the second case, the price of the structure will be significantly higher than in the first. Portable grill can be fold and move anywhere. You can install it in any arbor and reinforced foundation will not be required.
Arbors closed type represent glazed constructions large enough in which you can relax in comfort and in winter. The brazier in such constructions serves not only for cooking, but also for heating. Garden gardens are more suitable for such large summer houses. large area. This arbor serves as a kitchen, a dining room, and a recreation area. It is preferable to equip such a construction with a large stationary brazier, for the construction of which you will need reinforced foundation.
Materials for gazebos
The list of materials from which gazebos with barbecues can be built is quite wide. For construction use: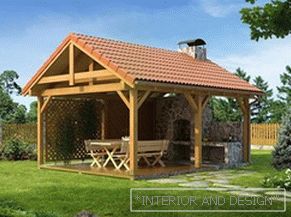 The wooden arbor will be the most economical option garden design to give. The construction of wood is less demanding to strengthen the foundation. For security reasons, the wood from which the arbor will be built, without fail impregnated with antipyrine. Refractory materials sewn up working area over the barbecue. In addition, wood is a versatile material that fits easily in any landscape design. Currently, wooden gazebos are the most widely sought after buyers.
Brick gazebos can rightly be attributed to capital buildings. For their construction you need a reinforced foundation - tape or monolithic. On the construction of such an arbor will take a lot time and effort but also the life of this design is as long as possible.
For metal gazebos you can use regular profile, which by means of the welding machine weld in a metal construction of an arbor. If you have no special skills for working with metal, you can purchase ready-made forged structure although it will cost quite not cheap.
Braziers, which are arranged in garden pavilions, can be stationary or portable. For stationary brazier made of brick or stone, as mentioned earlier, will require a reinforced base. Together with such a brazier a number of additional elements are often built:
a table with a table top for work;
a niche for firewood;
under the table top shelves for dishes etc.
The design will come out big enough, but it will look solid and will last for many years.
The portable brazier, as a rule, is made of metal, has a folding design and can move from place to place not only in the gazebo, but also on the garden plot. This version of the barbecue is more economical and affordable. a wide range of consumers. If at the dacha no one lives constantly and people visit the garden plot not so often, then a portable brazier that can be folded and completely hidden in the house is the best solution for lovers of kebabs in the country.
Covered recreation area with barbecue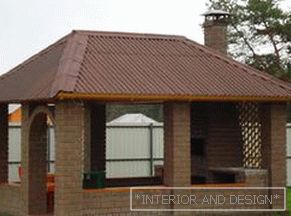 Before you start building a gazebo at your summer cottage, you must sensibly evaluate several important points.
The demand for this garden object. If life in the country is in full swing throughout the year, various events and meetings are often organized "under the kebab", it may be worthwhile capital construction with a large stationary brick grill and with a decent size, where will plenty of room for everyone and for everything: for rest and for cooking. It will not be cheap, but it will serve to serve faithfully for many years.
Barbecue gazebo should not be constructed break the overall design the entire plot and dissonate with other facilities located at the cottage. Otherwise, even the most versatile and comfortable the brazier will not relieve guests of the feeling of alienness built gazebos.
With sufficiently large financial opportunities, you can open up the imagination for the flight of fantasy. However, in the absence of large capital is better to choose common building with barbecue and think in detail about the recreation area around the facility.
When all the important points are thought out and the desired gazebo option is selected, you can proceed to construction work. Everything construction stages can be seen on the example of the construction of a wooden gazebo on a columnar foundation.
Wooden arbor с мангалом своими руками
Marking the site under the arbor. For a small wooden gazebo a lot of space is not needed. However, it is supposed to use the brazier, therefore it is better to try to arrange the arbor so that smoke did not go into the house.
Foundation device. For a wooden arbor, it is best to prefer a columnar foundation, as most economical for light structures. Such a foundation is constructed from wooden timber and fastened with screws. If it is planned to build a stationary brick grill, then for it it is necessary to pour reinforced base separately.
The next step is floor device. In a wooden arbor, as a rule, the floor is made of wood, and linoleum can be laid on the draft wooden floor. In general, there are options. If the gazebo is open type, it is necessary to provide slight slope floor for draining rainwater.
Next to the floor remove the walls. Particular attention should be paid to the construction of supporting structures in the corners of the structure, since these elements will subsequently have to hold the roof. The walls are built at the discretion of the owners - they can be dense, trellised, made of wooden balusters, using forged elements, etc. In parallel with the construction of walls is construction of barbecue (if it is stationary and is built of brick or stone).
Roof most often ridge or single slope (tilt not less than 5−10˚). As a material for the roof, you can use ondulin, polycarbonate, corrugated board, metal tile. The main thing is to design it strong enough so that in the winter it does not push the snow.
All wooden elements of the building cover with protective compounds and use exterior varnish as a topcoat. On this construction of a recreation area with a brazier can be considered complete.
A gazebo with barbecue - light portable or heavy stationary - will allow the owners have a great time without fear of scorching sun, snow or rain, in the pleasant company of friends and neighbors, enjoying a fragrant kebab.