Very often there is a need to combine in the interior not only an aesthetic look, but also functionality. The photo below shows the brightest examples of how a corner computer desk with a superstructure and cabinets can be not only an ergonomic workplace, but a stylish design solution.
The content of the article
Overall
What types are there?

Corner table with diagonal placement
Corner table with diagonal-perpendicular placement

What are they made of?
What are they?

Table with superstructure
Table with cabinets
Desk with drawers
Table with cabinet

Do it yourself
Overall
It is difficult to overestimate the role of the corner computer tables in the life of modern man! Convenient, beautiful, functional - this is only a short list of what distinguishes the owners of this wonderful invention of the furniture industry. This kind of tables fits perfectly both in the interior of the room for the student, and in the ultra-modern business center.
Corner desktop has the following advantages:
Increased working space. It is hard to imagine a modern writing desk without a personal computer or laptop. And most often, a set of various gadgets is still bundled with a PC: printers, scanners, multifunction devices, webcams, audio systems, etc. But due to the fact that the computer on the desktop is placed in the corner (as if in a niche), the table is not littered and the working surface remains as free as possible.
Minimum damage to eyesight. Due to the design of the table, while working at the computer, the distance between the eyes and the monitor is larger and safer than at a regular table.
The effect of visual expansion of space.
The feeling of their own security. Thanks to the "enveloping" design, working at the table is amazingly easy and natural.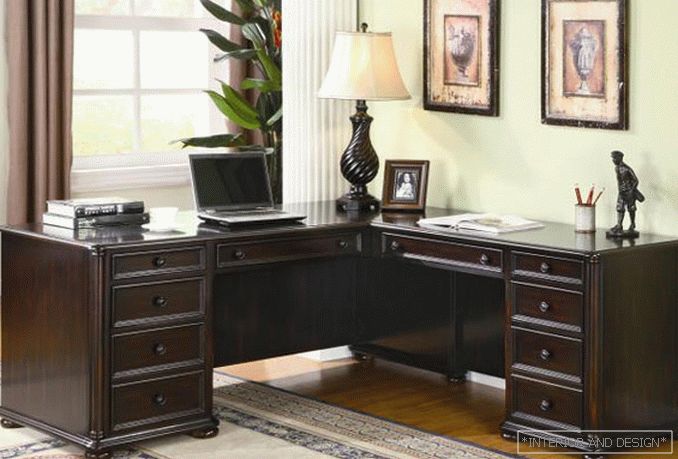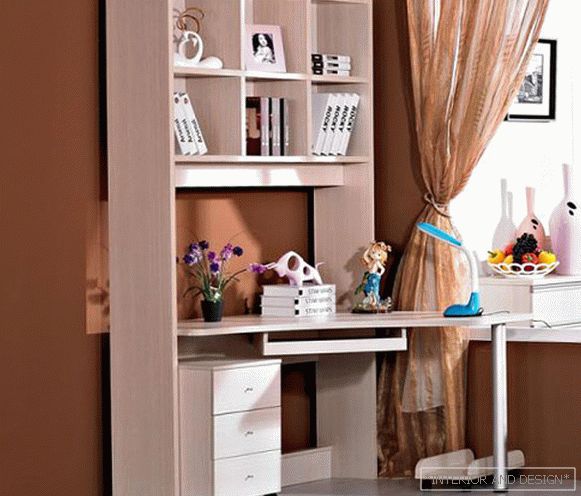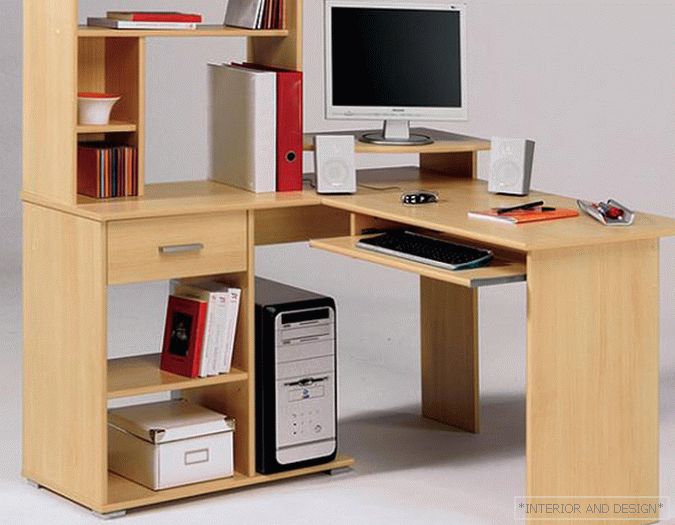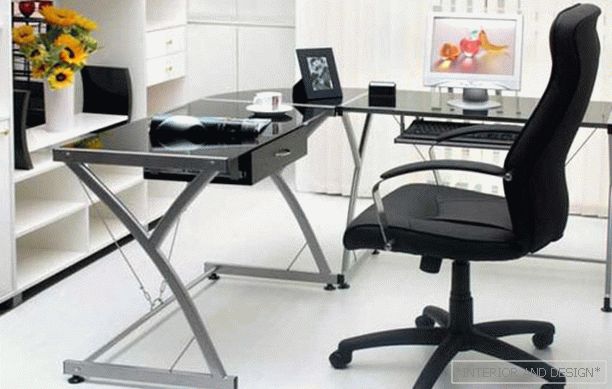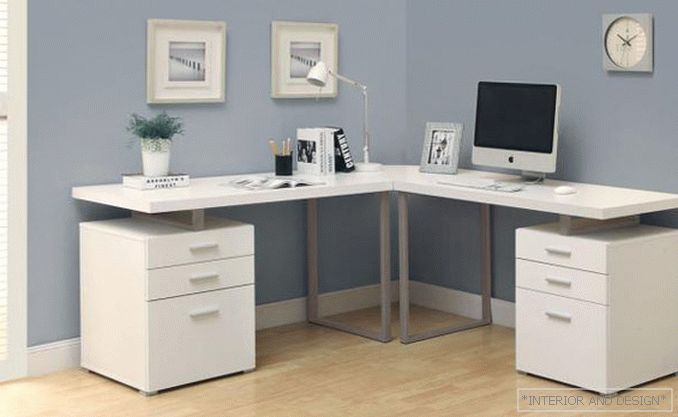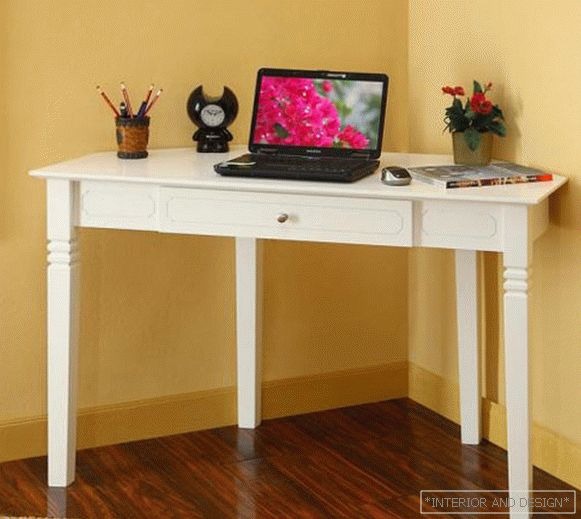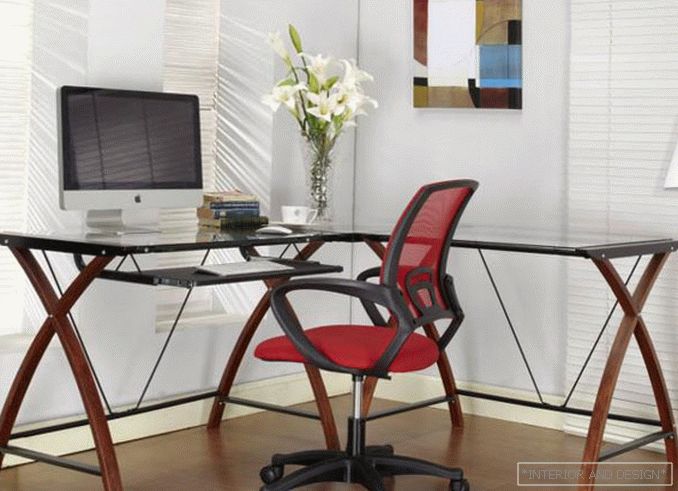 What types are there?
Despite all kinds of corner tables, all of them are based on only two types of user placement: diagonal and perpendicular. What is the difference - not difficult to guess. In the first case, the seated person faces the corner of the room, and in the second - to the wall. Based on this, there are two types of designs of corner tables:
diagonal;
diagonally perpendicular.
Below we consider each of the species.
Corner table with diagonal placement
This table is very compact. Thanks to its design, it is possible to organize a working corner even in the smallest room, because to make space specifically along the wall - there is no need, it suffices to confine to a square meter per meter in the corner. However, the functionality of such a table is very scarce: due to the size and limited space, manufacturers rarely make such tables with drawers or bedside tables (otherwise they simply cannot be opened). In addition, if such a table is installed near a window (which is recommended when designing a student's room), then the upper superstructures of such a table should be small and should not exceed the distance from the angle to the window opening. This is necessary in order not to create barriers to the penetration of natural light into the room.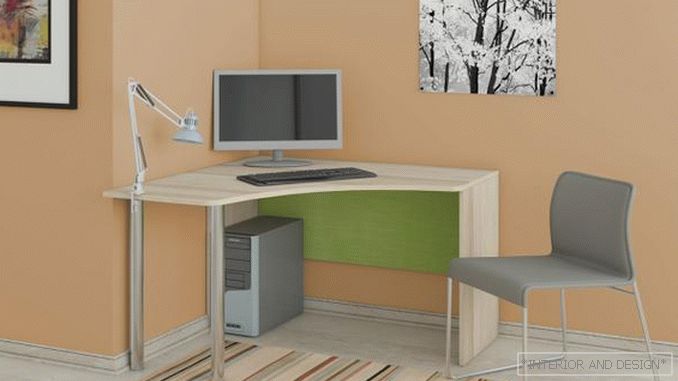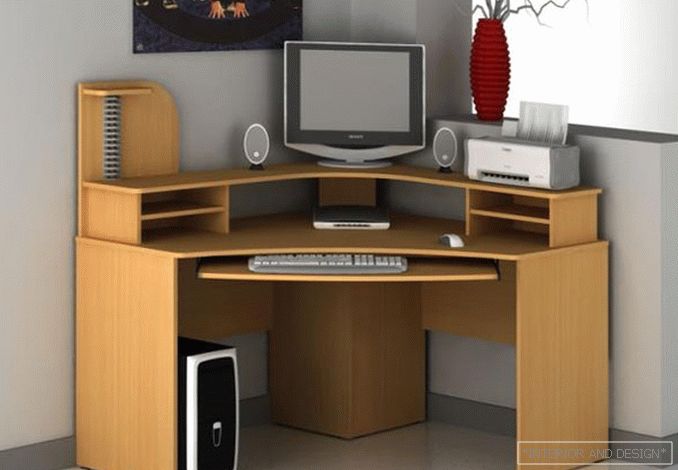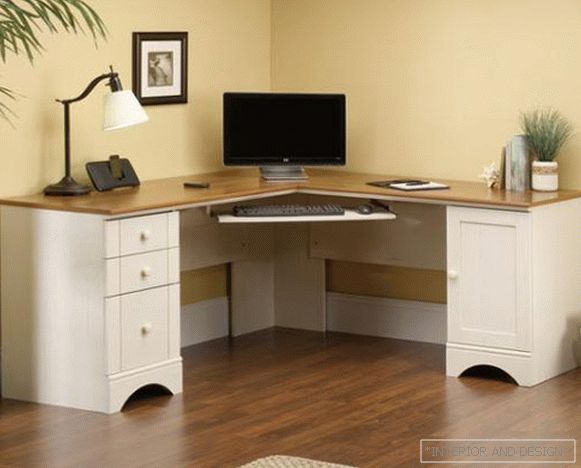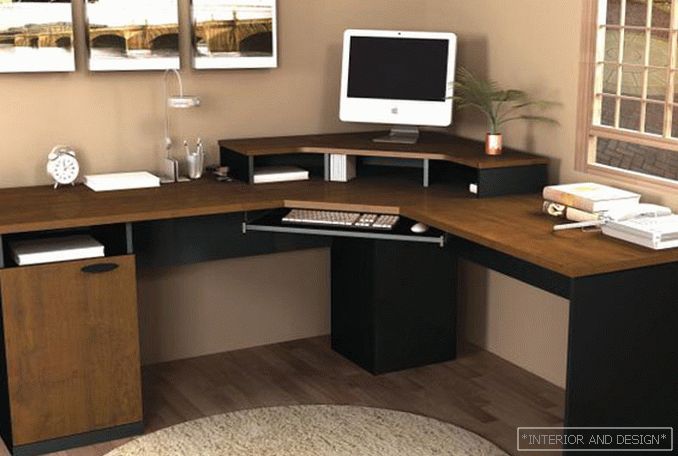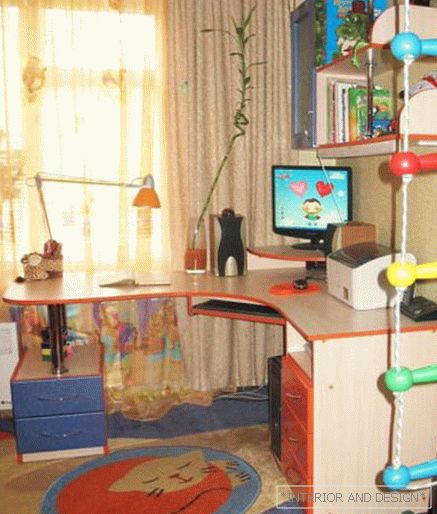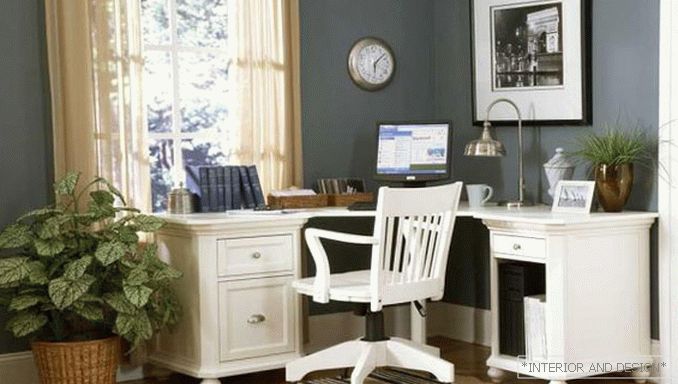 Corner table with diagonal-perpendicular placement
Unlike its predecessor, this table takes up a little more space, however, even in comparison with a regular desk, it is incredibly functional and ergonomic. On the one hand, a corner niche for a computer or laptop leaves a lot of space for work, on the other hand, the design allows you to place a whole lot of drawers, bollards, shelves, extensions, etc. Modern manufacturers, such as Ikea, offer the most unexpected solutions for the organization of the working space. If necessary, you can make a computer desk not only with shelves, but even combine with a rack.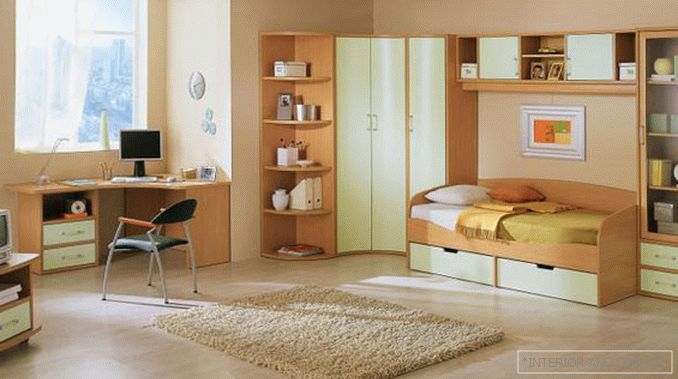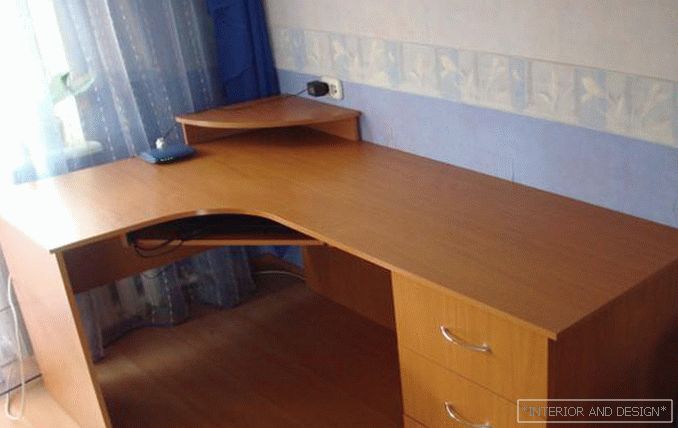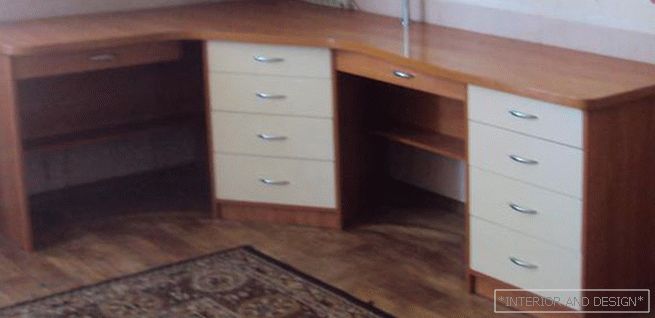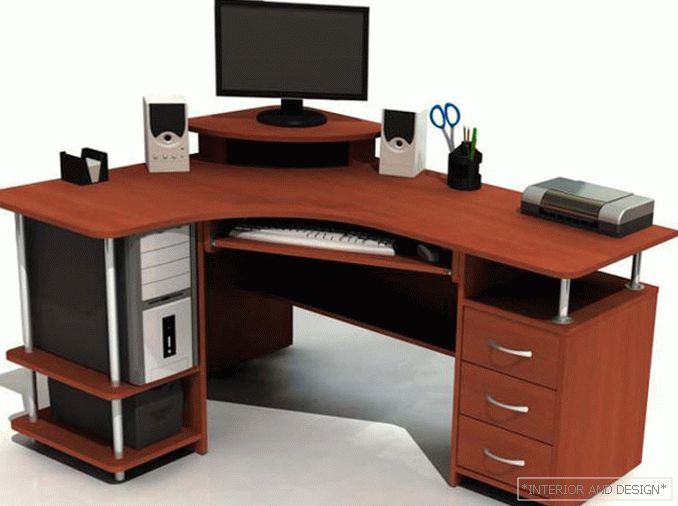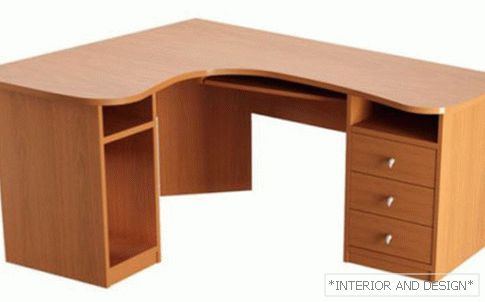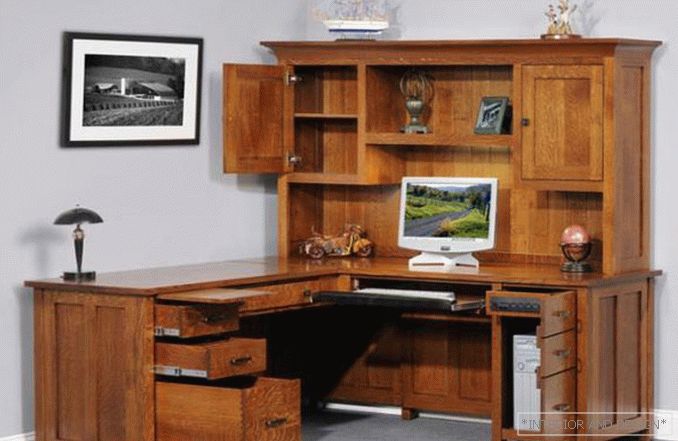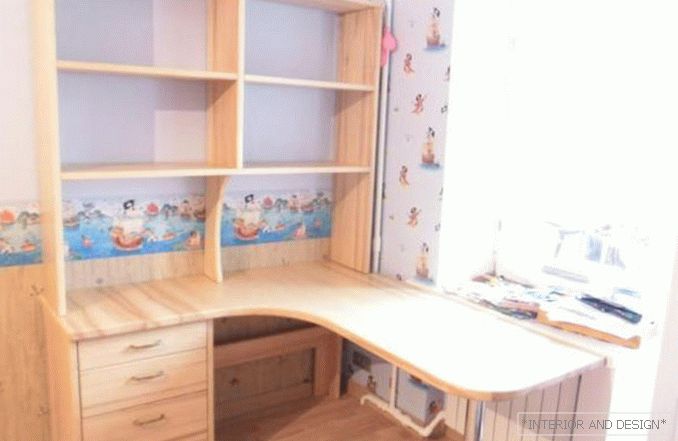 What are they made of?
The most common materials for the production of functional interior items (not only the corner tables, but in general - modular and cabinet furniture) today are:
What to choose?
MDF / DSP
The most budget and practical option. A modern chipboard or MDF finish looks no worse than natural wood, but it is several times cheaper.
Pay attention to the quality of sticking edge! If it is glued crookedly, at the joints it diverges or is bulging, then it is likely that the furniture will lose its appearance already within a few months.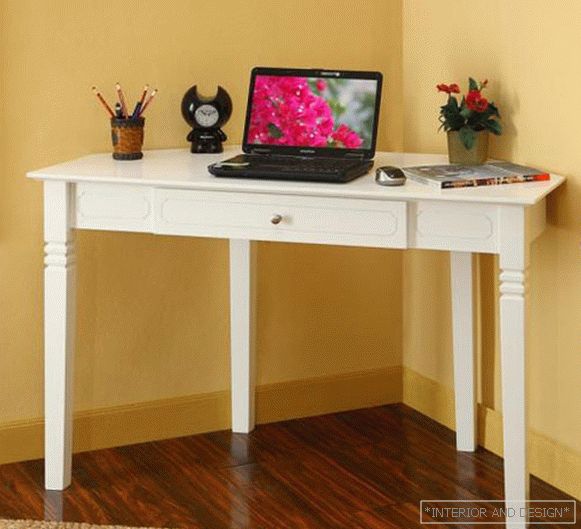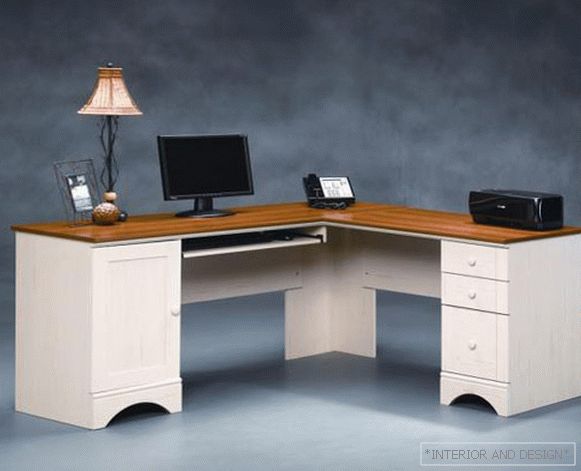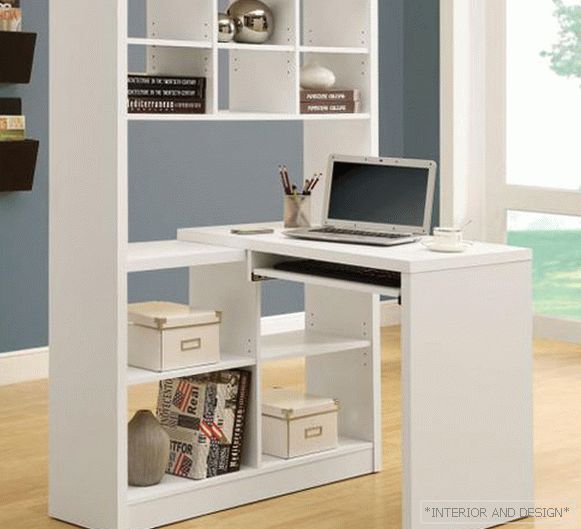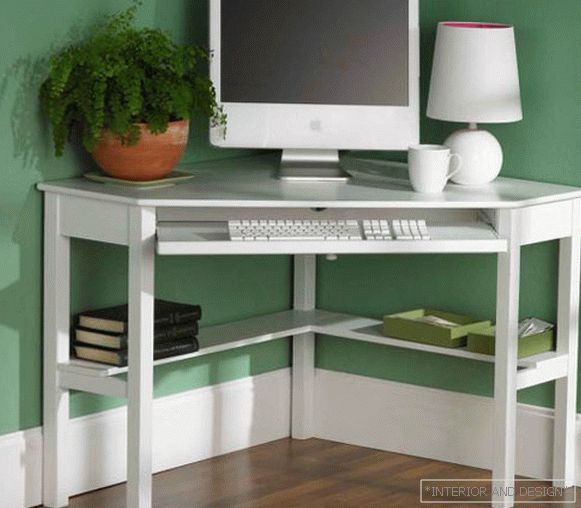 Tree
Wood and furniture made of natural wood (especially rare species) are the basis of the foundations of the classical style. With proper care, such furniture will serve more than one generation.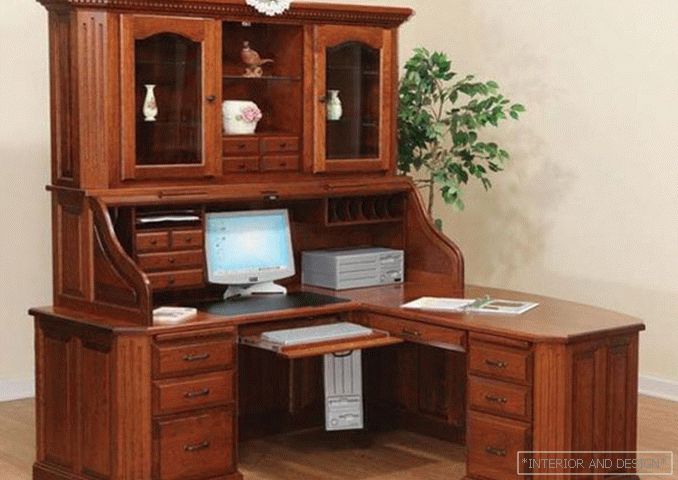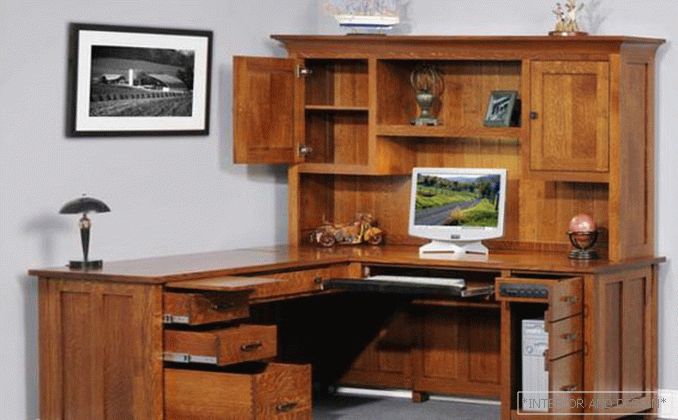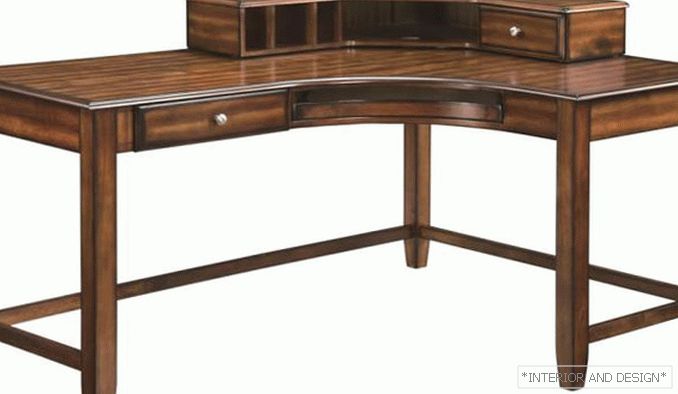 Metal
Corner tables made of metal structures look stylish, but in a home interior they will most likely look inappropriate. A drawing thrown in the living room on a metal structure does not create a feeling of comfort, but in the office such a table will produce the dizzying effect of setting up a working mode.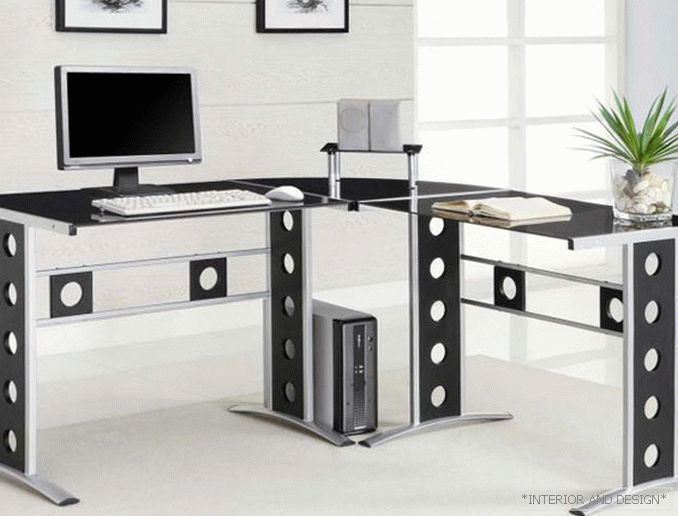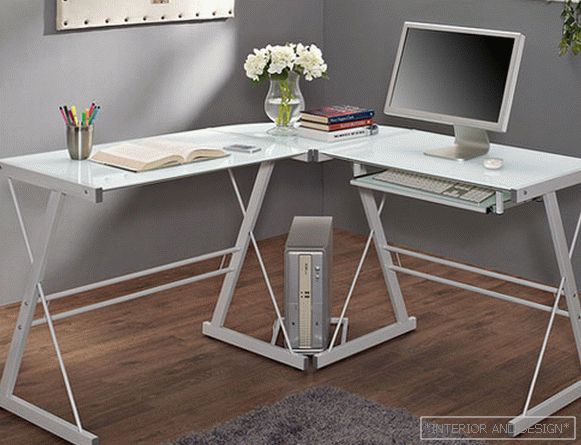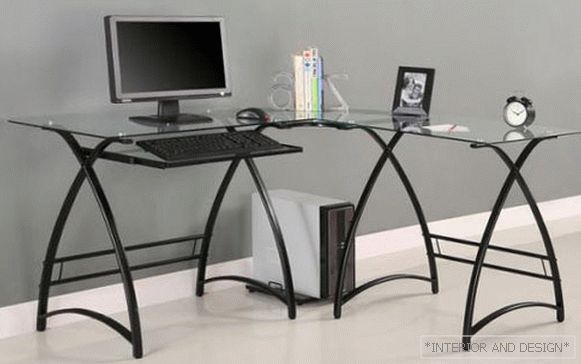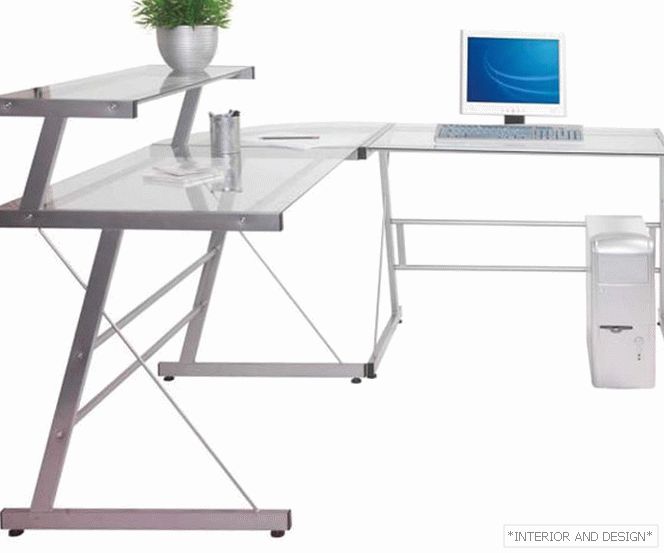 Glass
Glass – идеальный материал для создания интерьера в стиле хай-тек минимализм. Glass table с подставкой для ноутбука выглядит почти невесомо, что очень выгодно будет смотреться в маленьких помещениях.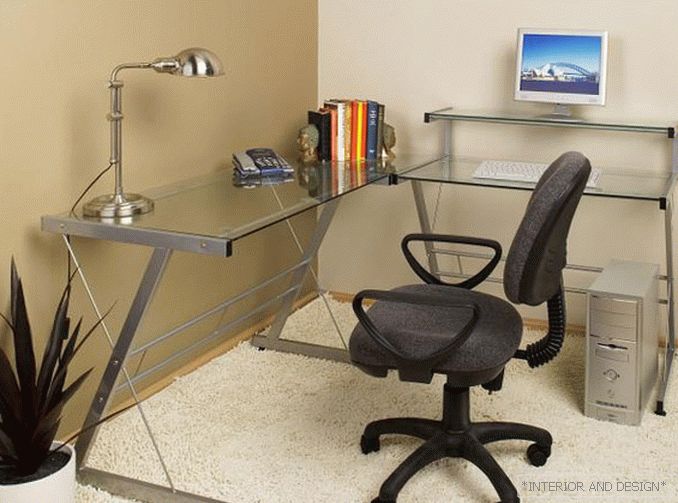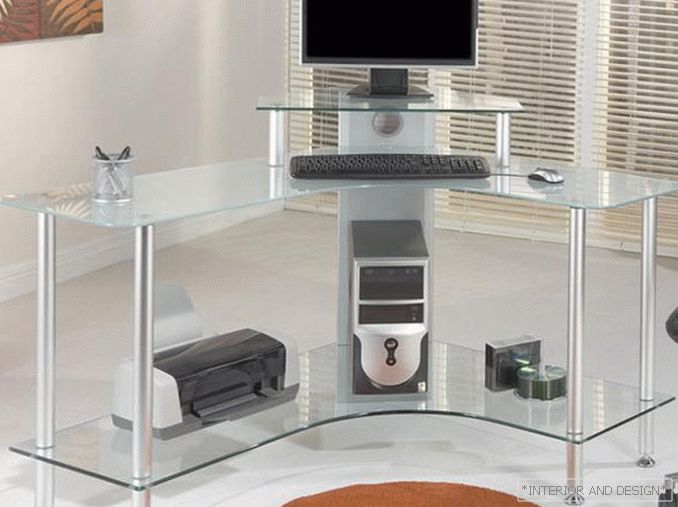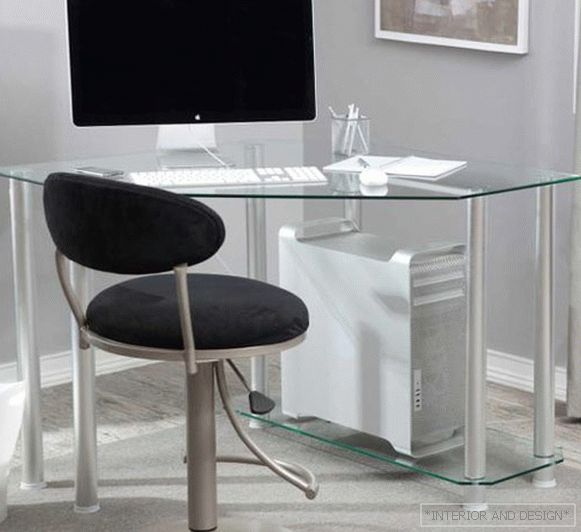 What are they?
A modern corner computer desk can be made whatever you want: from a small table-stand to an ergonomic mini-office. Moreover, if you have special preferences, you can make your desk to order, for this you do not even need to know the size - many companies provide measurement services for free.
Turning to the measurers, you will be able to consult on all the issues of concern to you and choose exactly this table option that fits perfectly into your home and will meet absolutely all needs.
The table can have such additions:
Upgrades
lockers;
boxes;
thumbs
Table with superstructure
Add-ons above the corner computer desks are pleasant additions to your workplace, because you can place a lot of little things or gadgets for your PC that will always be in sight and at your fingertips. Here you can keep notebooks or books, as well as photographs and lovely heart trinkets. When choosing a superstructure, remember that if the table is at the window - it should not block the window opening. It is also worth considering that the add-on takes up some space on the table and this is not always convenient, especially if you need to put something big (for example, a drawing or a large map), so this option is convenient only if you work exclusively at a computer and have a free table surface need not.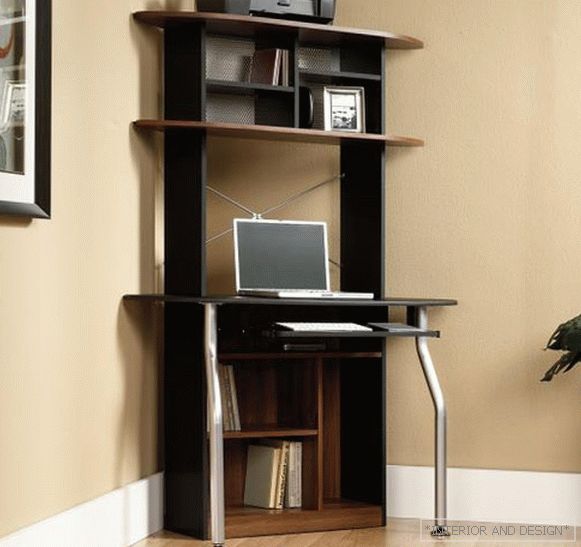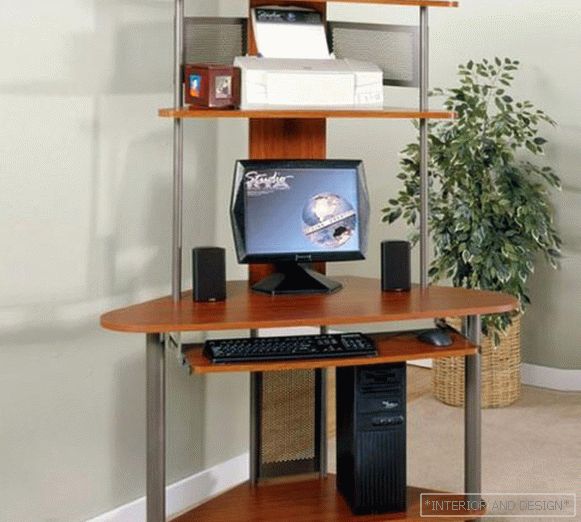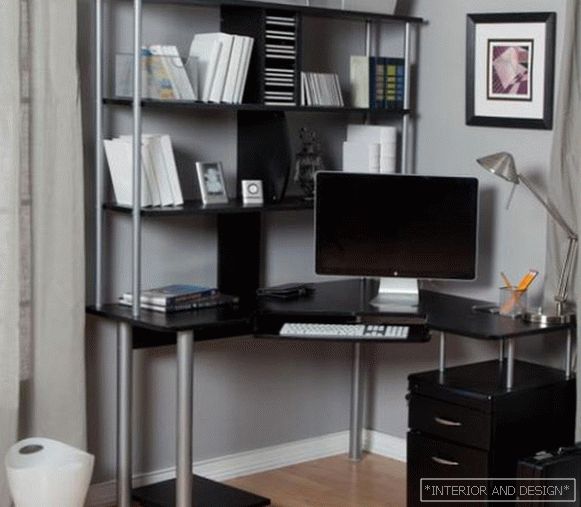 Table with cabinets
Wall cabinets are another good way to keep everything at hand, however, unlike the superstructure, firstly the table is not involved, it is free to use, and secondly - in the cabinets everything is at hand, but hidden from prying eyes. Even if you rush the notebooks into a place in disarray, no one will notice. And souvenirs and statues can be placed on top.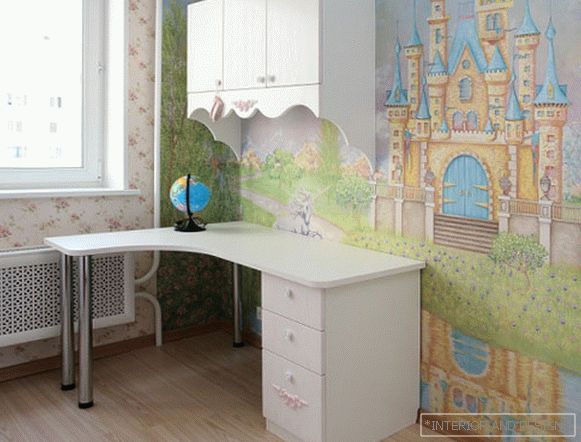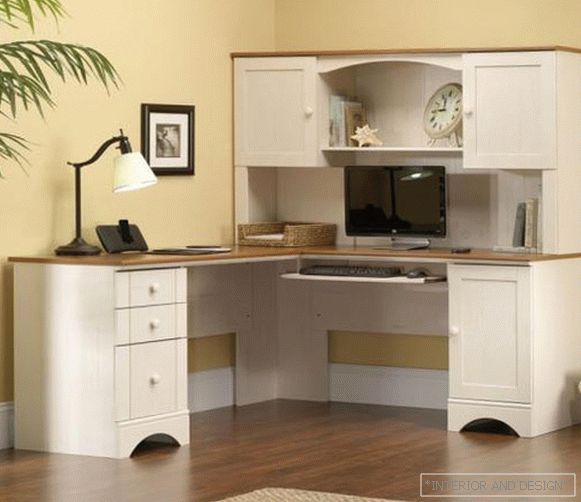 Desk with drawers
This is ideal for those who use a huge number of small tools, parts, stationery, etc. Pulling out the box, you can immediately see all its contents and take the necessary thing. This is very convenient for schoolchildren who have a million notebooks, pens, compasses, rulers, paints, textbooks, erasers, notebooks ... But for an office worker, working at the table with such addition will become comfortable and easy.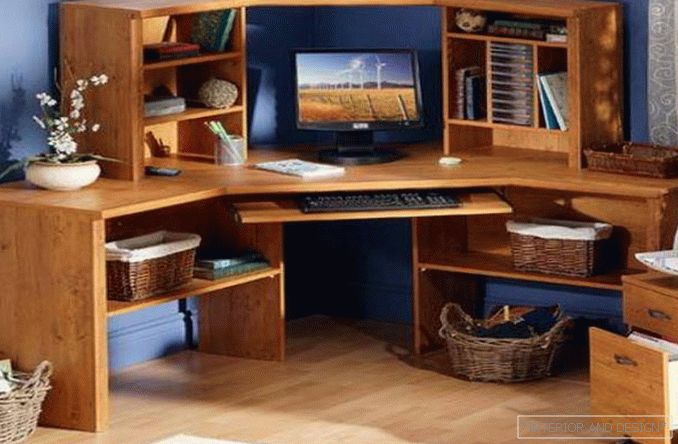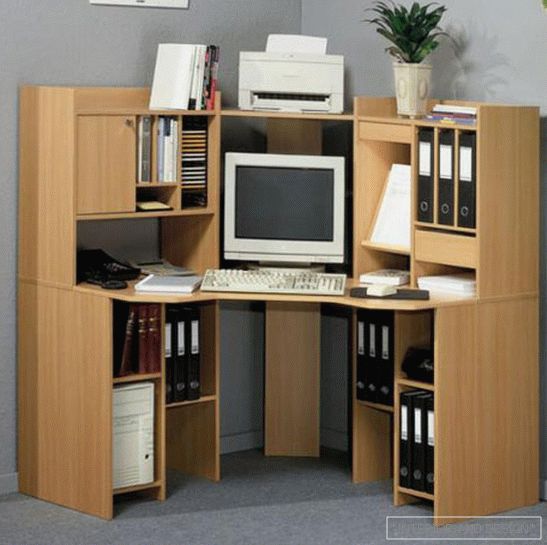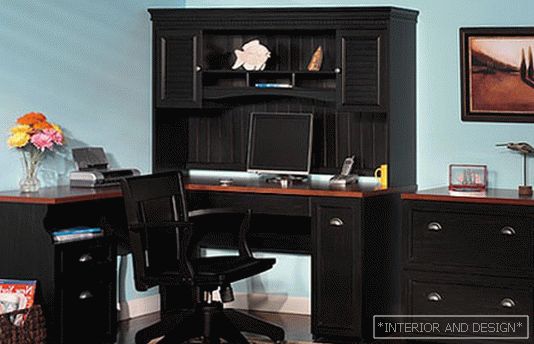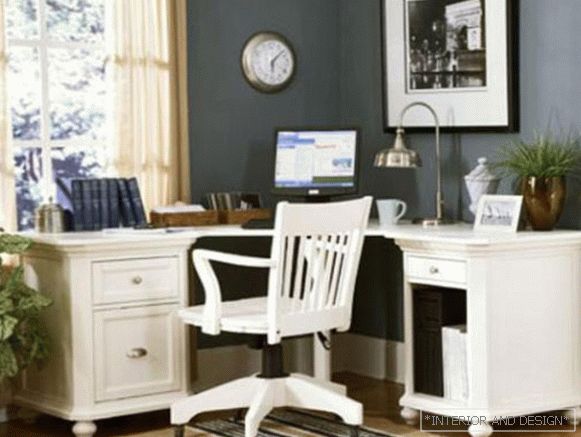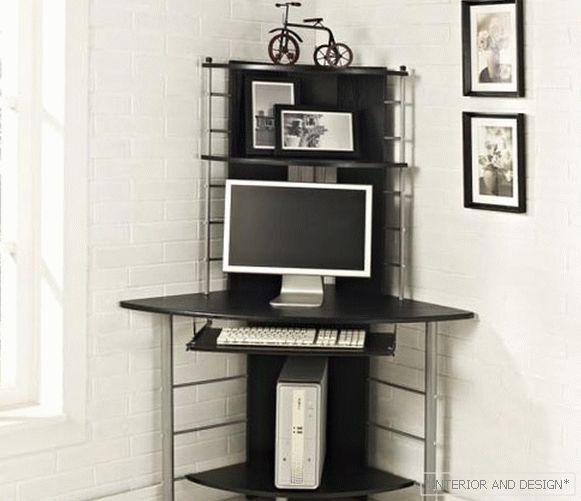 Table with cabinet
Perhaps, this is the most impractical type of addition for a desk, because in order to find something you constantly have to bend, retrieve everything, look for, fold back ...
must stand, not lie;
rarely gets.
If you need space for storing something large - a pedestal would be a good option (for example, an open pedestal for placing the processor). But for permanent use, it is extremely inconvenient. Even opening eye-level cabinets are more practical than a cabinet.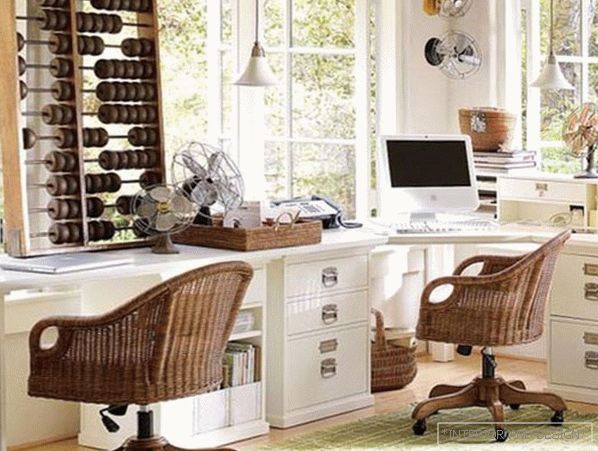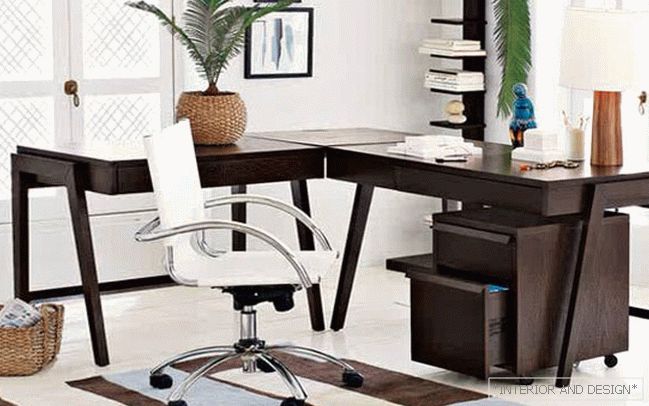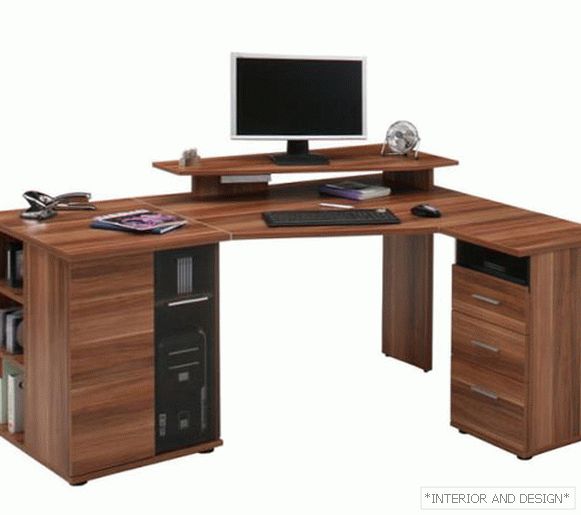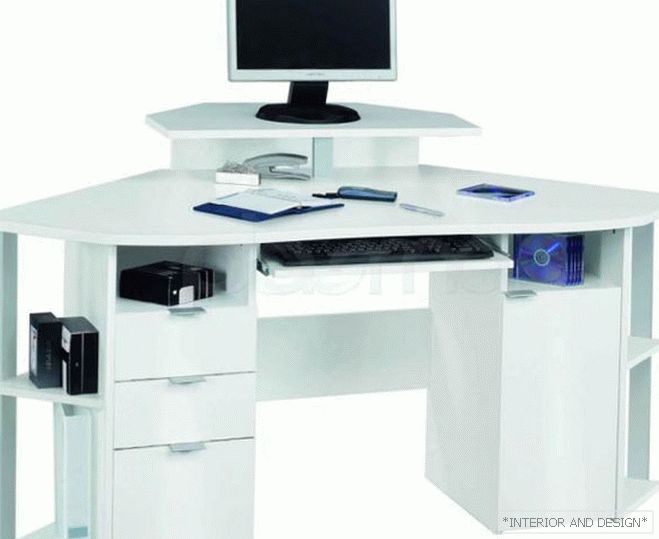 Do it yourself
Before you start designing a corner computer desk, you need to decide where you will place it. For the student, it is advisable to put a desk by the window in order to provide maximum access to natural light. At the same time, the light should fall on the left (for left-handers - on the right) or straight.
So that the equipment does not overheat and does not deteriorate, there should be no heaters and radiators near the computer desk.
Since the computer desk involves the need to connect a large number of office equipment, there should be sockets near the table, and better a few - to avoid overvoltage in the network.
Important! Office equipment is not only the devices themselves, but also countless wires to them, which are often confused. Therefore, when designing the table, consider how best to arrange the wires so that they do not interfere under your feet. This is especially important if the house has small children.
Modern computer programs allow you to create not only drawings for future furniture, but even a full-fledged 3D model. In addition, the already existing database will help calculate all the dimensional nuances and features of the corner computer desk.
Table height (Growth*75/175)

| | |
| --- | --- |
| Growth | Table height |
| 150 cm (low) | 64 cm |
| 175 cm (standard) | 75 cm |
| 190 cm (high) | 81 cm |
In drawing up the model, the following parameters should be considered:
growth and volume of users;
required size of table top;
dimensions of the chair and (especially!) swivel chair, which will stand near your table;
dimensions of all the equipment that will be placed on or near the computer desk (multifunction devices, printers, audio system, etc.) and the nuances of its placement (the scanner should open easily, the processor should not overheat).
The shape and size of the table top must be such that all drawers, cabinets, gadgets are covered with it.