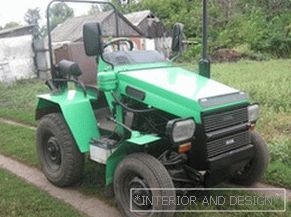 As a rule, many of us associate the agricultural sector with land cultivation. However, for sowing crops and growing vegetables, berries and fruits, it is necessary not only to plow the soil and apply fertilizer, but also to ensure regular watering and weeding from weeds. Of course, if a farmer has such a specialized technique, such as, for example, a mini-tractor, then he can significantly simplify the implementation of many types of work. Speaking about this technique, we should first of all note its small dimensions, but at the same time it successfully copes with the main tasks: plowing the land, loosening, mowing grass and other operations associated with tillage.
Large agro-complexes and firms thoroughly approach this issue and, as a rule, use imported or domestic models. As for private farms, due to limited financial capacity, they often have to use home-made mini-tractors. Although this approach to business and allows you to save, however, the assembly process poses certain difficulties. But still this does not stop many, because the strength of every private farmer is not just making a mini-tractor a homemade product, but agricultural equipment, which, after being equipped with additional equipment, can be used to solve a wider range of tasks.
Content
1 Self-made mini-tractor: types and features
2 Homemade mini-tractor: the pros and cons
3 How to make a homemade mini tractor with your own hands
4 Conclusion
Self-made mini-tractor: types and features
To this class of agricultural machinery it is customary to attribute three types, each of which has its own characteristics:
Multifunctional equipment, with the help of which you can perform such works as tillage, grass mowing, garbage collection, etc. Most often, such homemade mini-tractors are equipped with a power unit having an average power that is enough for processing a site of up to 5-6 hectares. If necessary, such equipment can be installed mounted devices, thanks to which you can expand the list of tasks that can be solved using such mini-tractors.
Self-made mini-tractor, which specializes in grass mowing and garbage collection on the site. This technique can handle an area of ​​1-2 hectares, it is also often used for lawns.
Riders. The main purpose of this technique is fertilization, treatment with pesticides. In addition to this, when using special equipment, they can be used for other tasks, these machines are designed for small land plots.
Homemade mini-tractor: the pros and cons
First of all, such machines are in demand among the owners of private farms. There, they are used to perform tasks such as the outbreak of gardens, the removal and disposal of waste from saw cut trees, and the upgrading of the area.
pros
This is a technique has certain advantageswhich ensured her popularity:
High-quality deep tillage. Manual digging of land is not always suitable for individual plots. If the soil has a hard and stony structure, then as a result this work can be physically very hard. In such cases, it is more than appropriate to use home-made mini-tractors, which in a few minutes will cope with this task;
Convenience of operation on a small area. Large tractor makes sense to apply to the treatment of large agricultural land area of ​​not less than 10 hectares. If it is necessary to dig up smaller areas, then a mini-tractor is better suited for this work;
Low price. The cost of a homemade mini-tractor is formed mainly from the costs associated with the acquisition of components;
The possibility of refitting a homemade mini-tractor. If necessary, additional equipment can be installed on the mini-tractor, which will make it more functional. At the same time, such a technique, due to its low weight, does not greatly disturb the soil structure and does not require large repair costs.
Minuses
The disadvantages of this technique are also available. This should include the fact that the owner will have to independently look for accessories for a car. In the event that some rare part was used in the assembly process, it would be quite difficult for him to find the same one to replace it. However, the most common practice is when assembling mini-tractors with their own hands are most often used components, which in case of failure can be easily found.
When deciding to assemble a mini-tractor home-made yourself, to drive it on public roads, keep in mind that you have there must be permission on this. Otherwise, you risk getting a penalty for the re-equipment of the car.
How to make a homemade mini tractor with your own hands
The main question that arises for those who are interested in a mini-tractor is how to make this car? There are many ways to assemble a homemade mini-tractor at home. Himself assembly process This technique looks like this:
The first stage begins with the manufacture of a frame, for which a rolling channel is used. The design should contain traverses located at the front and rear, and several spars. When creating a frame for a mini-tractor, it is necessary to slightly reduce the width of the frontal part, thereby it will be possible to give the details a trapezoidal shape. Care must be taken to create a hole in the frame so that other elements and devices can be attached to it.
Then take the rack, which is welded to the corners. They will be assigned the role of a subframe in the construction. Additionally, they need to connect at the top. Install the rear axle on the finished frame. If the project provides for the assembly of an all-wheel drive mini-tractor, then a front axle is placed on the frame.
Next comes the turn of the engine, which must have the necessary power. The most affordable option is a motor from a motorcycle.
On the frame also need to find a place to install the gearbox. Moreover, the latter must be placed in such a way that it is directed to the driver, thus it will be easier to control the process of driving a tractor.
The next step is the installation of steering elements. For homemade mini-tractors most often use the steering wheel, borrowed from domestic cars. Sometimes you can take the wheel from a motorcycle.
Next you need to install the hitch for the trailer, which is welded to the frame.
Installation of the brake system, tank, and then proceed to connect the electrics.
If you turn to the network, there you can find a lot of different drawings for assembly homemade mini tractor. Therefore, choosing a suitable scheme, you can immediately begin to work, focusing on one or another option, or make changes to the finished one, taking into account your needs and objectives.
Conclusion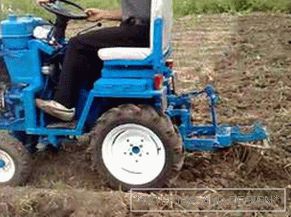 Owners of private farms and farmers are forced to solve many problems, including how to work the land. It is easiest to purchase special equipment, but given the high prices at which many Western and domestic cars are offered, most landowners are inclined to assemble a mini-tractor for working the land with their own hands. Basically, this quite solvable problem, the main thing is to understand how to begin the process of manufacturing this technique. It is advisable to first prepare a drawing in order to clearly know what parts should be present in a homemade mini tractor.
The easiest option is to take advantage of the experience of other craftsmen who have already had to solve a similar task. The network has a lot of resources where even full drawings are laid out, which can become a project to create a homemade mini tractor do it yourself. After that, it will only be necessary to prepare the required materials and tools, after which you can get down to business.