The young Belarusian team Studio11 (Maxim Vavinsky, Tatyana Kashuro and Alexander Zhmakin) designed an office in Minsk.
By topic: Julia Golavskaya: the office in which you want to live
"The layout consists of two workrooms, a kitchen, a separate room with samples and a bathroom," say the architects. - The interior was formed gradually. We can say that this is the sum of our professional preferences and the physical expression of personal philosophy in design. Here, on an area of ​​92 square meters. meter, you can meet a number of techniques and items that we used in our projects. For example, one of these elements is a ceramic module. Such things are very dear to us, they fill the workspace with personal history and additional inner meaning. "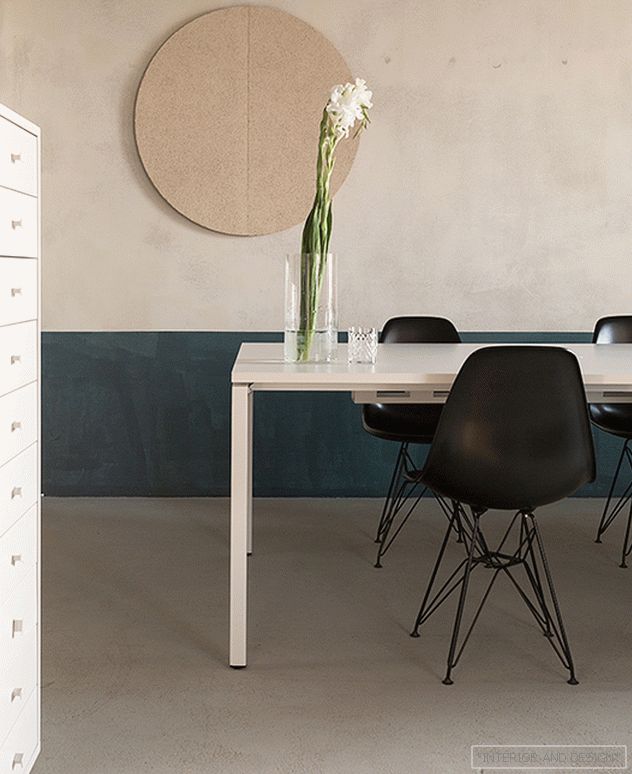 The interior looks functional and compositionally verified in form and color. On the floor - a rough concrete screed with pores and cracks, painted in a light gray color. Ceilings are simply the surface of reinforced concrete slabs. The walls are partially painted with a complex blue tint, the upper part is covered with white plaster.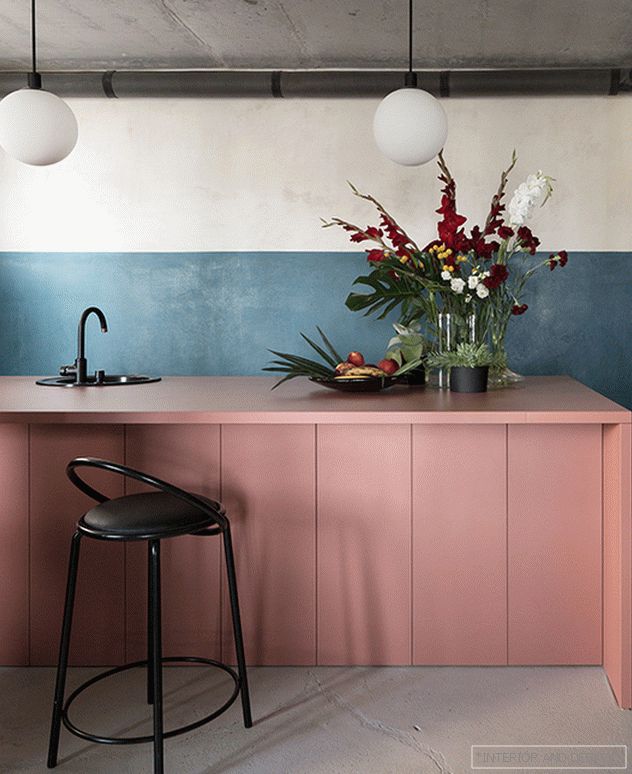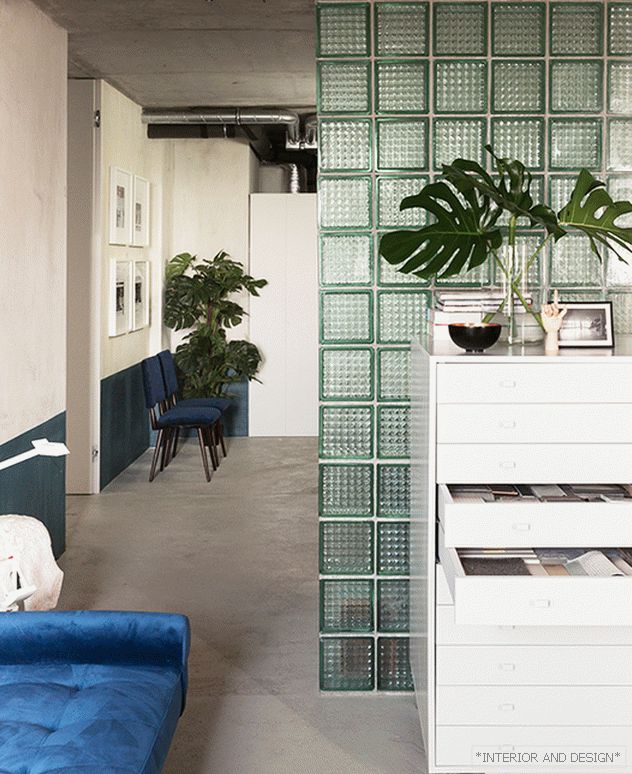 Curtains have the same color breakdown, which creates compositional integrity. "One partition is made of glass blocks, referring us to modernist architecture and its Scandinavian heroes, such as, say, Alvar Aalto," the designers say.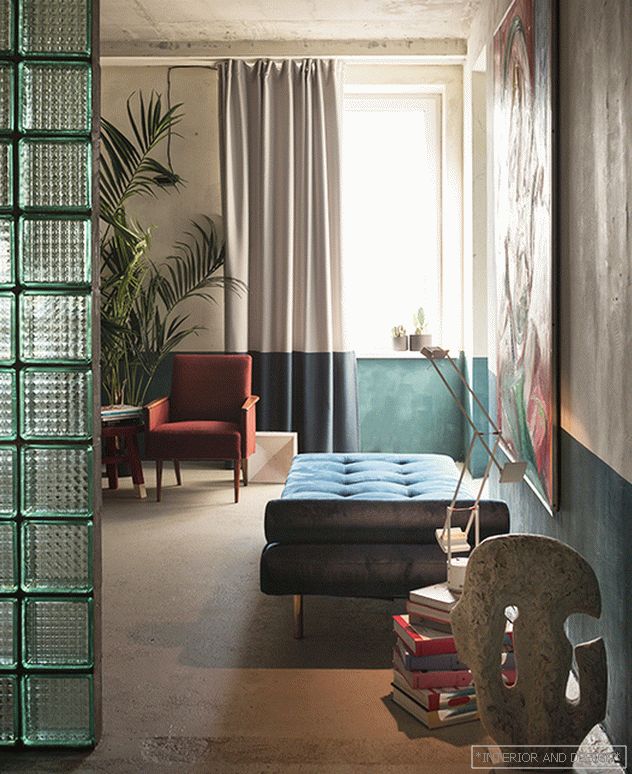 In the kitchen area is a working island, above it - simple round lamps. In the main working space, the large canvas of a young Belarusian artist, Zakhar Kudin, "flames" in the entire height of the wall. Painting rather bold, in spirit recalls the work of the Fauves of the early 20th century. Such expression organically dilutes the restrained nature of the space.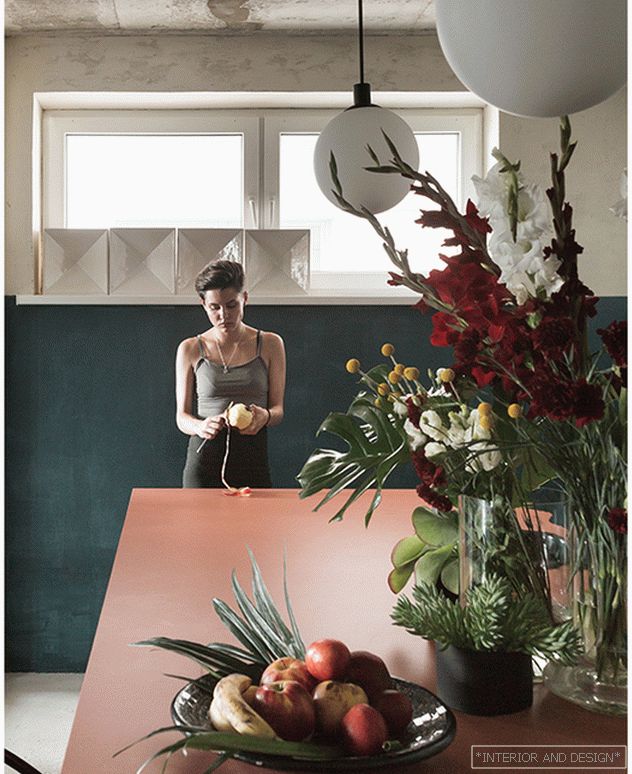 Next to the picture is the Pira Weiss velvet couch (Per Weiss) from the modern Danish brand Innovation and the famous 1971 Tizio table lamp designed by Richard Sapper for Artemide. "I needed a small head and long hands, I didn't want to clamp the lamp on the table because it was inconvenient and wanted her to move easily," said Sapper about his designer masterpiece.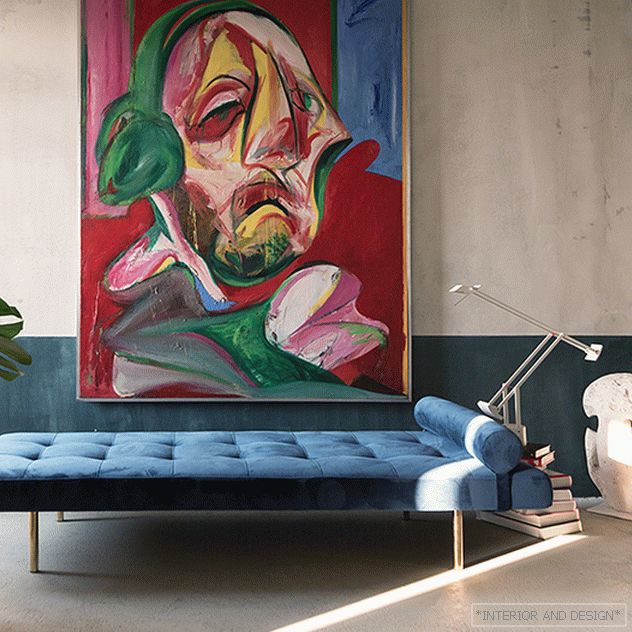 "Together, these things create a completely modernist image: the interpretation of the Barcelona Day Bed by Misa Van Der Rohe against the background of the Matisse story. Fill all this ringing emptiness and give comfort to green plants, graphics, Vitra chairs and vintage items, as well as all kinds of samples of fabrics, materials, products. "