The legend of French design Pierre Paul (Pierre Paulin, 1927-2009) is known not only to professionals. Pierre Polen's furniture can be seen in Goldfinger, one of the Bond series, in the best airports in the world, in the permanent collections of the museums of the Pompidou Center, the Paris Musée des Arts Décoratifs and MOMA (New York).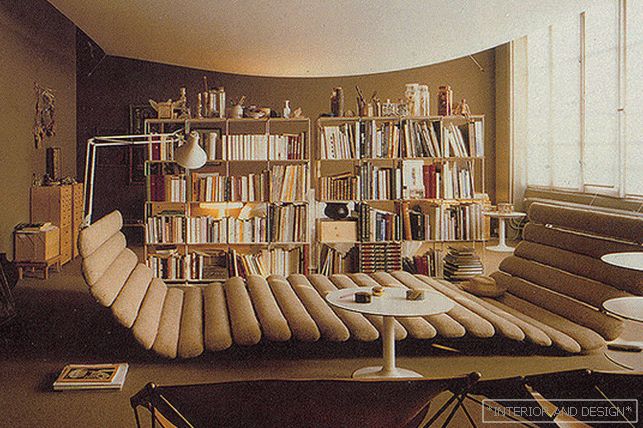 Déclive, 1966, and Butterfly, light leather armchairs, 1954 in the Paris family house. Archives paulin.
In 1969, the Pompidou presidential couple invites him to arrange his personal apartments in the Elysée Palace, and in 1984, President François Mitterrand entrusts him to develop designs and furniture for his office. For Georges Pompidou, patron of the arts and connoisseur of contemporary art, Polen creates an avant-garde collection of furniture, for Mitterrand - a more moderate and classic. However, Polen did not become a boring official artist, caressed by the authorities. He was a designer who always, up to his very last days, could offer sofas and armchairs, which with vitamin colors and uneasy forms could encourage and cheer everyone.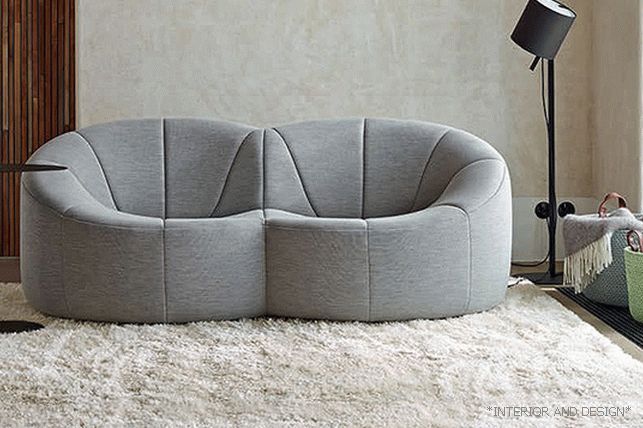 Sofa from the Pumpkin collection, Ligne Roset, 2008. Based on furniture created by P. Polen for the Elysian Palace. Red Dot Award.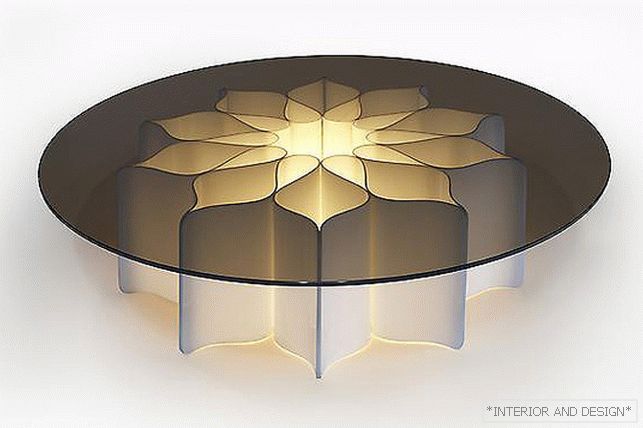 A table created by P. Polen for the interiors of the Elysian Palace.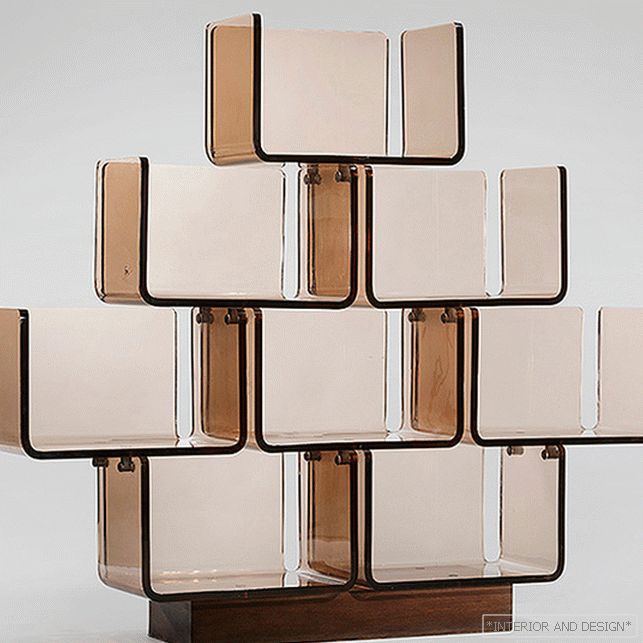 Cтеллаж Élysée, 1971. 153 x 174 x 37см. Demisch Danant Gallery.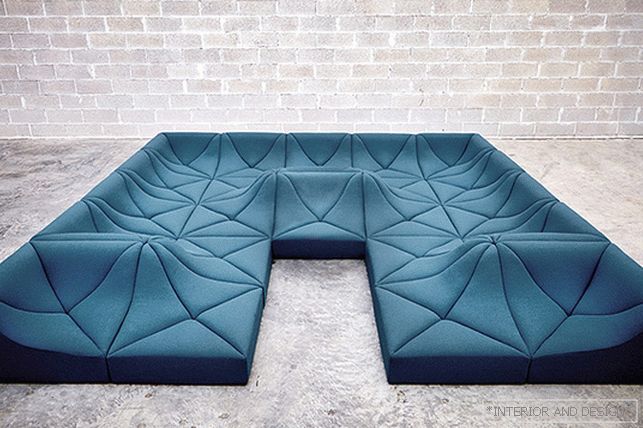 Modular sofa for Herman Miller. Exhibition Louis Vuitton. 2015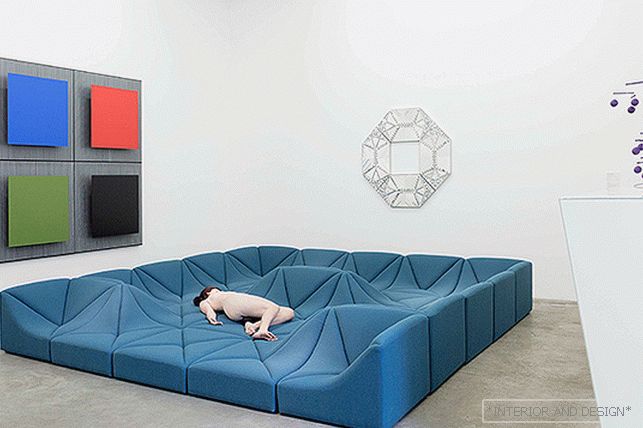 Fragment of the exhibition in Paris Galerie Perrotin. 2015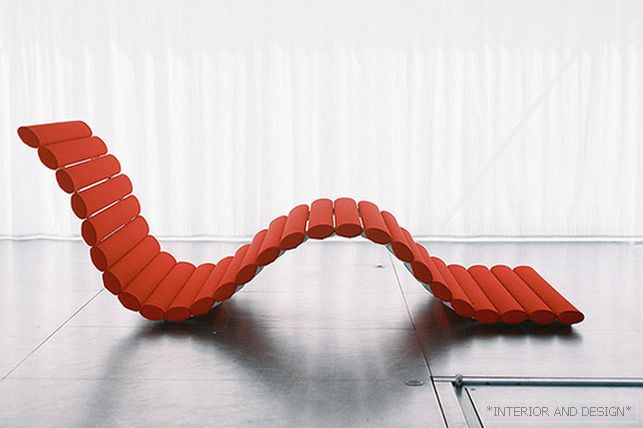 Déclive Lounger, 1966.
The French innovator of the second half of the twentieth century, Polen received his professional education at the Center for Art and Technology, the future Camondo School. Pierre was preparing to become a sculptor, but he had to part with this career after he injured his right arm in a fight. He started designing furniture in the early 1950s - when Scandinavians and Americans, Alvar Aalto, spouses Charles and Ray Eames and Florence Knoll were at the peak of cutting-edge trends. Polen showed his work at the Salon des Arts Ménagers exhibition, then his furniture appeared on the cover of La Maison Française. In 1954, Polen began making furniture for the Thonet company. And in 1958 he became a designer in the Dutch furniture company Artifort, and worked on it for more than half a century.
"The value of design is exaggerated, which is why many designers consider themselves to be artists. I never did that. I always understood that a well-designed car would never be a work of art. All that we, designers, can do is make life a little more convenient and easier. "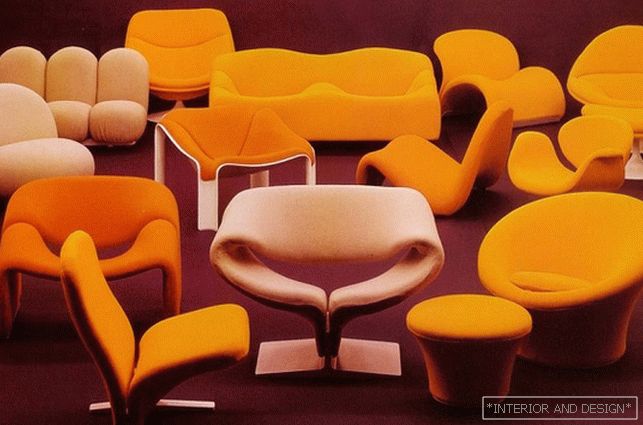 Upholstered furniture, in different years created by Pierre log for Artifort.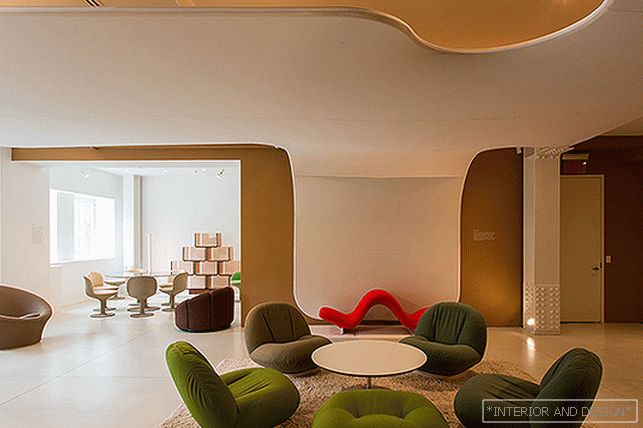 Exhibition in the New York gallery Demisch Danant. 2015. Interior in Chelsea with Pierre Polen furniture, designed in 1970
A business card Polena - sculptural armchairs with speaking names: Oyster (Oyster, 1959), Mushroom (Mushroom, 1960), Orange Slice (Orange Slice, 1960), Nest (Nest, 1962), Butterfly "Butterfly", 1963), Tongue ("Language", 1967), Ribbon ("Ribbon", 1966), Le Chat ("Cat", 1967). All of them are considered today icons of design. Especially famous are its chairs made of polyurethane foam, covered with bright stretch fabric, made for Artifort in the 1960s.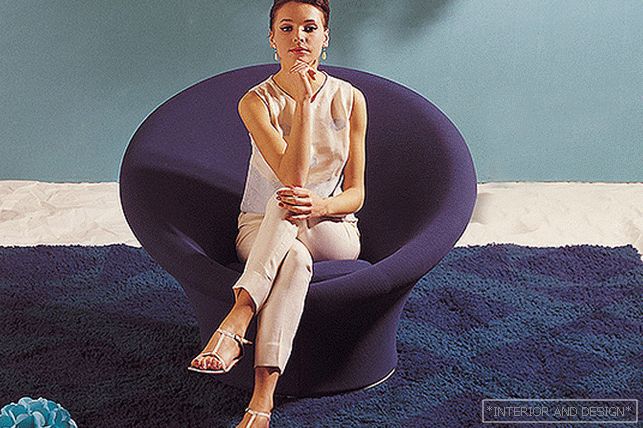 Mushroom, 1960, Artifort.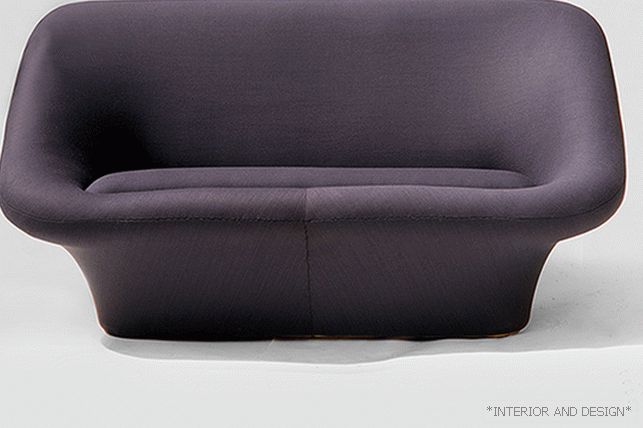 Nest, 1962, Artifort.
He was an interior designer, but his seats became iconic. During his long career, he will draw more than two hundred chairs, armchairs, poufs, sun beds and sofas. Polen, like no one else, possessed the ability to model in three planes. He enjoyed juggling shapes and volumes. The objects created by him cross out all aesthetic, stylistic and even technological taboos.
Fragment of the library interior in the Elysée Palace, diz. P. Log.
In an effort to make the chair more comfortable, he turned to new materials, such as molded foam, furniture covers "Shil" of elastic seamless knitwear, which was previously used only for the manufacture of swimsuits. His covers were removed, cleaned, changed depending on taste, a season and just mood. Polen renews the chair, facilitating its structure, completely hiding the frame inside the cover, leaving only the shape. Its seats become chromatic accents in the interior.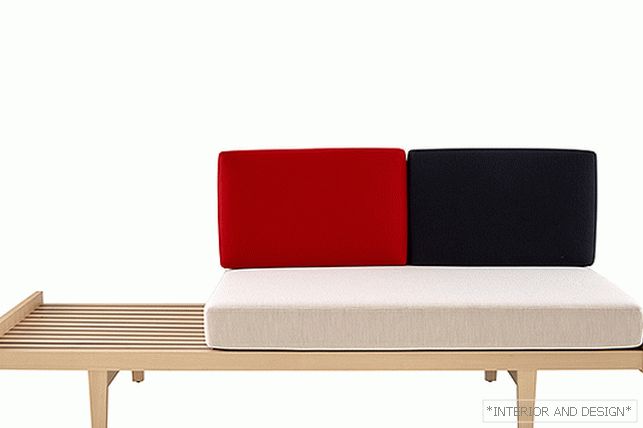 Miluccia Scammer. Ligne Roset. 2015.
Polen continued to design furniture until his death in 2009. In 2007, in the year of the 80th anniversary of Pierre Polen, the company Artifort released all of its famous armchairs and sofas in Momentum upholstery with a spectacular, expressive ornament. The fabric was created in 1965 by American textile designer Jack Lenore Larsen.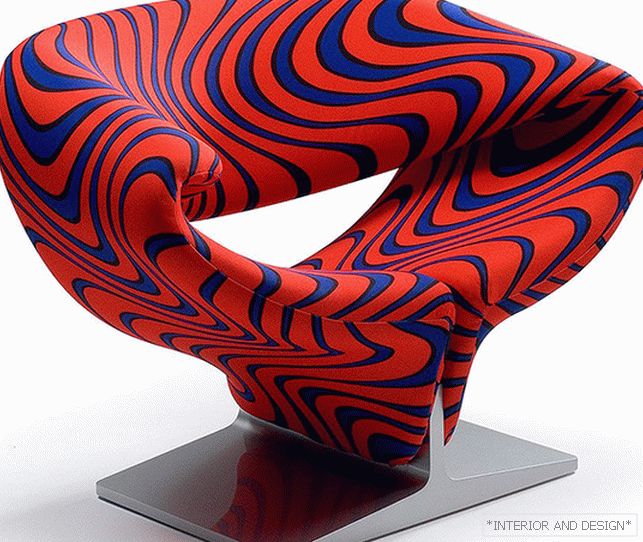 Armchair Ribbon, 1966. Replica of 2007 upholstered in Momentum fabric, created in 1965 by Jack Lenore Larsen, Artifort.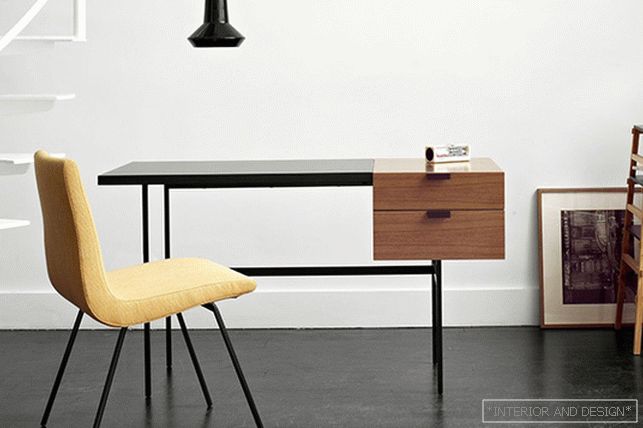 Desk Tanis, Ligne Roset, 2008. Replica CM141 table, created by P. Polen in the early 1950s for Thonet.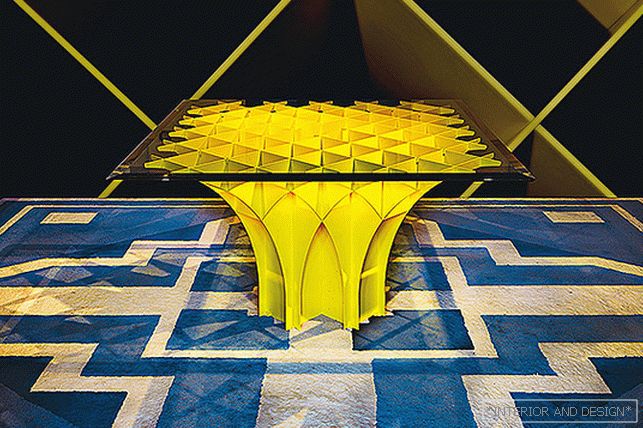 A table with a glass top. 1980
In 2008, Ligne Roset reproduced the constructivist table CM141, which Polen designed in the 1950s for Thonet. And also produces a series of chairs and poufs Pumpkin, created based on furniture, which Polen designed in the 1970s for the Elysian Palace, only in brighter upholstery. The following year, this series will receive the Red Dot Award. In 2015, at Design / Miami, Louis Vuitton showed a previously unpublished collection of modular furniture, created by Polen in 1972 for Herman Miller. And in the same year, the New York Demisch Danant Gallery made a retrospective of the French master.