Paul Smith (Paul Smith, p. 5.07. 1946) - designer, commercially successful and completely British. Among the fans of his brand are Johnny Depp, Nicole Kidman and Tony Blair. Paul Smith did not make interior collections, but actively collaborates with factories producing furniture, light and fabrics. A designer now and then becomes a newsmaker in the fashion industry. In 2000, Elizabeth II produced the PS in the chivalrous dignity. Two years ago, the London Design Museum gave him a big exhibition, so the results of a brilliant career were summed up in advance. Paul Smith himself continues to ride around London by bicycle, swims in the pool at five in the morning, and then for two hours from 6 to 8 he listens to his favorite groups. They say that in his suits snobs feel romantics, sociopaths get protection and emancipation, and all shy people confidently hold on to the public. They put something on PS - well, you can't say a word for the whole evening, everyone already knows that you don't have to be witty.
"Classic with a twist" reigns in all its collections and in the stores themselves. It is known that Paul Smith hit the fashion industry by accident. A fifteen-year-old teenager dropped out of school, worked in his father's clothing store in Nottingham. He estimated his abilities as "ok" in design, "ok" in business, but not outstanding. That was the beginning of his career in the 1960s. Today, he has more than 200 stores around the world, and in Japan, where he is more popular than any other European designer, there are altogether 500 outlets. Born in 1946 in Nottingham. Paul Smith always recalled the family home with pleasure: "Always very comfortable, beautiful mother, enterprising father, stable good relationship." When I left school, I dreamed of becoming a cyclist: "Remembering this time, I understand how much Nottingham influenced me. I was riding a bike, there were miners everywhere, tweed jackets. My brother worked at the post office and wore a uniform blue shirt ... Quite by chance I met people from an art college and became interested in art and fashion. " By 1970, inspired by girlfriend and future wife Pauline Dene, he decided to invest his modest savings (600 pounds) in the men's store Paul Smith Vêtement Pour Homme on a modest Bayard Lane.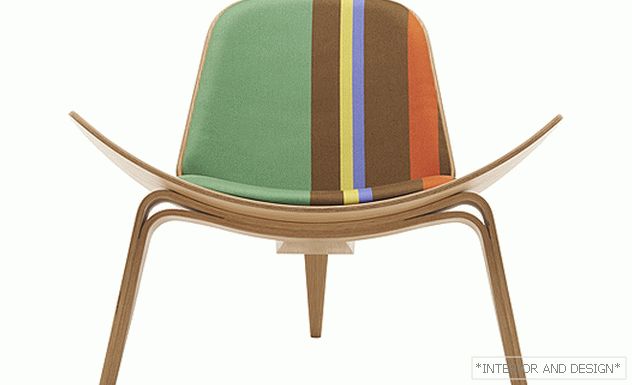 CH07 Shell chair, diz. H. Wegner, upholstered in Big Stripe, Paul Smith. Reissue for the celebration of the 100th anniversary of the birth of H. Wegner.
"I became a clothes designer thanks to my wife. I owe her the lion's share of my success. "
Rent was 50 pounds a week. First week sales were 52 pounds. The shop worked only on Fridays and Saturdays (all the other days Paul, to make ends meet, worked as a freelancer, arranging shop windows, working as a tailor and stylist, and in the evenings attending design courses). Inside, there was a fragrance of Christian Dior Eau Sauvage toilet water everywhere, to discourage the smell of a favorite Afghan shepherd dog. The Paul Smith store was the only store outside London where brands like Kenzo and Margaret Howell were sold. In addition, Paul Smith Vêtement began selling clothes designed by Paul himself and made in local workshops.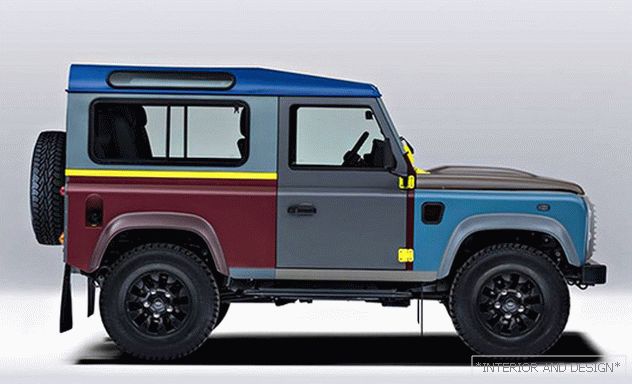 Land Rover Defender 4x4 in the colors of Paul Smith - Legendary brand plans to complete the release of the model. Paul Smith was honored to complete his auto career.
Then, as now, his ideas were fed by the traditional English men's fashion, which he simply adored: "The most difficult thing was to justify the word" designer ", because I made very simple clothes. In the end, I just sewed things that I wanted to wear. Well-tailored, stitched well, from interesting fabrics. In general, just do not rubbish. By 1974, the store was able to get out of a deaf alley on a large street. Two years later, Paul Smith showed his first collection of men's clothing under the Paul Smith brand in Paris (a hotel room was filmed for this show). Moreover, Paul Smith found a room in London — in the former bakery building below Covent Garden. "The area at that time was completely empty, there was only a metro station and a fruit shop here."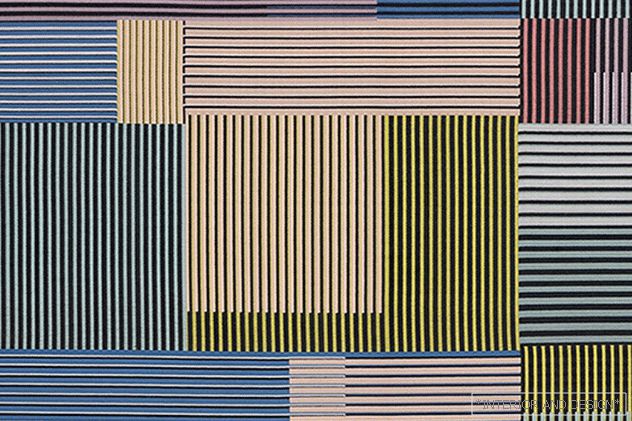 Upholstery fabrics by Paul Smith for Maharam. 73% polyester, 27% cotton. Processing: Nano-Tex, Nano-Tex with Durablock, PFOA, dirt-repellent finish.
Related: Paul Smith: New Upholstery for Armchairs and Sofas
What is the PS corporate identity built on? "I take elements of the tailors' fashion of the highest strata of society, costumes, hand-sewn, and combine them with something silly. Suppose I can combine a beautiful expensive suit with a denim shirt. Or use flower prints for men's shirts with old-fashioned seed bags. Or, for example, wear strict jackets with incredibly bright silk shawls, or ask the factory, which produces the most boring school V-neck jumpers, to impose the same jumpers, but in unimaginably bright colors.
Drawing lamp 75 - Paul Smith's collaboration with the British company Anglepoise, Steel, Aluminum, Paul Smith colors. Reissue of 2015.
He transferred this principle to women's collections, to the interiors of his boutiques, which began to open in Asia, Europe and the USA. He dilutes the shelves with clothes with the first editions of Cecil Beaton's autobiography, posters of the 1960s and weird finds from Japanese flea markets. In its windows, at different times, stood: either a new Apple computer, or the latest video games. "The reason for my commercial success is that I did everything myself from the very beginning. In addition, I knew that VAT is a value added tax, and not at all "Vodka with tonic". Almost everything he needed to know about this designer, he wrote about himself in his book "Inspiration is everywhere": "At some point I did everything on my own and always tried to be financially independent in general. Nevertheless, I am always nervous when I have to become a businessman, not a designer. "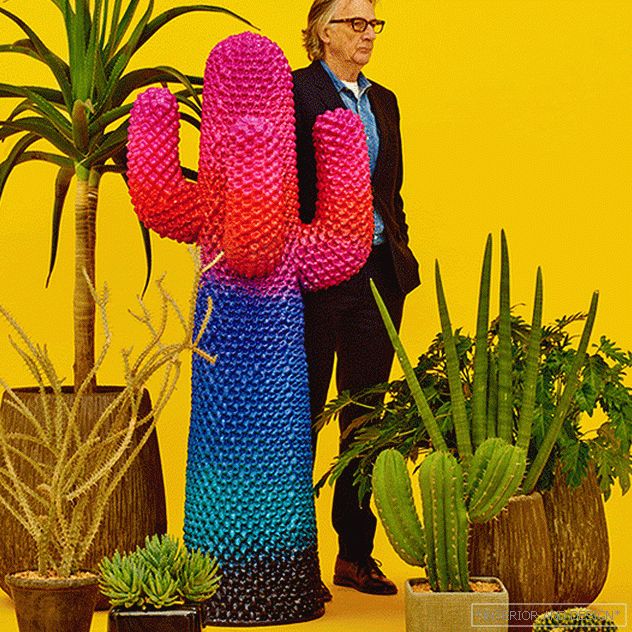 ​ Gufram & Paul Smith Psychedelic Cactus. Лимитированный тираж (169 экз.) подчеркнет ценность юбилейной модели. ​
Subject: MILAN DESIGN WEEK 2016: Paul Smith + Gufram = Cactus
Paul Smith is known as a keen collector. It is no coincidence that the whole hall at the exhibition in the London Design Museum was devoted to pictorial works donated and bought by him at different times. It is known that his entire workshop is filled up with a bunch of things from around the world - there are toys, dishes, accessories, fabrics, decorations and so on. Hundreds of fans from around the world, knowing the passion of his idol to unusual things, send him their treasures. Of course, Pauline's wife, with whom they lived their whole lives, is terrified of what's going on there. But since all this thrash feeds the imagination - why not suffer?