"House-cocoon" is the main interior trend, according to researchers at the Salone del Mobile.Milano Trend Lab. He demonstrates how important the concept of home has become for us: a haven for the soul, a reflection of ourselves. This is a whole universe, the internal arrangement of which should make everyday life as comfortable and easy as possible. First of all, it is a cocoon, a refuge, where we can hide from the rest of the world and feel completely safe.
The Salone del Mobile.Milano Trend Lab Research Center is a laboratory that defines global global trends in design, furniture and residential environments. Method - a special study LivingScapes. Its uniqueness lies in the use of various sociocultural and ethnographic methods of analysis, which make it possible to see in each individual house a world embodying individuality.
In Danish, there is the word hygge, which cannot be translated into any language of the world - it describes the state of the soul. Hygge is peace and relaxation. This is how we feel sitting by the fireplace, wrapping ourselves in a blanket, reading a book, or sipping wine by candlelight. This concept presupposes the presence in the interior of unique, exclusive objects - things designed exclusively for us, embodying our individual style.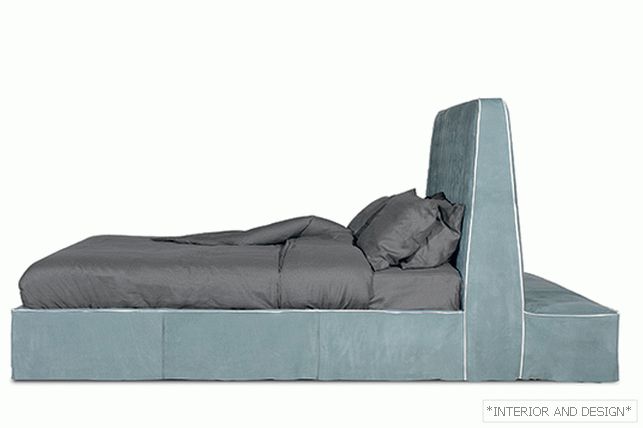 Innsbruck bed, design by Paola Navone, Baxter. 2016
Bedroom decoration by designer Paola Navone - the undisputed hit of the last Milan furniture salon - the Innsbruck hybrid bed for Baxter. Spacious bed with high back (130 cm), behind which is also a sofa-stool, upholstered in softest skin.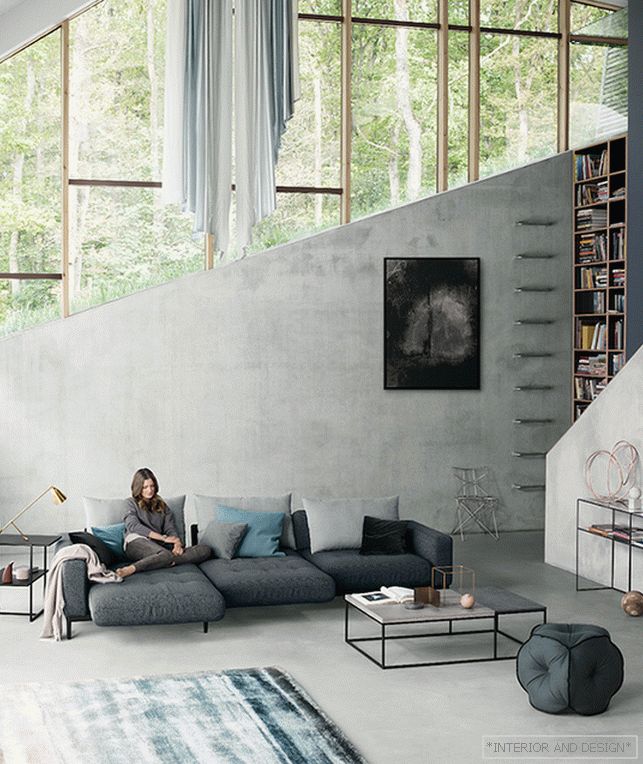 Interior solution from Rolf Benz. 2016 collection.
Liberation (Homedulgence) The house is a comfortable and hospitable ecosystem that we prefer to urban entertainment. No cinema, night club or restaurant can compare with the comfort of our own home. Being in constant search for quality of services, we make a choice in favor of home rest. Only here, at home, we can afford any entertainment - from shopping to gastronomic experiments, from relaxing treatments to receiving guests with watching a new movie. (A study of Salone del Mobile.Milano Trend Lab showed that in Russia a large percentage of people between the ages of 30 and 40 prefer to watch movies at home and equip houses with mini-cinemas.)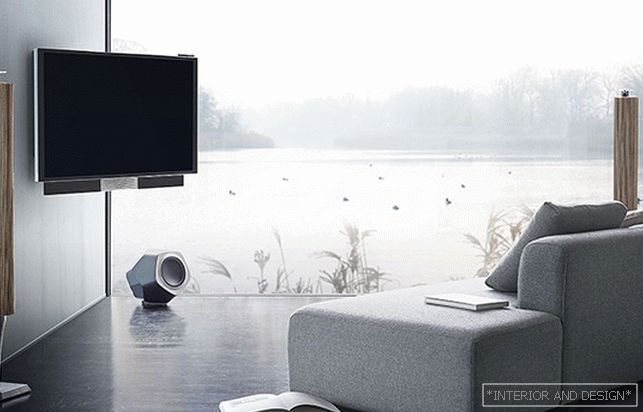 Роскошное предложение от Bang&Olufsen, Телевизор BeoVision Avant. LCD-панель с разрешением 3940 x 2160.
Designers are increasingly introducing elements of living rooms and bedrooms in the interiors of bathrooms. In such a bathroom, you can not only be given daily rituals, but also relax at the end of the day or it's nice to start the morning. Philippe Starck designed the Cape Cod collection for Duravit. The source of inspiration was the picturesque peninsula in New England (USA). Cape Cod is famous for its miles of beaches, crystal clear waters and beautiful nature. The Stark collection captivates not only with forms, but also with natural materials: solid wood and DuraCeram ceramics. Italian Diego Grandi (Closer, Zucchetti.Kos) and Japanese designer Oki Sato (LampShower collection for Axor / Hansgrohe) designed the souls with lights built into them, the German brand Grohe - a new acoustic system for bathrooms.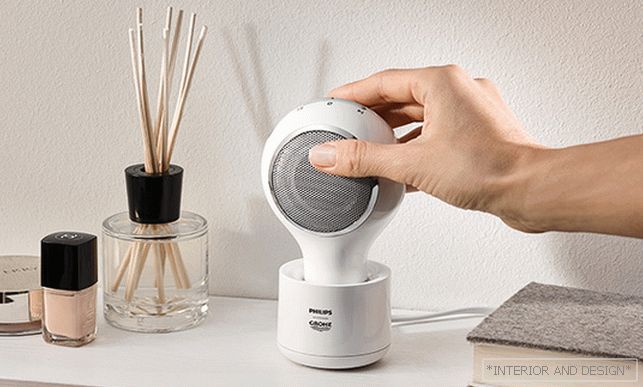 Aquatunes, Grohe. A waterproof speaker system with the ability to download music via Bluetooth was developed jointly with Philips. Easy to install on any standard shower rod.
Kitchens in modern homes are very reminiscent of professional sites chefs - both the level of technology and the quality of food. The kitchen has become a sacred space - the center of home comfort, and the bathroom, in turn, has become a real personal SPA-salon.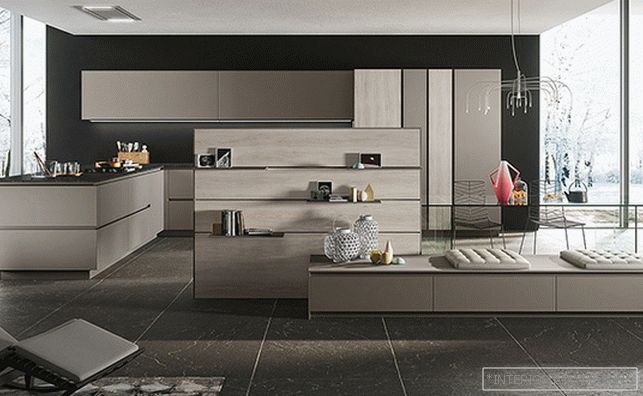 Kitchen-Cool Look, Design Michele Marcon, Snaidero. 2016.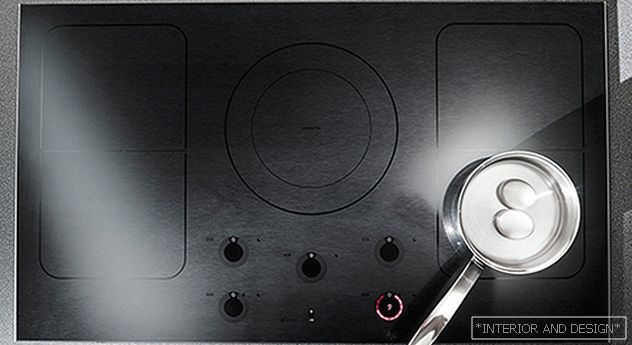 Cooktop HI1994M. Asko. Touch control panel. Five heating zones.
One example of this trend is the residence of the Stone family in Taiwan, designed by Hao Design. The main room in the house is not an ordinary living room, but a space that is more like a children's playground. The main purpose of the four Stone was to create a home in which their two daughters would be comfortable to play and learn. In the middle of the spacious room is a large wooden table - the center of all basic home occupations. Here is a wooden children's slide, which also serves as a bookshelf. It is easily dismantled: it can be quickly assembled and free up space.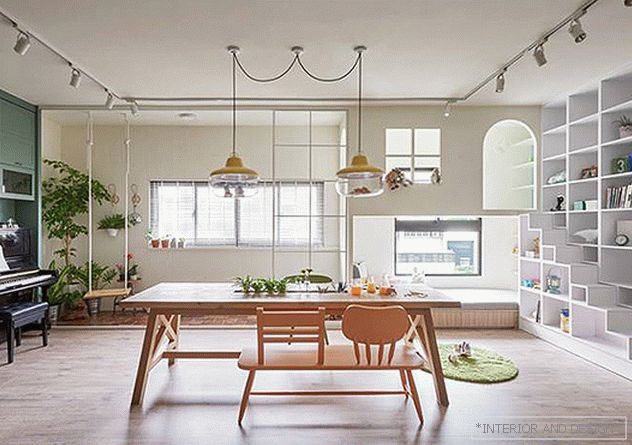 Kitchen-dining-living-children. Solution from Hao Design.
The Russian team Crosby Studios completely transformed the space of a Moscow apartment in a house of the beginning of the 20th century. The kitchen, living room and seating area form a single living area filled with natural light. Embodying the idea of ​​open space in the interior, Crosby Studios refused to crush the space into rooms, combining zones of different purposes.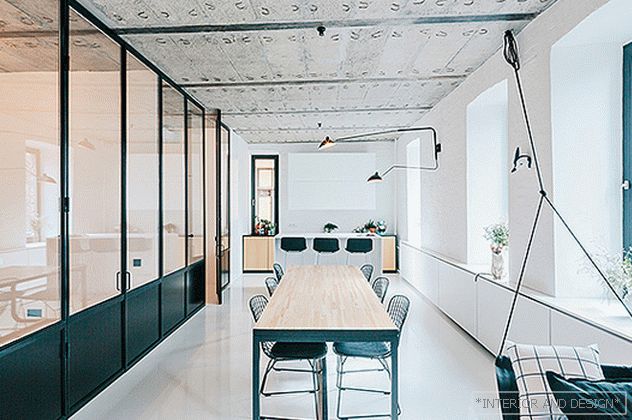 Crosby Studios project. 2015
Digital Detox The house has inevitably become an integral part of the digital ecosystem, because life in modern society is almost impossible to imagine without the use of Internet technologies. However, the house remains a place where people are looking for an opportunity to temporarily "disconnect", to stay out of the access zone. People are increasingly trying to break the virtual connection with the outside world and spend the evening or a day off in a stronghold of peace and quiet.
The authors of the Hideout, the Swedish duo Front, were awarded the gold IF Design Award for the Hideout chair for Thonet. A chair, like a cocoon, covers and creates an intimate comfortable space for the seated person.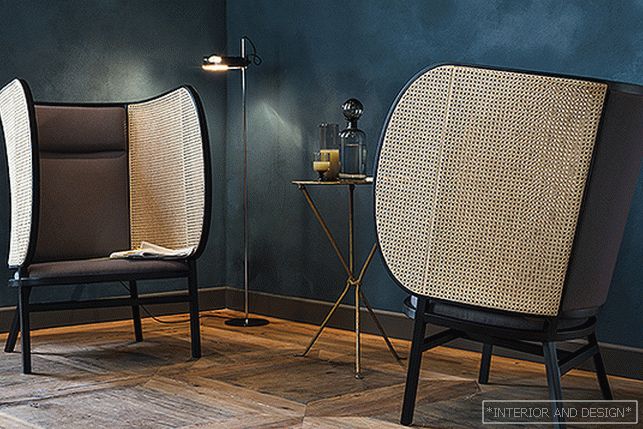 Height of chair Hideout, Thonet, 117 cm, width and length of 80 cm.
People are tied to their smartphones so much that this love often turns into addiction. According to statistics, we check our phones 110 times a day, and a record number of calls to the mobile - 900 times. This gesture has already become a habit - we activate our smartphone on need and without, which, of course, interferes with concentration and takes our time. Just the bell is a wooden cube with only one function - to ring at a specified time. The alarm clock connects to the smartphone using Bluetooth and a special application, you just have to set the right time. You can turn off your mobile, being sure that you will not oversleep.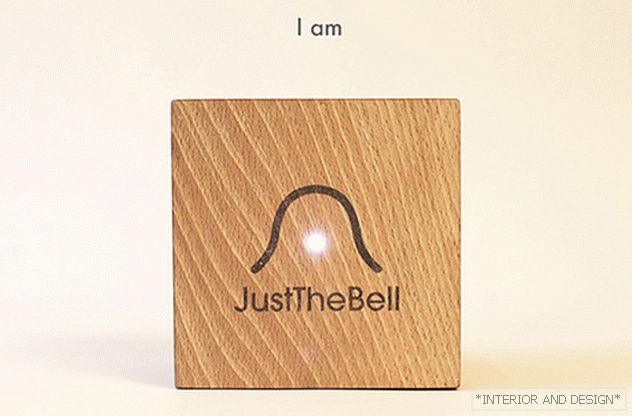 Just the bell, developed by DAN Paris.