The German brand is one of the world's largest manufacturers of bathroom and home spa equipment. How did you achieve such a success, says Alexey Bykov. "Grohe manufactures sanitary equipment for all bathroom fittings: from mixers of various types of installation and shower equipment to installation systems and flushing systems, as well as faucets and water systems for the kitchen. Three stylistic directions are presented: Cosmopolitan (minimalism), Authentic (classic) and Contemporary (modern style). And to create a truly luxurious space there is the Grohe Spa ™ series. It includes electronic mixers, steam and sound modules, ceiling, upper and side showers, exquisite accessories - everything that will allow you to turn an ordinary bathroom into a personal spa and enjoy yourself every day.
The company's credo is "Deliver the joy of using water". The same slogan is our slogan Pure Freude an Wasser (literally: "pure joy from water"). At the same time, we must not forget that the economy of natural resources is one of the most important tasks. Innovative Grohe EcoJoy technology allows you to save up to 70% of water without degrading the user characteristics of the product. We strive to inspire our customers to more conscious consumption of natural wealth.
Среди технологических достижений, я бы отметил термостаты. Единожды попробовав его, вы вряд ли вернетесь к обычному смесителю. Каждому случалось испытать неприятные ощущения под душем, когда вдруг кто-то в квартире или ваши соседи параллельно открыли смеситель или воспользовались смывом унитаза, — и температура в душе резко упала или, наоборот, стала обжигающей. Термостат Grohe гарантирует, что этого не случится. Нельзя не отметить серию инновационных душей Power & Soul™ и, безусловно, наши водные системы Grohe Blue и Grohe Red, подающие прямо из смесителя уже фильтрованную, вкусную охлажденную или кипящую воду.
Grohe has its own team. In 2005, we formed a staff team of designers at the international level under the direction of Paul Flowers: it is included in the list of 40 most promising European creative workers under the age of forty. Another reason for professional pride was our winning the Red Dot Award in the nomination "Best Design Team".
We are like winemakers: each of them has his own recipe, which is constantly being improved. Grohe knows how to produce high-quality brass alloy and create plumbing equipment from it, and all the while improving what was previously created. Go to the plumbing stores: in them you will see a lot of cheap mixers from light alloys. Grohe base materials do not use! Since the elimination of the flood because of a small crack in the body is more expensive than the money saved when buying money.
Eurocube Joy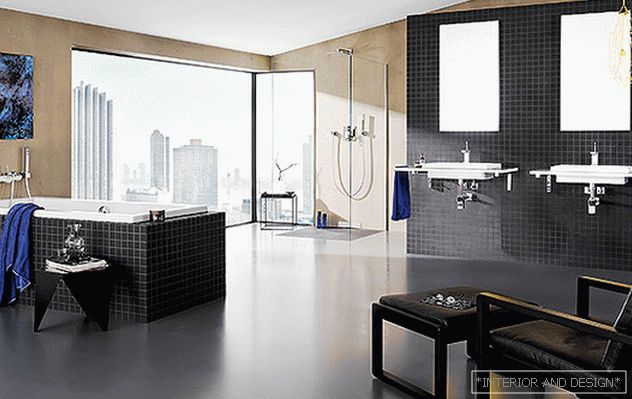 Eurocube Joy mixers are equipped with 29-mm cartridges and a Grohe FeatherControl joystick.
The specialists of the German factory Grohe are sure that the mixers of the Eurocube Joy line are destined to become classics of design. Excellent proportions in combination with the original geometry give the models a monumental look, emphasizing their masculine character. The joystick - the Grohe FeatherControl control system - makes plumbing fixtures durable and easy to use. The Eurocube Joy line of mixers is able to satisfy the most demanding customers. Single-lever sinks are available in sizes S, M and XL, which guarantees their compatibility with any sinks. Also in the collection there are two-hole wall mounted mixers with different spout lengths; hidden installation system allows you to save space in the bathroom. In 2015, Eurocube Joy was awarded the Red Dot Design Award.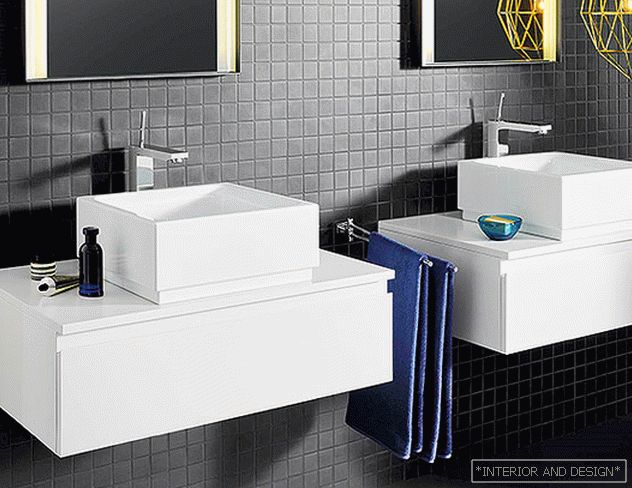 Special coating ensures a long service life.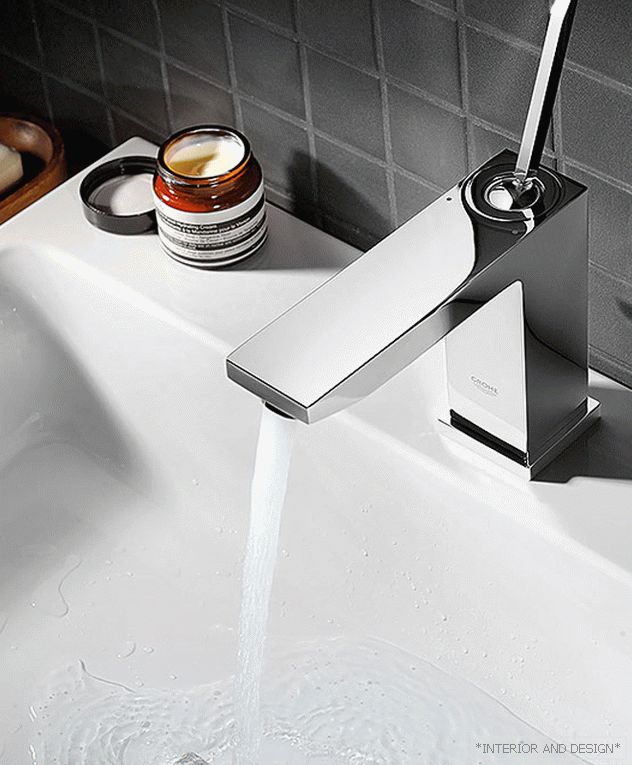 Cubic shape is a key feature of the collection; sizes and proportions of products vary.
Today's luxury is water. And also the time we devote to ourselves. Our products will allow you to create in your home a unique space where you can be alone with yourself, enjoying the perfect flow of water. And while maintaining the natural resources of the planet.
Grandera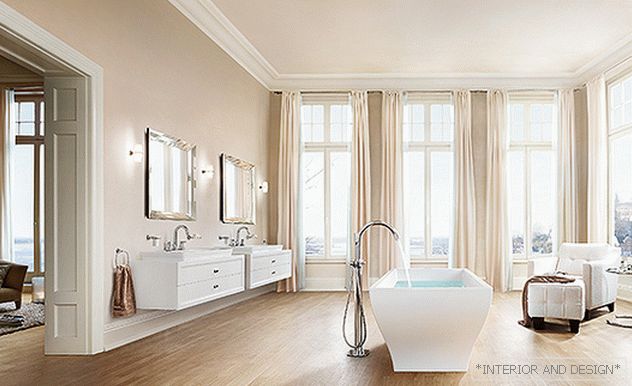 The Grandere bath has an unusual, memorable shape.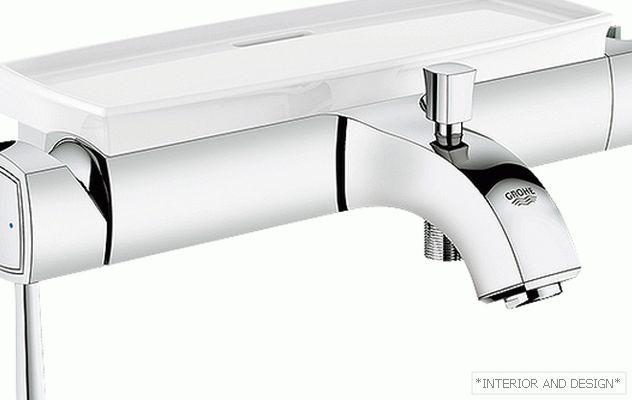 Grandera single lever bath mixer with porcelain shelf for shower accessories. Coating: chrome.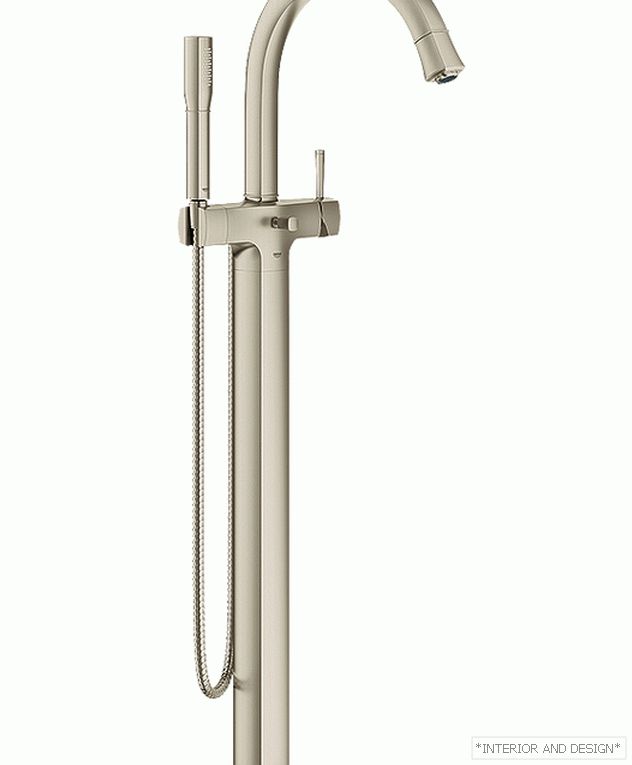 Grandera single lever bath mixer for outdoor installation. Finish: brushed nickel.
One of the brightest series of the company is the Grandera collection. Grohe designers harmoniously combined opposites in it: classics and modernism, smooth and straight lines, masculine and feminine. The source of inspiration was textbook samples of world architecture like the Eiffel Tower. As a result, a universal series has arisen, which, according to the creators, "does not constrain the framework and borders". It includes faucets, shower systems, thermostats, accessories in three coating options: chrome, chrome with gold trim and brushed nickel.
F-digital deluxe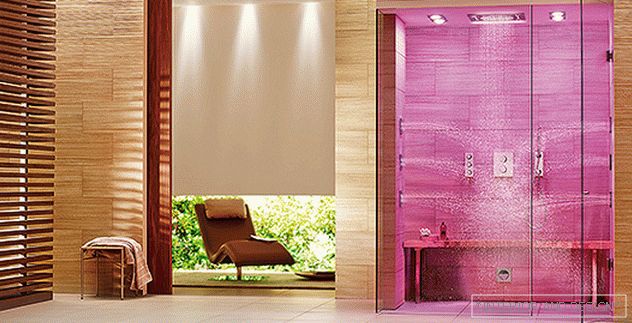 The purpose of F-digital Deluxe is to turn an ordinary bathroom into a home spa.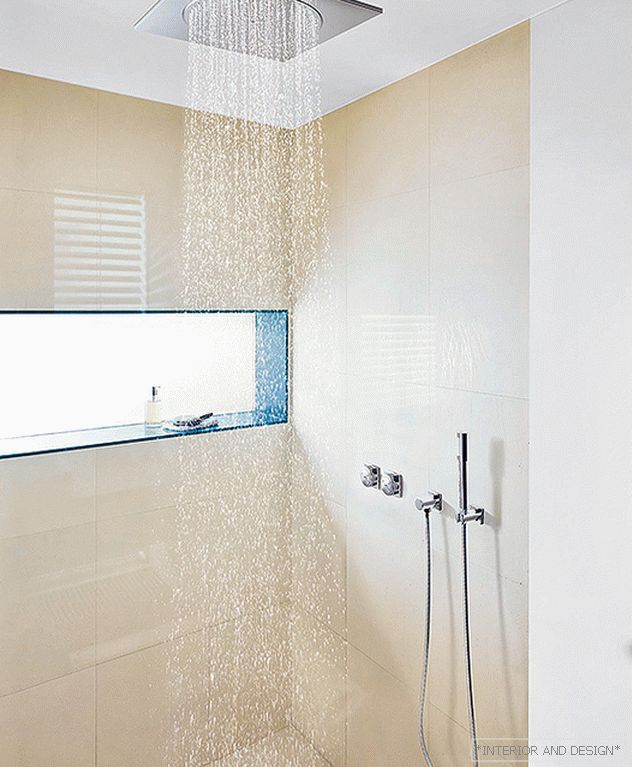 Components from F-digital and F-digital Delux are freely combined with each other.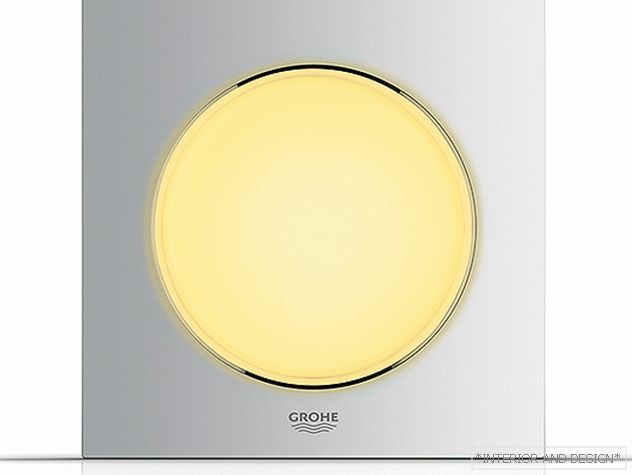 Light module F-digital Deluxe.
Its purpose is to turn an ordinary bathroom into a home spa. Where, along with water treatments, you can enjoy chromotherapy and pleasant steam to cleanse the skin, and even accompanied by your favorite music. Integration with the Apple iPod Touch and Wi-Fi-technology allows one-touch control of all the functions of the module: adjust the brightness of the LED backlight, sound volume, steam intensity.
spring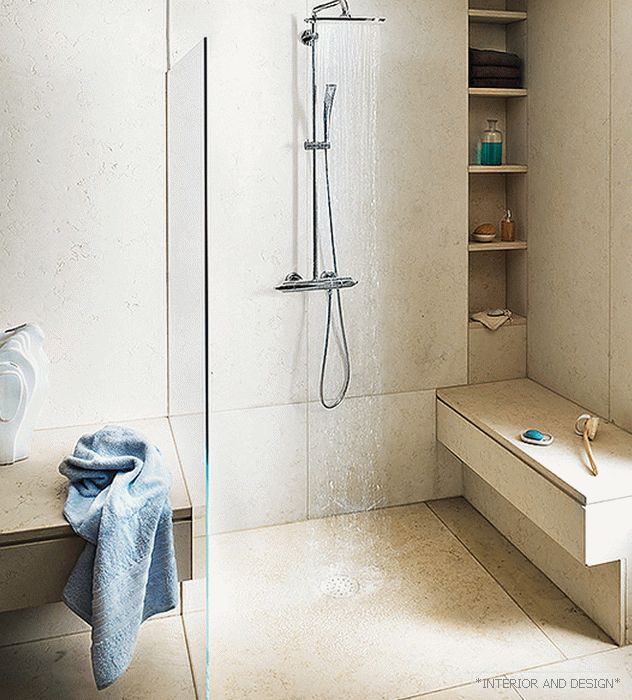 Душевая система spring с термостатом.
The collection under this name refers to the direction of Grohe Spa ™. In it, the designers of the brand embodied the philosophy of "sensual minimalism". Components differ extreme conciseness and rationality. The overhead shower has an oval shape, repeating the silhouette of the human body (if you look from above, it looks exactly like an oval). Thanks to this, not a single drop of water will be spilled in vain. Thermostatic mixers will maintain the selected temperature. No jumps and unpleasant surprises!
Power & soul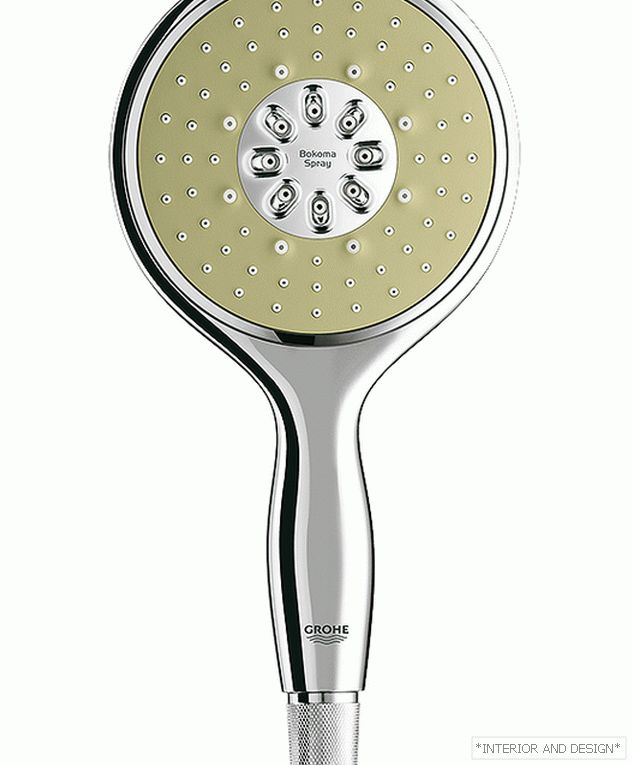 Душевая лейка Power & Soul в отделке «хром/ фисташковый» (линия Natural Colours).
Обтекаемый силуэт делает лейки серии Power & Soul™ приятными глазу. А четыре режима струи: Rain O2, Rain, Bokoma Spray™ и Jet — дарят тактильный комфорт. Как и во всех душах марки, технология Grohe DreamSpray®, обеспечивающая равномерное распределение воды без разбрызгивания. А Grohe SpeedClean предупреждает образование известкового налета и облегчает чистку силиконовых форсунок. Переключатель режимов One-Click Showering позволяет выбрать режим струи одним нажатием на кнопку.
Essence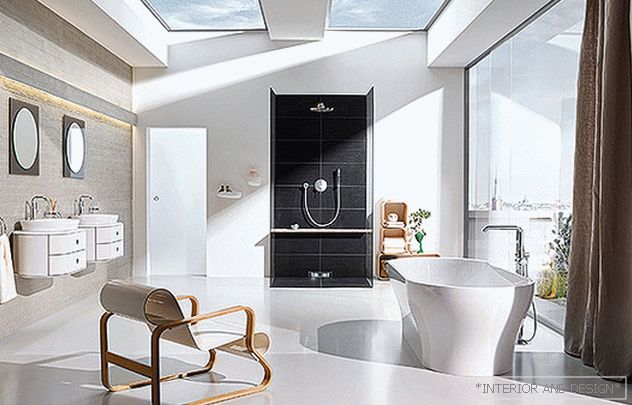 Faucets collection Essence.
The concept of timeless is applicable to the design of timeless - "timeless". There are models for installation on the sink and for wall fasteners. Essence also includes concealed and external faucets for bathrooms and showers, including floor-standing bathtubs.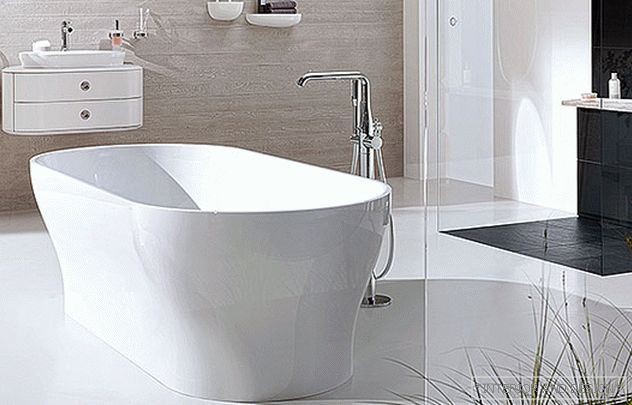 Floor mounted mixer from the Essence collection.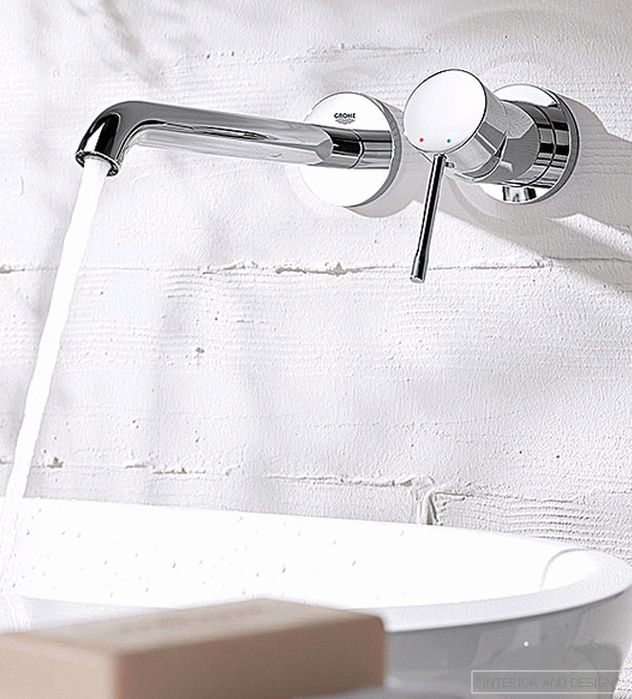 Wall mounted mixer option. Essence.
Aquatunes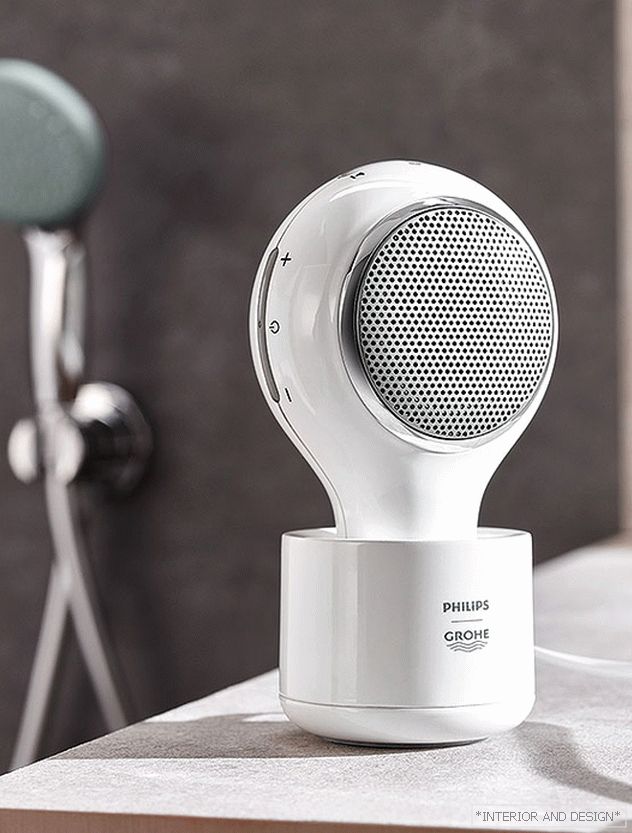 Waterproof speaker system Aquatunes
Waterproof speaker system Aquatunes с возможностью загрузки музыки через Bluetooth разработана совместно с компанией Philips. Aquatunes обладает отличным звучанием даже в условиях повышенной влажности и легко устанавливается на любой стандартной душевой штанге. Аккумулятор удерживает заряд до 8 часов. На динамике есть кнопки включения Bluetooth, переключения треков, а также регулятор уровня громкости. Два встроенных светодиода показывают уровень зарядки устройства и статус подключения к Bluetooth-устройствам.