In October, at the Crocus Expo with the support of Federlegno Arredo Eventi and in cooperation with ICE (ICE - Agency for the Promotion of Italian Companies Abroad) will be held the international exhibition i Saloni WorldWide Moscow 2017.
Related: i Saloni WorldWide Moscow 2017: Italian Design in Moscow
On October 13, at 1:30 pm, the design critic Olga Kosyreva will conduct the master class of Kristina Chelestino. Especially for "INTERIOR + DESIGN" she asked Christina about her creative path. We publish the second part of the interview.
Related: i Saloni WorldWide Moscow 2017: conversation with Christina Celestino
"Christina designs light fittings shaped like cupcake cups, draws leaves on chairs, feathers on wall ceramic tiles, and her portfolio is full of glass vessels that look like chemical flasks, sometimes aestheticized disposable dishes, in which flowers are enclosed like in kunstkamery showcases. All this decorative "nonsense" (compared to the large architecture) came into her life gradually. But now, like no one, she boldly mixes marble and fringe in one model of the coffee table; draws wall ceramic tiles in the form of embossed mother-of-pearl feathers; adorns the sofas and armchairs with a fringe of already natural fluffy fur; combines muted blue with mustard, pink and grass green, creating an indescribable color gamut that would have been unthinkable to be presented in the interior a couple of years ago. And so on.
Armchair Caletea, Pianca, Diz. Kristina Čelestino.
OK.: What do you think shaped your signature style? How did your parents influence this?
K.C .: I grew up in a small house, far from big cities, an hour from Venice, in the province of Friuli. I am the first in our family who chose the creative profession. My mother worked all her life in the office, and what she taught me is administration. My dad is a mechanic who has been selling used cars all his life. That is completely different. And I always loved to create something with my own hands. As a child I spent my holidays with my grandfather on a small farm, played in the garden, with flowers, among plants, and all the time I made homemade gifts - from flowers, from food - and gave them to my parents. I love flowers, I love trees. I love and Milan, but I am a rural girl.
OK.: How did you become a designer?
K.C .: At school I liked drawing lessons, and the teacher was an architect by training, and she told us about the work of Adolf Loos, about the interiors of Le Corbusier, and so on. I loved these lessons very much. And so I said to myself: this is interesting, it must be studied. I then did not know what design is. And what is the difference between design and architecture. The design was somewhere in Milan, and there was architecture in Venice, and I went to study as an architect, and only then retrained as a designer.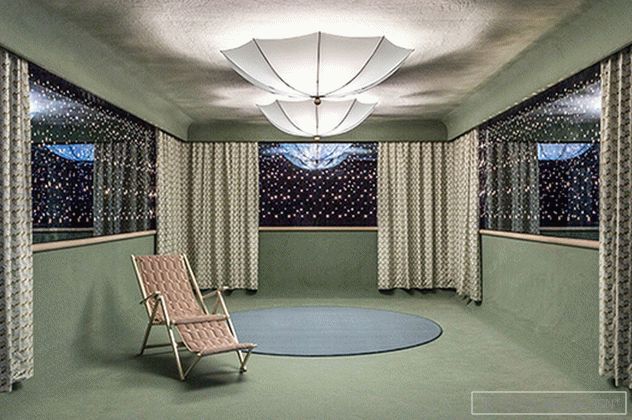 Installation Proiezioni, Cantiere Galli Design, Cristina Celestino, Rome, 2017.
In my opinion, this is the reason why Christina Celestino pays so much attention to working with space - whether it be stand design, installation, pop-up space. Even the shooting of her works usually take place in conditional, improvised, but interesting interiors.
K.C .: Now I love design and architecture equally, but architecture is not like building large buildings, but private, chamber architecture, building the interior, working with space.
OK.: How do you live? In which space? Surrounded by their objects, alien objects, new, old?
K.C .: Of course, I have a lot of my things at home, which are made according to my sketches. Firms must give me at least one copy. So at home I have everything that I designed. I love to mix these new things with old ones, with vintage ones, with things masters of Italian design - Magistretti, Castiglione, Ponty. Mix original historical interiors with new objects that have their own face and artistic value. I like the message, the story behind every house. And I don't like it when people demolish everything to the ground and build it all over again. I like it when in the modern interior I see a story - the old Milan, for example.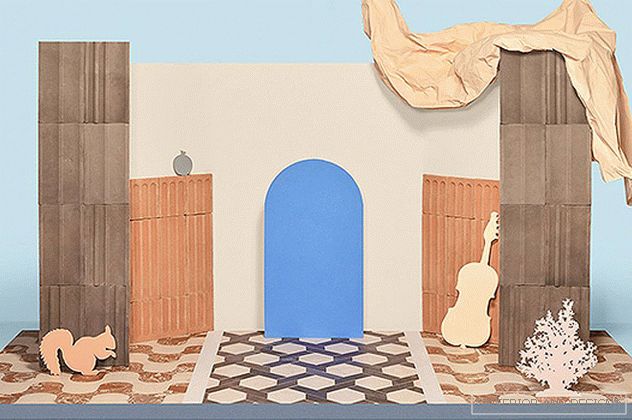 Коллекция плитки Гонзага, Fornace Brioni, диз. Kristina Čelestino, 2017.
It's not for nothing that Christina talks about vintage and her love for old things. She loves to combine new and lived things in their interiors. All her creations have a pleasant time flap. And when she was looking for an apartment in Milan, she wanted a historical atmosphere and ancient walls, and found, received, and then filled with a mixture of new and old.
K.C .: We moved to our current apartment two years ago. When they were looking for housing, they decided right away that it should be the house of the twentieth century, from the 1930s to the 1970s, that is, historic, but not ancient. And we like the original interiors, but we also needed a modern space, quite spacious rooms, at least a living room. And it was not easy to find - a building with history, but which would allow living in a modern style.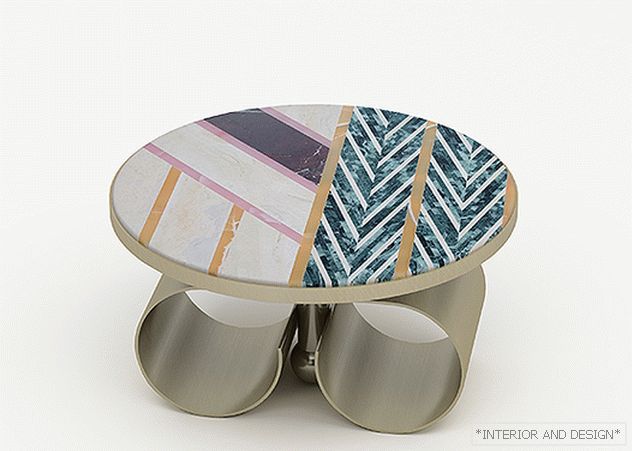 Low table of call. The Happy Room. The diameter is 50 cm. The base is made of brass, the tabletop is made of travertine, inlaid with marble and onyx based on the motifs of the art panels and the Fendi coat.
We were lucky because we found an apartment in which the traditional layout is connected, with separate rooms, for the traditional lifestyle, and a modern approach, with a large open space where we now have a living room. We did not need to build or destroy any walls or partitions, the room ideally corresponded to the needs of our family. It has original doors and large windows, thanks to which we have a lot of light. Now we live wonderfully here with my husband and four-year-old Bianca. Yes, she is blonde, with curls and green eyes!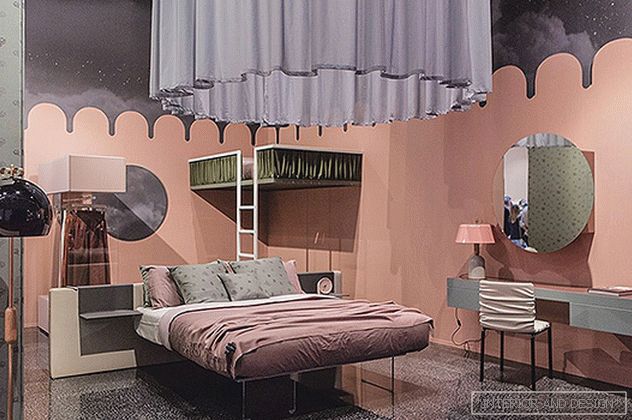 Never Stop Living Kindness Project, Milan Design Week Lago 2017, Cristina Celestino.
OK.: You are not yet forty, and you have already achieved so much, have done a lot. What do you consider your main achievement to date?
K.C .: The strength of my design lies in the fact that I do everything very quickly. These are not two ideas in two years. I love my work very much and I love the process of inventing, working out and creating objects. Therefore, I am very grateful to those companies that believe in me and give me the opportunity to create many different projects, both furniture and interiors. Such was BottegaNove - a new small company producing ceramic tiles. I was their creative director, I developed a collection of Plumage, as well as image, corporate identity, visual communication, etc. This was the first time in my practice, and therefore it was very important. This year I worked with other ceramists, the company Fornacе Brioni. And she also created not just a collection, but also developed a website, a catalog, and the entire visual part. This is a great challenge when you do everything so globally, so comprehensively.
OK. Is there anything left to dream about? Professionally?
K.C .: I hope that now world brands, not only Italian, will start contacting me. I would like to work with foreign companies, I am curious, it would be interesting for me to try other approaches to design. "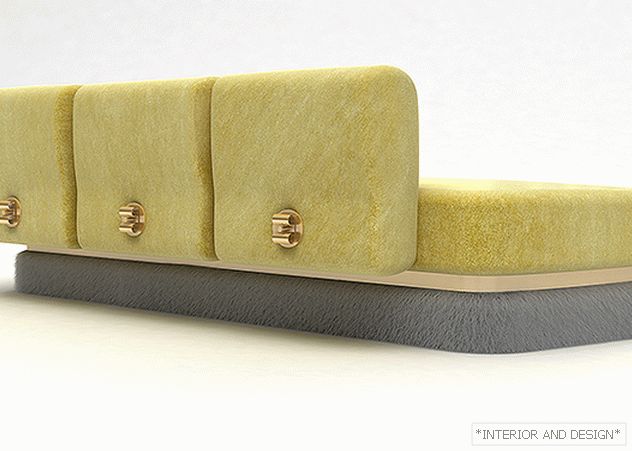 Sofa, call. The Happy Room. It is upholstered in velvet Rubelli of mustard color, the base is trimmed with gray fox fur. On the back of the brass clasps in the form of earrings, studs.