A house in Wisconsin, as conceived by architects, seems to grow out of the surrounding landscape.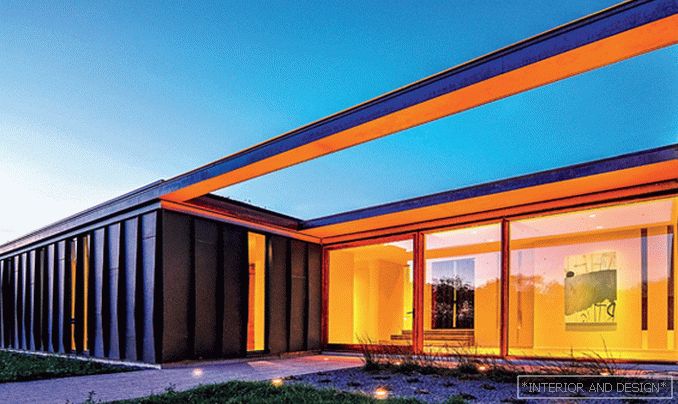 Passing the gallery
Magazine: N6 (216) 2016
A house in Wisconsin, as conceived by architects, seems to grow out of the surrounding landscape.
The owner of this house is a bioengineer by profession, and in his spare time he enjoys sculpture. It is not surprising that he saw his property as such a living organism, merged with the surrounding landscape and even as it were generated by it. The house is located in the vicinity of Blue Mounds, a small settlement near the eponymous nature reserve in the state of Wisconsin. This is the north of the country, already almost on the border with Canada, a hilly terrain with a complex topography, rugged by ravines. Relief with a height difference determined the nature of the building erected by design bureau architects Johnsen Schmaling Architects. The firm from Milwaukee, the local "district center", and the architects are well aware of the peculiarities of the local landscape.
They went from the opposite: they did not subordinate him to the building, but the building to him. The house is organically inscribed in a ravine, as if supporting its walls from the butt and on one of the longitudinal sides. In terms of this is an elongated rectangle, located in the valley, in the "bed" of the ravine. The house is located on several levels, each of which whenever possible is deployed so as to make a panoramic glazing. Somewhere it is less, somewhere more, but somehow it is present at all levels. It turns out this watchtower with several exits on different sides. The most spectacular view is from the panoramic terrace on the upper level, under the roof.
The building has several courtyards, and all rooms are looped around them. Although there are as many as five levels, the height difference is actually small, a full-fledged staircase is only from the first to the second floors, while the intermediate ones, up to and including the upper one, are connected by passages just a few steps. The interior is designed to become a technical, austere architecture, because the owners are very practical people: large planes of walls, the play of natural materials and the "steppe" scale.
Read the full text in paper or electronic version of the journal.