Decorating this wedding, the decorator and florist Lidia Simonova created the atmosphere of a romantic fairy tale.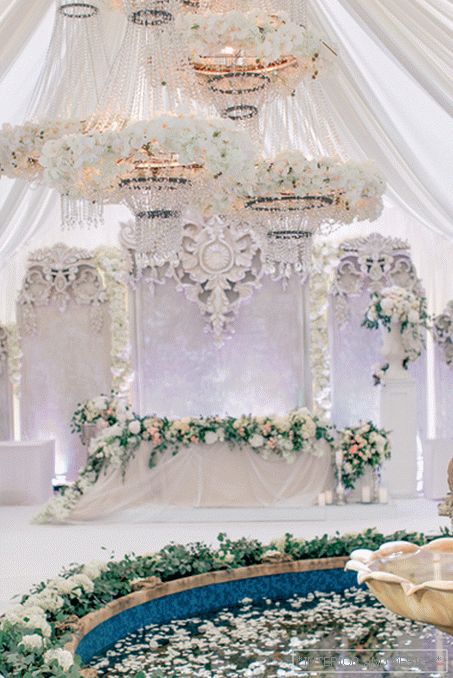 Passing the gallery
Magazine: (217) 2016
Decorating this wedding, decorator and florist Lidia Simonova created the atmosphere of a romantic fairy tale.
The wedding was celebrated in the bride's country house, and the nature of the decoration of the celebration was determined by the architecture of the house, designed in the classical style. A tent for off-site registration was installed opposite the main entrance, calculating its height so that a light, elegant building became like a canvas for it, a frame. The crossroads of arches entwined with flower garlands, with flowing snow-white canopies that sway in the wind, were perceived as an organic part of the architectural landscape. For the wedding banquet, a second tent of larger size was erected, maintaining the general style. The elegant furnishings complemented the classic furnishings: in flowerpots at the entrance and in elegant small vases and high "pergolas" on the tables.
The central place was taken by the fountain, around which the whole composition is looped. It was decorated with a flower border, a bowl — in the form of flower petals, and water was strewn with real petals. Lydia is known for often including such complex, unusual designs in her projects. They are completely — from a sketch to its realization — created in its workshop LID'S EVENTHOUSE. The final touch of the decor was the lamps: crystal chandeliers decorated with white flower arrangements. The white-golden-cream gamut in which the decoration is sustained was diluted with emerald accents: these are the glasses used in the serving, and the leaves of eucalyptus included in floral arrangements.
Read the full text in paper or electronic version of the journal.