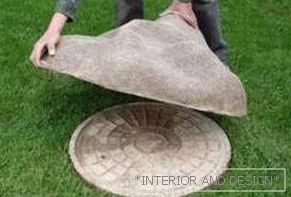 In modern individual houses, cottages have sewer and drainage hatches protruding above the ground, which give an ugly look to the landscape. For a beautiful arrangement of the territory, all these hatches are masked by various elements, including artificial stones of various shapes.
Content
1 What are artificial stones on the hatches
2 Kinds of artificial stones for manholes
3 Advantages and disadvantages of artificial stones for manholes
4 How to choose artificial stones on the hatch
What are artificial stones on the hatches
Artificial stones are a wonderful imitation of real objects of nature protruding above the ground: granite boulders, stumps, boulders and are intended for decorating wells, sewer manholes and other unsightly places present in the landscape.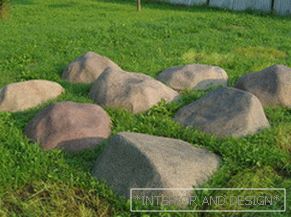 Artificial stone - consists of two components. Frame - durable, eco-friendly fiberglass and lining - glued the most different colors of a natural crumb from marble, granite, quartz. They are made of polyurethane, fiberglass and polymer resins with the addition of natural stone chips. Despite the external massiveness, the stones have low weight, they can be lifted and moved, which provides access to the object. The stone is hollow and has a tough, durable construction, wear-resistant, tolerates moisture, is not exposed to climatic factors. These stones replace natural sandstone, granite, limestone, slate. They can be cut with diamond discs.
Kinds of artificial stones for manholes
Artificial stones for hatches have many varieties. We will look at some of them.
Hollow Granite Boulders - it is based on modern fiberglass materials. The surface of the boulder is a natural granite stone. In their manufacture using natural granite chips, which creates the impression of analogue. A distinctive feature of such stones - complete similarity in appearance with natural granite. Produce granite hollow boulders for different levels of rigidity of the frame. Another feature of hollow stones - resistance to the effects of nature.
Artificial stone "Prestige 85" imitates completely natural boulders that is not easy to distinguish from natural stone. They recreate the shape and topography of the surface of natural stone. Produce stones of different colors - amber granite, white quartzite, red and gray granite. Its surface may be covered with fine-grained granite, minerals and sandstone. Artificial stone "Prestige 85" possesses reliabilityfor a long time retains its original characteristics.
Boulders "Standard" imitate sandstones and have smoothed forms, uniform color interspersed with quartzite. The shape of the stones visually creates the tip of the iceberg. They lack pronounced chips. Boulders "Standard" a bit cheaper other varieties, and their characteristics coincide with the characteristics of the stones "Lux-Premium".
Hollow artificial stone boulder Premium Premium and Suite. Stones "Lux-Premium" - accurate imitation колотых скальных пород и природных валунов. Использование сложной технологии при изготовлении камни «Люкс-Премиум» обладают повышенной прочностью и глубокой структурой цвета. Искусственные камни-валуны «Люкс» предназначены для decorating колодезных люков, септиков и других конструкций, имеющихся на участке. Валуны «Люкс» выпускают облегченными, характеризующие острые сколы, которые имитируют формы разных гранитных обломков.
These stones, boulders, light, resistant to the whims of nature, they do not need to clean the winter, do not require special care. Do not expose them mechanical stress.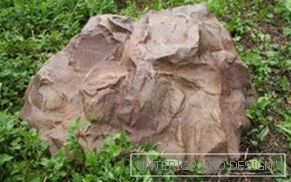 More than a dozen different colors and forms of artificial hollow boulders "Lux" made of fiberglass at the base of the stone are 80 cm in size. An artificial boulder with such a base diameter is suitable for masking well hatches protruding above the surface up to 10 cm.
To close the standard sewer cap, which protrudes above the ground more than 10 cm, decorative artificial stones of the following sizes are used: 90 cm, 100 cm and 120 cm with different color palettes. For the shelter of large engineering structures, boulders with a diameter of 140 cm are used. The maximum size of the artificial hollow boulder "Lux-Premium" and "Lux" is 170 cm, and the standard stones produced by order are 200 cm.
Advantages and disadvantages of artificial stones for manholes
Virtues decorative artificial stones:
have light weight;
durable;
resistant to temperature extremes;
variety of models;
high level of imitation of natural stone;
acceptable prices;
eco-friendly;
aesthetic.
Minuses decorative artificial stone on the hatch:
inferior in terms of life to the natural counterpart;
not resistant to shock and chemicals.
How to choose artificial stones on the hatch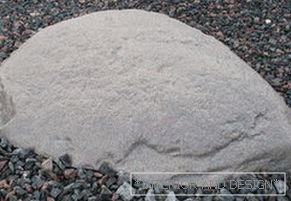 When choosing an artificial decorative stone to close the hatches on engineering, sewer networks, it is necessary to determine the size of the base, the height so that its cavity closed completely protruding design. Usually stones are made with forms used for manholes with a slight projection above the surface and special high forms. If you have an extraordinary construction at the site, then you can choose a stone in the store individually.
One of the easiest ways to select an artificial decorative boulder stone is the photo your construction with overall dimensions, according to which a suitable stone will be selected. You can choose a decorative stone in another existing way - to hold measurements dimensions of the structure, which are compared with the actual dimensions of the cavity of the stone by measuring them with a tape measure.
Forms of artificial stones choose more colorfulwhich have the appearance of natural rock fragments, their inner sides of the cavity also have various forms, which makes it possible to choose the product you need. You can buy a large stone without selecting it in size, but this option is the most expensive, because of the size and complexity of manufacturing price depends. Carefully selecting the appropriate shape of the stone, you save on material costs.
To check quality Products need:
pick up the product and turn to the sun. Boulder should not shine throughif translucency occurs, then such a stone is not durable and not durable;
note texture stone If the texture is not pronounced, then this stone will not look natural;
so that the stone does not let in water, dirt, sunlight, see if it is treated from the bottom with moisture, noise, heat insulating special foam.
So, we told you what artificial decorative stones are, their use, advantages and disadvantages, how to choose a quality product. I would like to hope that this information will help you in choosing a decorative stone for arranging the landscape of the suburban area and masking the sewer manholes in the area. Good luck to you.