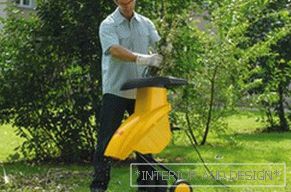 Caring for a suburban site requires a sufficiently large time and labor costs. In order to make life easier for owners of homestead and country plots, many different techniques were invented, including garden shredders (chippers). They allow you to replace chemical fertilizers with environmentally friendly compost obtained from dried plants, tree branches, rotted vegetables and fruits.
Content
1 Device and principle of operation
2 Advantages and disadvantages of electric chippers
3 Electric Shredders
4 Operating Rules
5 reviews
Device and principle of operation
The chopper consists of:
funnels;
bunker;
the cutting mechanism;
engine;
deflector;
legs;
колесиков.
Even the simplest shredders have a bunker protective a system that prevents hands or clothing from getting into it. If the container is open, the device simply does not turn on. The funnel is part of the bunker and is designed to load raw materials. The crushed raw material exits through the hole located in the lower part of the bunker.
The main part of the shredder - milling machine or two knives. A device with a cutter should be bought if you need to grind large debris from wood. Chipper with knives well recycles grass and thin branches. In order for the cutting part to work, an engine is required. It can be gasoline or electric.
According to the principle of operation, the chopper is similar to meat grinder. Waste after entering the hopper is crushed to the state of chips. Performance depends on the power. For example, a device with a power of 2.6 kW will not crush branches that are thicker than 5 cm.
From the cost of the device, the principle of operation does not change. Just for chopping large branches should buy chipper with great power. For smaller sites it is better to buy electric units - in a small area for a large and powerful gasoline chopper is not enough "work".
Advantages and disadvantages of electric chippers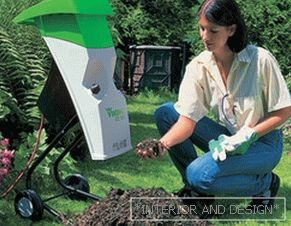 Electric garden shredders are fairly easy to operate and have a variety of positive qualities:
ecologically safe (no harmful products of combustion are emitted);
work almost silently;
weigh a little, so suitable for women and the elderly;
easy to run;
easy to maintain;
are standing cheaperthan devices with gasoline engines;
the presence of wheels facilitates movement;
Most models are equipped with adjustable speed and reverse for cleaning knives.
TO disadvantages include:
the small power which is not allowing to use for crushing of thick branches;
dependence on the location of the electrical outlet;
cannot be used if there are frequent power outages;
break down with frequent voltage drops.
Electric Shredders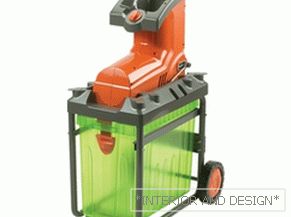 Chippers differ as intended, the design of the funnel, the speed of rotation of the knives (cutters), the noise level. Models of good manufacturers are equipped with self-starting locking, reverse and pusher.
Purpose - is the volume of work performed and the grade of raw materials. The electrical device is suitable for a small area with a minimum of old trees. It is not worth spending money on a chipper that will not be used at full capacity. No less important, what raw materials need to be processed - large, small, dry, raw. A device with knives is suitable for processing small debris; a chopper with a milling cutter is suitable for grinding thick branches.
During operation level is important security technology, so any little thing is important: the method of loading raw materials, the presence or absence of the automatic garbage feed function, the presence or absence of reverse and self-starting blocking When choosing equipment, it should be noted that the most convenient funnel is inclined and made in the form of a cone.
The level of noise also affects the state of health during work. engine. In electric models, this indicator is much better than in petrol models. If the site has a large enough area, the size and design of the wheels is important. Very small or very thin wheels probably will not facilitate the work, as they will slip, if the soil is soft.
All shredders are divided into three class:
amateur
со average мощностью;
professional.
Power amateur models does not exceed 1.6 kW. They cut the garbage with disc knives. It is best to choose a model in which the knives are made of hardened steel. Amateur chippers do not weigh more than 20 kg and do not chop branches that are thicker than 2.5–3 cm, therefore they are suitable for areas where the main area is occupied by a garden.
Shredders with average power (up to 3 kW) suitable for a plot with a small, but not young garden. Such chipgers weigh no more than 40 kg and can chop branches with a diameter of up to 3.5-4 cm. The most powerful are professional devices with a capacity of up to 6-9 kW. Engine in them most often three phase, the milling cutting mechanism, they can weigh up to 100 kg, chop branches with a diameter of up to 7 cm and turn them into mulch by pressing. The grinder of this class will be suitable for a big garden or a farm.
The stores have a huge range of garden shredders from various manufacturers. Consumers consider chippers to be the most popular. Bosch, Viking, Alko, Stiga. The price range is also quite wide - from 5,000 to 56,000 rubles. The cheapest - the Patriot PT SE24 and CHAMPION SH250 chips - from 5,000 rubles. A wide choice is offered with the Viking brand - from 14,000 to 56,000 rubles. Cost depends on engine capacity, bunker volume and configuration.
Operating rules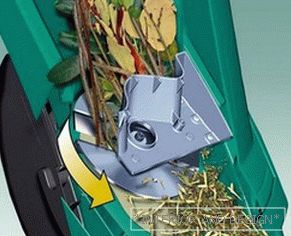 The electric garden shredder is fairly simple and safe, but some rules are still necessary. follow:
before you need to work carefully read the instructions;
work should be in a special mask or glasses, on the hands should be non-slip gloves, on the head - a baseball cap;
You can only push the garbage with a shredder (not with your hands!);
if you need to chop the branches, then their size should not be larger than allowed by the instructions;
Pebbles, pieces of glass, plastic, metal should not fall into the receiving funnel;
roots before chopping necessarily need to be cleaned from the ground;
it is better to chop the branches while they are raw;
stuck debris can be pulled only after the engine is turned off;
during operation, special attention is paid to wires and other parts through which current flows.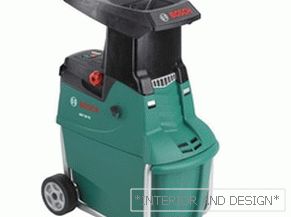 Efficiency работы и долговечность садового измельчителя зависит от того, соблюдаются ли правила его эксплуатации и хранения. Не стоит оставлять чиппер на улице, его нужно регулярно чистить и follow сроки гарантийного технического обслуживания. Если устройство сломалось, не стоит пытаться ремонтировать его самоare standingельно. При покупке следует учитывать, что у популярных производителей больше сервисных центров и ремонтных мастерских.
Reviews
Bought a chopper Bosh T. S. It cuts dry branches well, with a diameter of 30–40 mm, but it doesn't cut fresh branches with leaves, grass or tops, it clogs right away, no mulch works, only juice flows. Husband during work spends the entire stock of swear words. Sorry for the money spent.
Catherine
We have a chopper VIKING, we find it very convenient. We prepare mulch from everything that remains in the garden and in the garden and sprinkle the paths. After some time, we collect it with a rake and transfer it to a special trench. The only disadvantage of his shredder is that he doesn't very willingly cut dried branches. Knives almost stopped cutting after about 10 hours of work. Another drawback - the wife refused to use the grinder, said that she could get the handle only after climbing on the stool.
Sergei
We had two shredders: BOŠ and AL-KO. Bosch we liked more, fresh grass in general turned into almost dust. Pray well and waste from sunflower, potatoes, tomatoes, but it is too expensive. The disadvantage of the AL-KO, we believe the lack of capacity to collect mulch. I did not want to cut a trifle, I preferred tree branches. In terms of efficiency, both are almost the same, but BOSCH is much more expensive.
TOто
We have a chopper Stiga was powerIt is not very noisy, the price is reasonable. Crushes and greens, and leaves, which lay with last year. The manual says that you can poke branches 4 cm thick, but I think you should not. But this thing is useful. Now you do not need to burn the garbage neither us nor neighbors. They all bring us, and extra compost never hurts.
Stanislav