The customer purchased a small apartment of 60 square meters. meters In order to rent it out with the greatest benefit, he planned to divide the housing into two parts. The idea was implemented by designer Julia Kamanina.
By topic: Maxim Kashin: apartment with beautiful views on the 35th floor
It so happens that customers unite apartments, creating one spacious in place of two small ones. In this case, the situation was non-standard: the small living space in Moscow City had to be divided into two very tiny ones. "According to the technical task, it was necessary to create two separate apartments with a common hallway, in the image of a hotel room," says Julia Kamanina.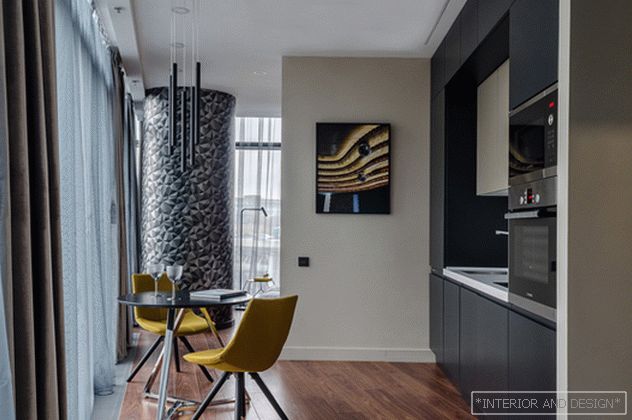 The kitchen is custom made. Chairs La Redoute Interieurs, table Voca Triad. On the wall photo of Julia Roman.
We thought about the planning decision for quite a long time: the apartments had a non-standard form, with a large round carrier column and panoramic glazing on two sides of four.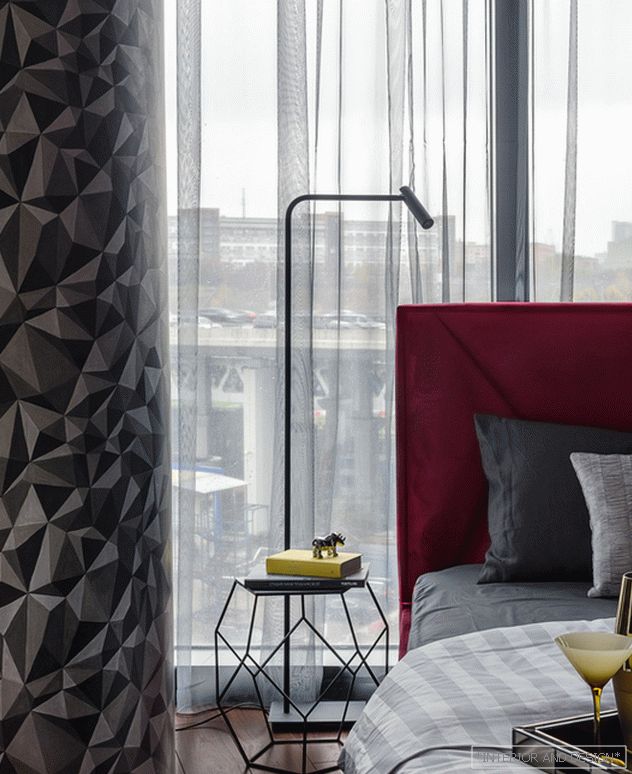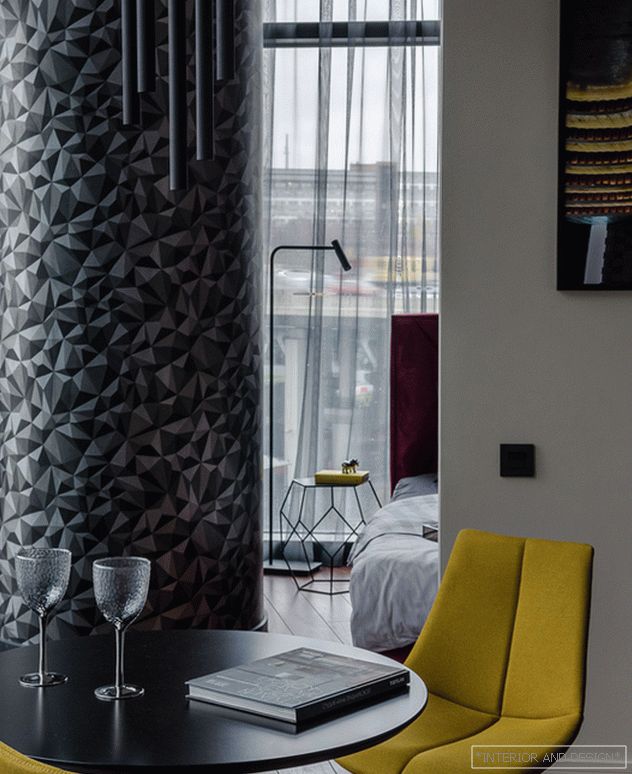 For both apartments, round tables were selected as the most compact.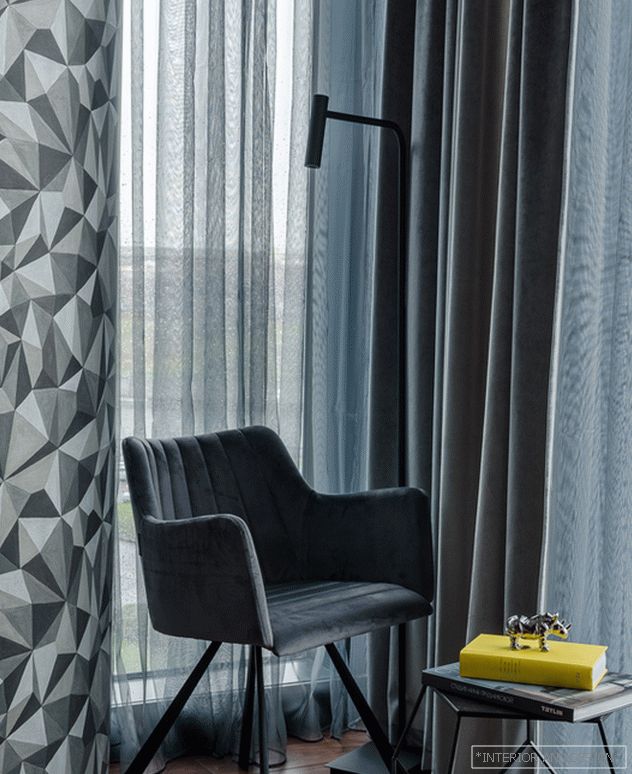 Deephouse chair.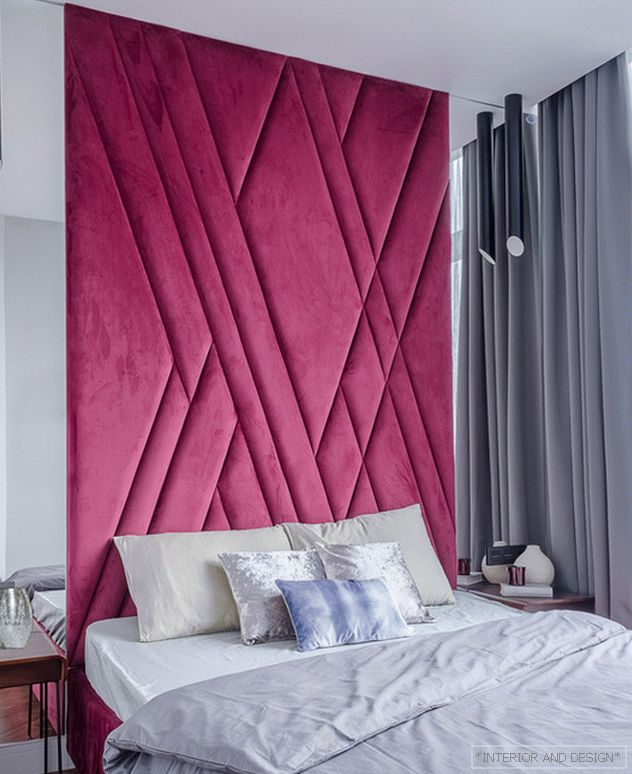 Bed made to order. In the drawing of the headboard, the dynamic lines of the Moscow-City skyscrapers are read.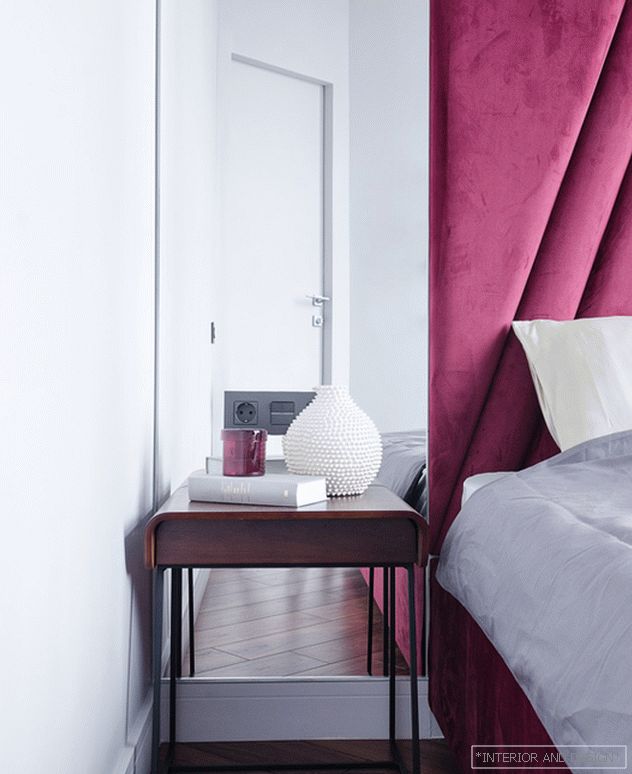 Mirror canvas widened the space. Bed and nightstand custom made. The project used lamps from Centrsvet, Ledron.
The result was two apartments of 26 and 34 sq. M. m, each with a kitchen, bathroom, double bed and dining table. Due to the non-standard size of the premises, almost all the furniture was made to order in the carpentry workshop.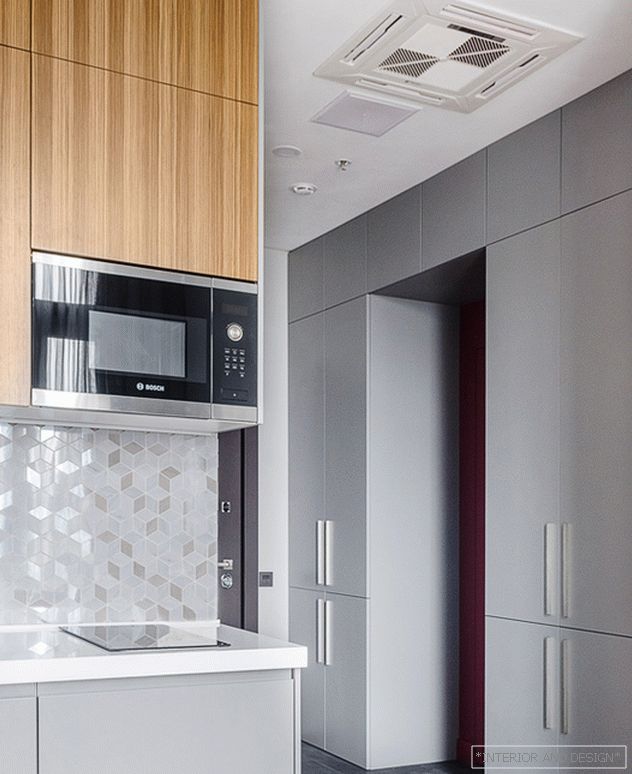 Built-in wardrobes, framing the door to the bathroom, are made to order. The direction of the floor corresponds to the complex shape of the space.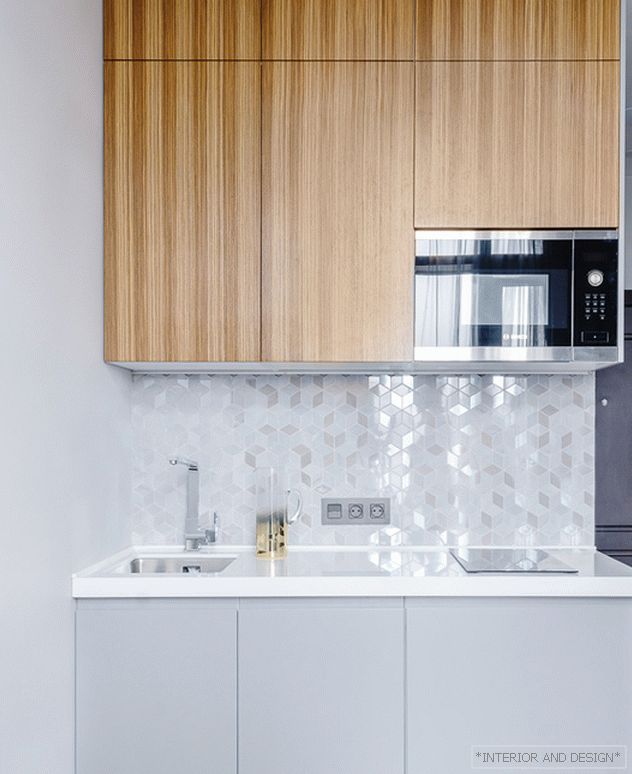 The kitchen is custom made. The project used ceramic tiles Atlas Concorde, Fap, Marca Corona.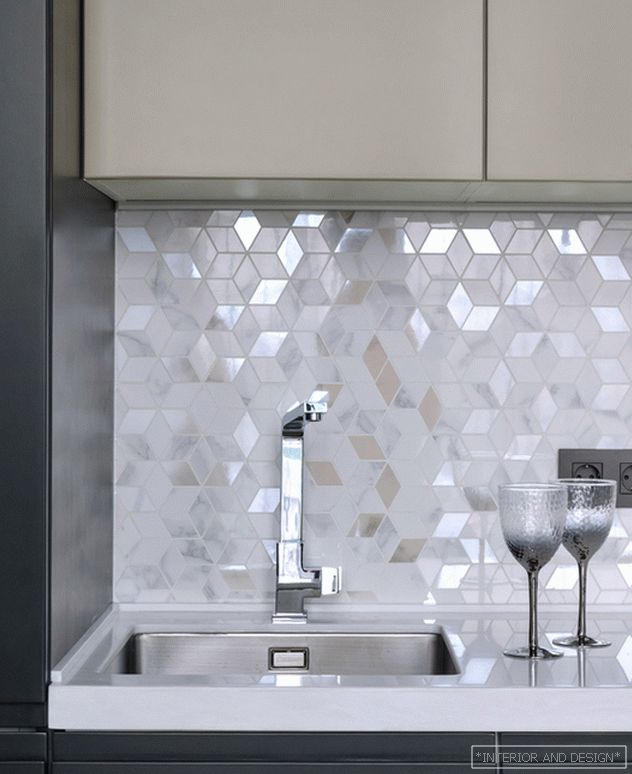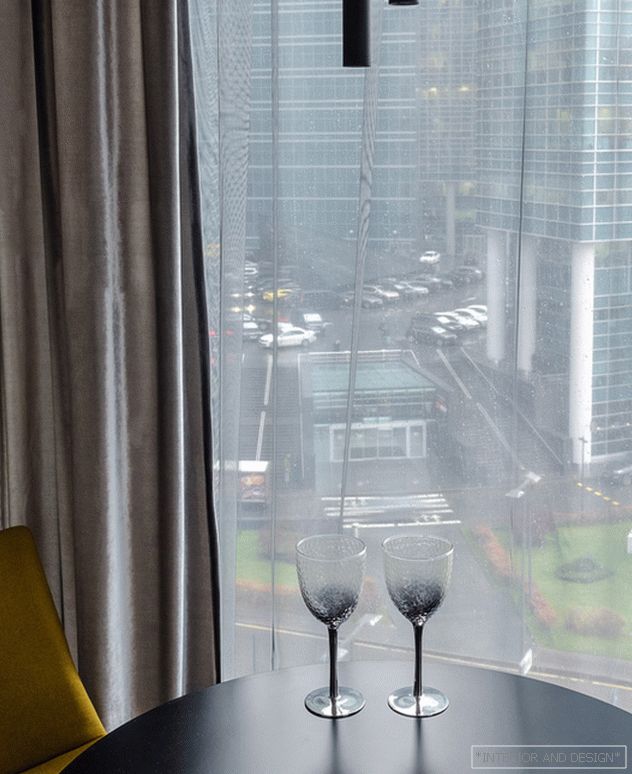 The interior has a panorama window.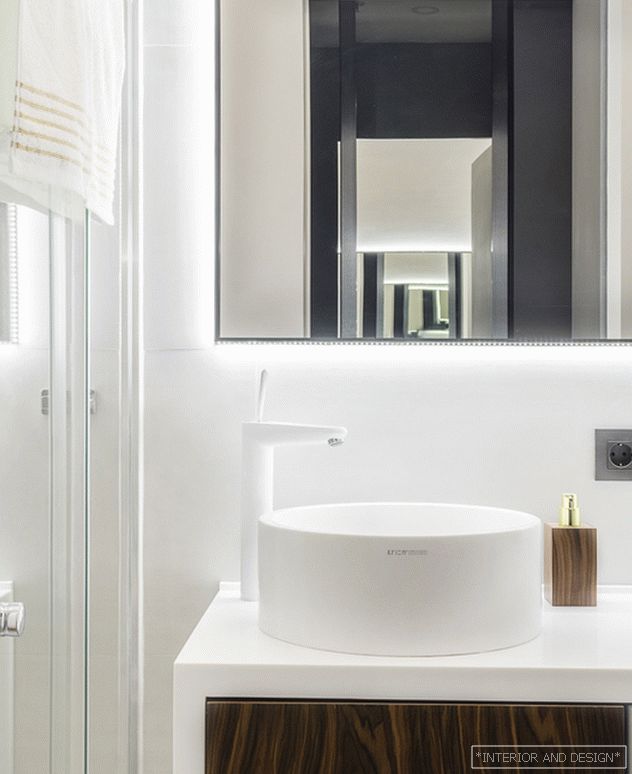 The general concept was this: to make the interior modern, minimalist, consonant with the external environment, that is, the Moscow City district. And of course, to keep within a small budget - so that the investments are as profitable as possible. "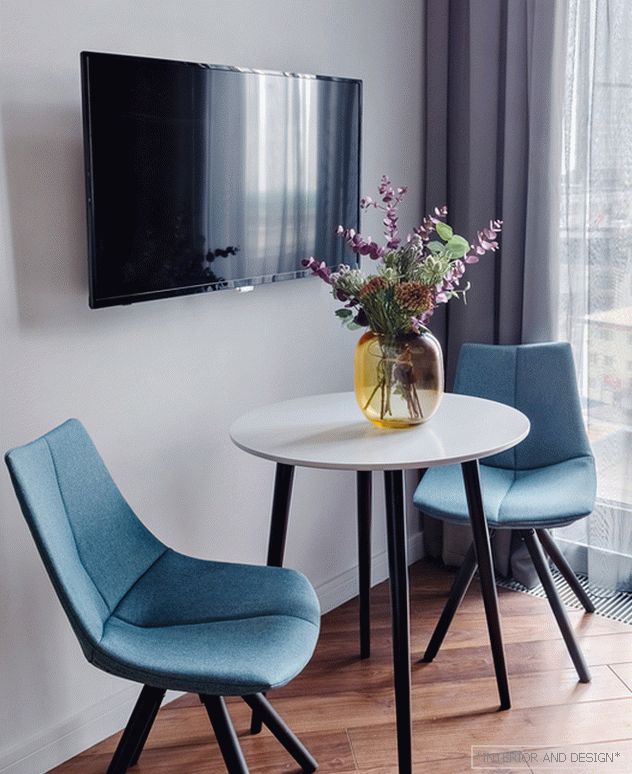 Chairs La Redoute Interieurs. Woodi Furniture table.
Small format and modest budget did not become a hindrance to creativity. Julia Kamanina not only optimally disposed of the available meters, but also worked with color, ornament, textures - she created a full-fledged attractive housing, in which it is pleasant to exist.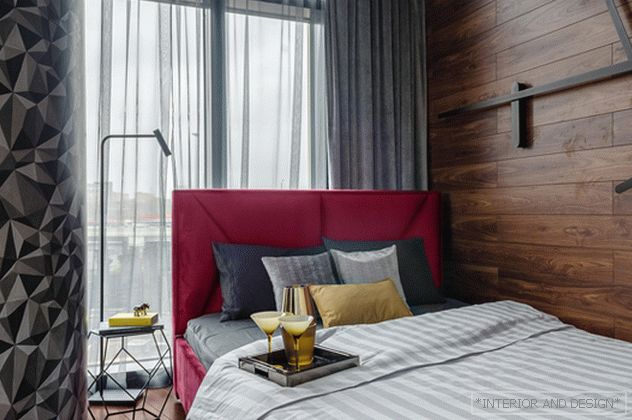 Bed made to order. Metal table La Redoute Interieurs.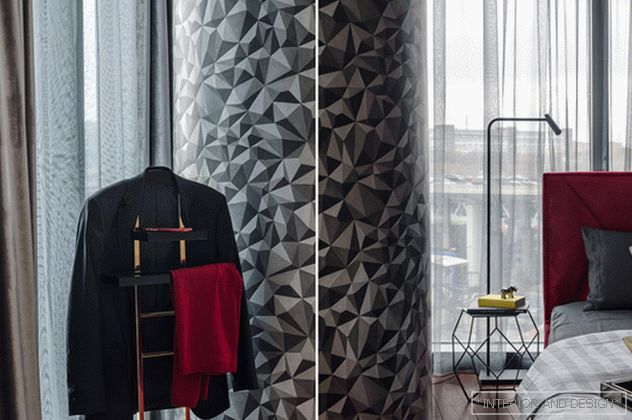 Объемную круглую колонну дизайнер удачно замаскировала покрытием с активным графичным рисунком. Bed made to order. Metal table La Redoute Interieurs.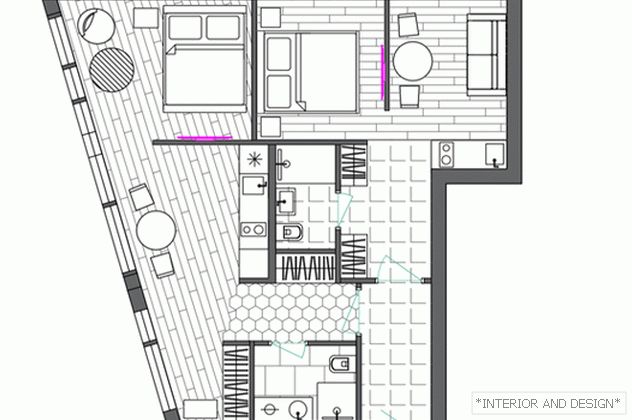 Julia Kamanina is an engineer by education, a graduate of the Moscow State Technical University. Bauman, as well as the Financial University under the Government of the Russian Federation. Since 2014 she has been engaged in interior design, decoration and painting. "For me, this is not just a favorite job, it is an opportunity to create a space for a customer that can liven up, fill with colors and show his own world, which will inspire every day afterwards!"