Today, lightweight sofas are relevant - legs give the desired ease. Thin or solid, high or not very much - supports of different types raise a fashionable sofa over the floor. Even barely indicated, they create a gap between the seat and the floor, changing the perception of volumes. The contrast of weighty pillows and thin, seemingly fragile base attracts the eye. The picture is complicated and enriched by hard wooden surfaces - integrated tables, shelves, containers. Advanced technologies and materials allow you to create legs of this design that they can withstand significant loads. Finishes are varied: from brushed aluminum to aged bronze. So, in the Zeno Light model, designed by Antonio Citterio's "living classic" for Flexform, the frame is offered in "chrome", "black chrome" coatings, in satin or brushed steel, as well as in "champagne" toning, which has recently become very popular. Visionnaire and Mauro Lipparini offer the Citizen sofa in "chrome", "gold", "bronze", "black nickel" and again "champagne". In classical models, wood bases are predictably dominated, for example, Chrysler models from Selva and Durham from Crate and Barrel. Regardless of the type of legs, modularity is appreciated in sofas: the presence of various modules in the program allows the composition to vary in shape and size, as well as complement it as the living space increases; Flexform brands are recognized as specialists in this segment. Minotti, Poliform, Lema. Transformers that change the position of the backs and armrests are also in demand - there are no equal to German pros, primarily Rolf Benz companies.
Citizen, Beloved Collection, diz. M. Lipparini, Visionnaire. Upholstery: fabric or leather. Base: satin steel; Finishes: "chrome", "gold", "bronze", "champagne", "black nickel".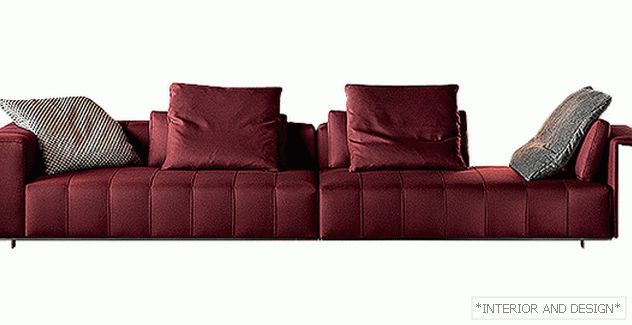 Modular program Freeman, version Taylor, diz. R. Dordogne, Minotti. Extruded aluminum frame in bronze finish.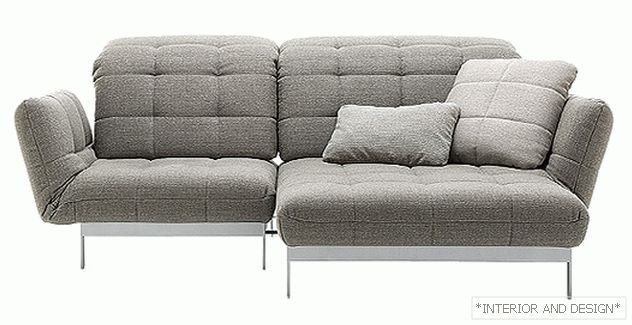 Agio, Rolf Benz. Transformer with a changing position of the backs and armrests. 2 options for seat height, a large selection of upholstery. Execution of the frame and legs: silver structural lacquer, black, "umber", "glossy chrome."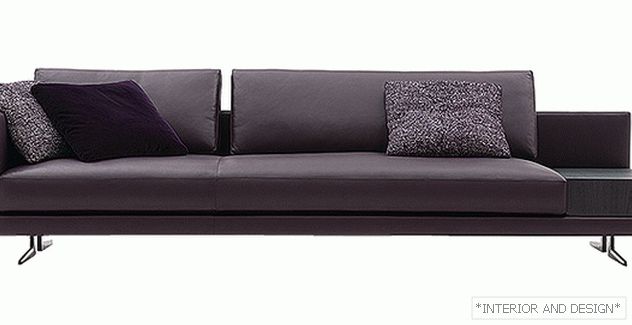 Modular program Mondrian, diz. J.-M. Masso, Poliform. Armrests and backs can be made of wood and equipped with shelves.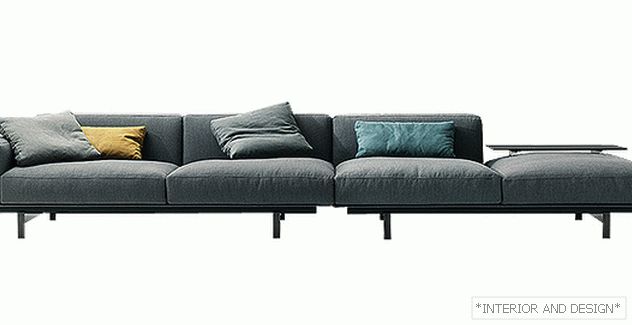 Modular program Yard, diz. F. Rota, Lema. The chic of the collection is in the contrast between soft volumes and "hard" wooden surfaces: shelves, containers, tables. Metal carcass.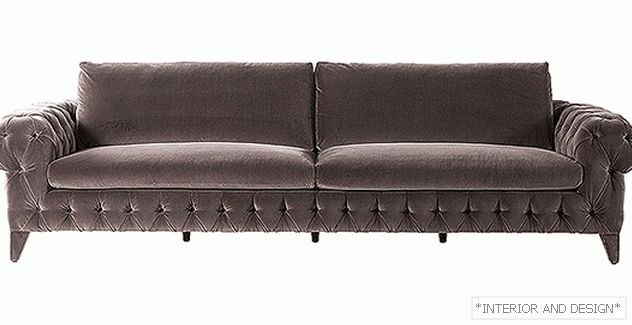 Chrysler, diz. L. Dainelli, Selva. The composition of the filler includes goose down.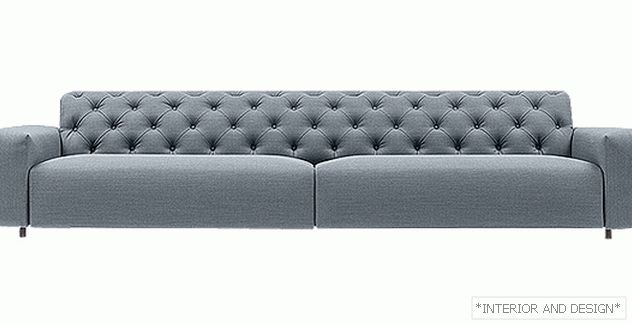 Boston, диз. Fattorini, Rizzini & Partners, Pianca. Каркас: массив дерева, инженерный массив. Обивка из ткани (съемная) или из кожи. Высота ножек 14 см, матовое или глянцевое покрытие. Простежка капитоне.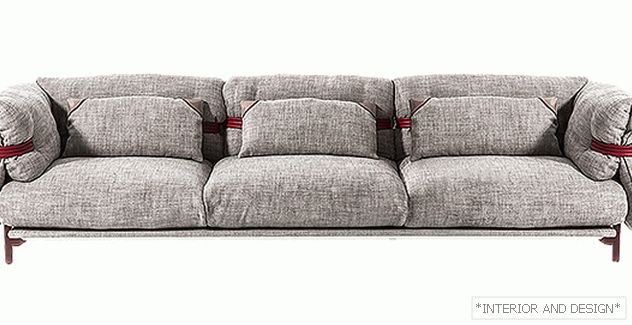 Belt, diz. P. Urquiola, Moroso. The belt, which gave the name of the model, fixes the folded backs and armrests. Frame: extruded aluminum. Base: cast aluminum powder coated.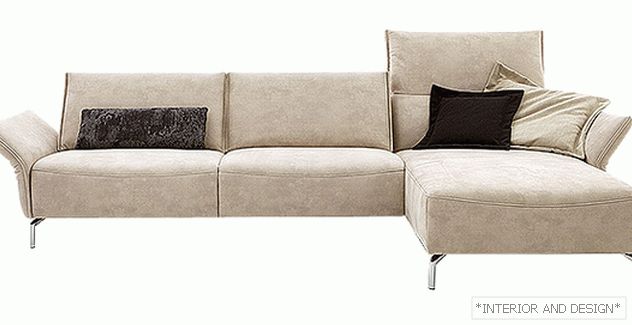 Volta, Koinor. Smoothly folding backrests adjust the depth of the seat. A choice of different options for the legs of wood or metal. The position of the armrests varies. Accent: decorative stitching.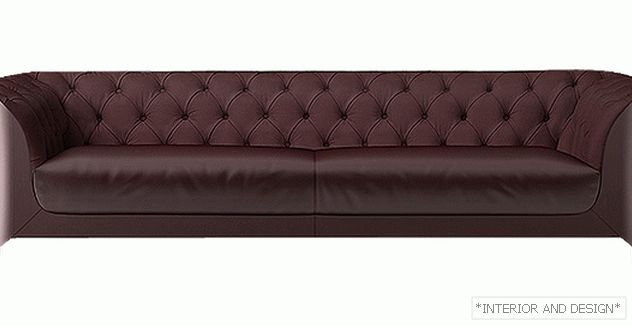 La Scala, diz. C. Bellini, Natuzzi. Classic motifs, plus advanced filler: memory foam, and Climalight - the latest generation of silicone microfiber.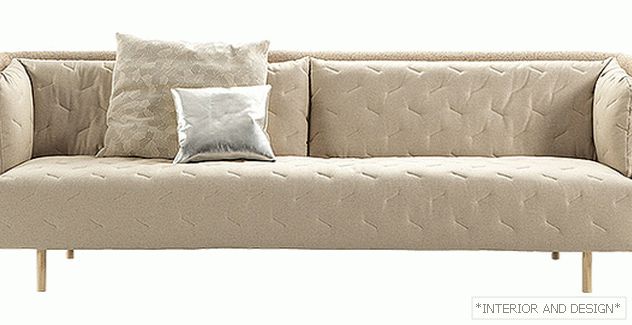 Couch Obi, call. Futura, diz. R. Garcia, Sancal. The name of the model gave the obi - belt, which fix the kimono; its structure is read in the backrest design. The legs in various versions, including from transparent acrylic.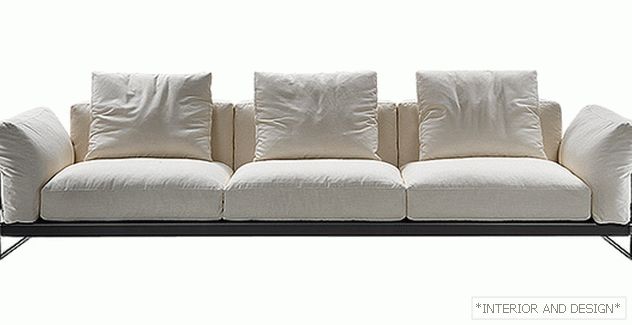 Zeno Light, diz. A. Citterio, Flexform. The frame in the finishes "chrome", "black chrome", "champagne", satin or brushed steel. Upholstery: leather (9 colors) and suede (4 colors).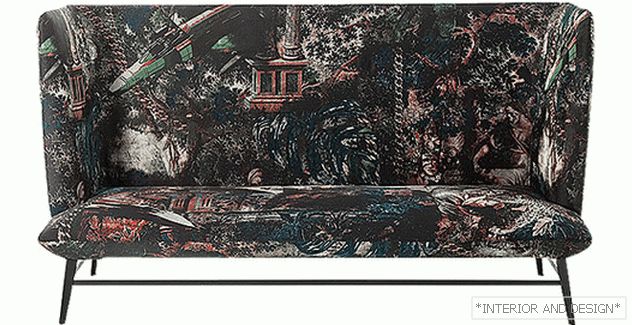 Gimme Shelter, diz. Diesel Creative Team, Diesel by Moroso. Upholstery: Jacquard. Wool and classic Diesel linen in stonenwashed processing are also possible.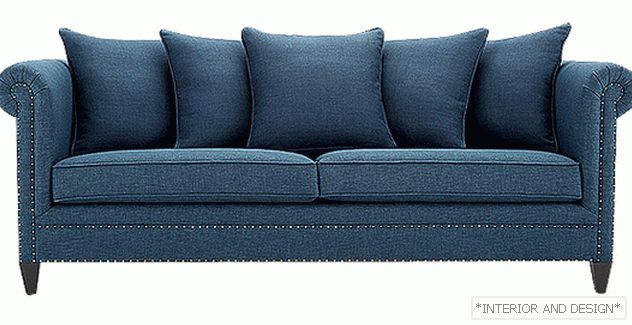 Durham, Crate and Barrel. Color: Sapphire. Manual decoration with artificially aged and nickel-plated decorative carnations. The frame of wood, dried by special technology. Legs from solid wood.