Canadian designers creatively approached the restoration of an 18th century mansion in Westmount Montreal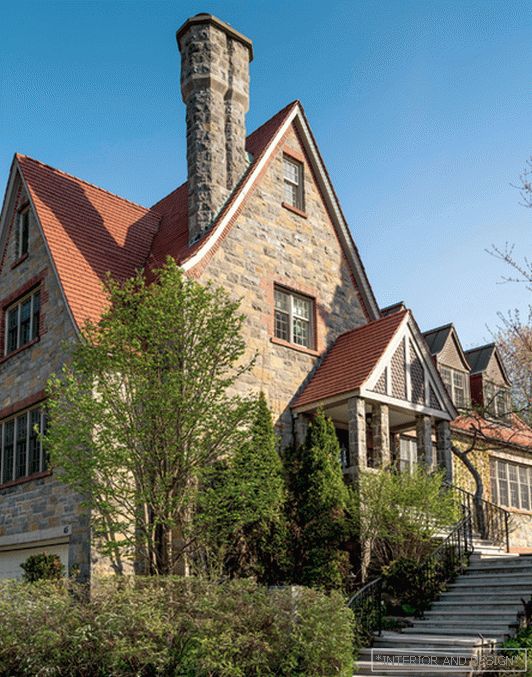 Passing the gallery
Magazine: (217) 2016
Canadian designers creatively approached the restoration of an 18th century mansion in Westmount Montreal
Westmount periodically changed its status. At the end of the XIX century it was considered a city, at the beginning of the XXI it became one of the districts of Montreal, but then it separated again. The contingent remained unchanged: old, well-born and wealthy families, descendants of immigrants from England. They built themselves solid houses, reminiscent of their native lands.
So, looking at the mansion, the trusted design bureau Les Ensembliers, it is easy to be fooled. It seems that this is Sussex or Gloucestershire, and not Quebec at all. Historical buildings here are treated with care, but without the fanaticism inherent in Europe, when the process of coordinating a project takes more time than, actually, the works themselves. The bureau is managed by Maxim Vandal and Richard Kyulet. The first one, in spite of the "compromising" last name, or, in spite of it, has tremendous experience in the restoration of historical monuments, which was useful for architects. The mansion was built in the XVIII century in the style of Tudor England and is a complex conglomerate of the main building and many blocks, here and there destroying a monolithic structure, suggestive of a home-fortress, if you take this statement literally.
The architects did not struggle with the multi-level structure of the house and generally tried to keep changes to a minimum. But without the expansion of too narrow a flight of stairs, similar to a hole, and the placement of windows on the south side, where there is the most sun, stingy, Canadian, it was impossible. The owner of the house is a longtime customer Les Ensembliers. The architects built a mansion for him in Palm Beach, where he spends the warm season. And this Quebec residence was supposed to be the autumn-winter residence. Therefore, bearing in mind the mild, but cool local climate and pale colors of the landscape, the architects designed the interior in calm, bright colors, playing on the possibilities of natural lighting. Richard says: "Of course, it was possible to simply repaint the interior, which left one impression — a dark tree, but we acted differently. Somewhere we did use a different color, but we left part of the chocolate and nut panels and beat, adding interior with colonial-style furniture, traditional Chinese porcelain and conceptual painting. Somewhere a tree comes to the foreground, somewhere, on the contrary, it is obscured by a bright spot of a painting or a series of different-format vases that distract attention. " The image of a respectable, elegant housing is diluted with art objects, for example, in the form of a dress from the net, African masks and graphics in the spirit of Salvador Dali. That customers do not get bored, say the architects.
Read the full text in paper or electronic version of the journal.