apartment with a total area of ​​132.5 m2 Andrey Rudakov, Lyudmila Odintsova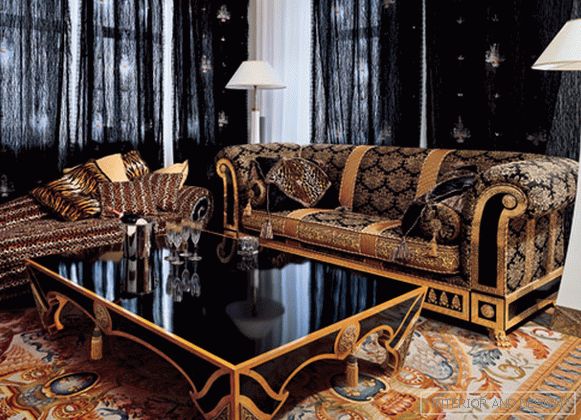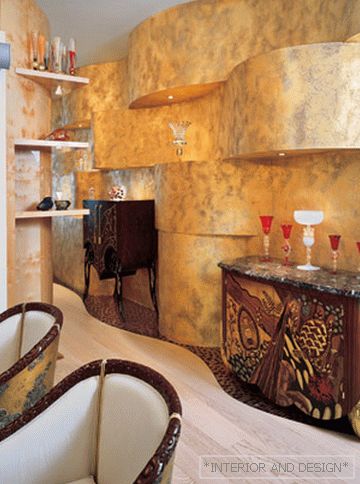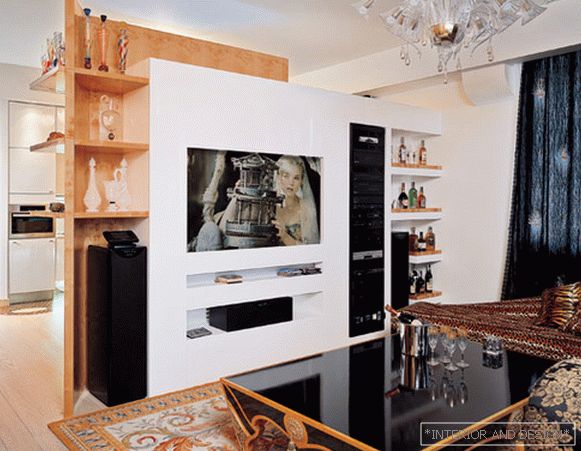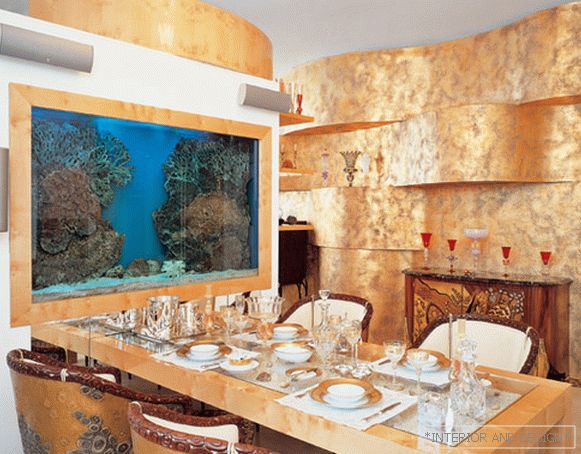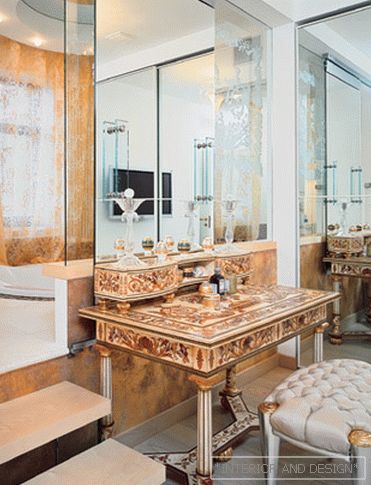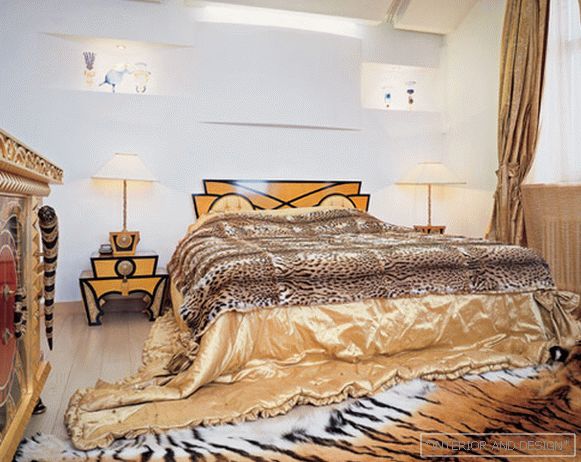 Passing the gallery
A photo: Evgeny Luchin
Interview prepared: Nadezhda Nadimova
Stylist: Marina Shvechkova
Project author: Lyudmila Odintsova, Andrey Rudakov
Magazine: N5 (105) 2006
Golden walls, mosaic, Venetian glass, fabric embroidered with rhinestones ... Adherent of rationalism and hi-tech architect Andrey Rudakov performed in an unusual genre. Co-authored with Lyudmila Odintsova he created a purely female apartment in the style of decorative kitsch
SALON: Judging by your previous projects, you enjoy working with simple shapes and spaces. And here the emphasis is on the scenery. Why?
Andrey Rudakov: Because this approach is consistent with the specifics of the order. The apartment was invented and planned for a young woman and is intended not so much for everyday life as for recreation and entertainment ... We thought it would be appropriate to make her such a fantasy "thing", to the irrationality of decorative, maybe a few salon. Moreover, the customer wanted something bright, extravagant ...
SALON: And what element of the interior has become the most extravagant?
A.R .: Of course, the golden showcase wall in the living room with its wavy ledges, on which we placed a collection of Venetian glass (illuminated Murano cups, vases, glasses) ... And in second place, perhaps, another functional decoration - a partition separating the living room from the dining area. From the side of the living room, a plasma panel is very skillfully built into it, and from the side of the dining room there is a huge aquarium with sea fishes and corals.
S: Furniture, accessories, glass - all these things had an impact on the appearance of the apartment?
Lyudmila Odintsova: Of course, very significant. Let's say the customer really liked the furniture from COLOMBOSTILE (with luxurious inlays, gilding, embossed) that we naturally could not ignore when working on the interior. Such things require a magnificent decorative surroundings: golden walls, mosaics, glitter ... True, we still could not refrain from some inclusions of high-tech and minimalism. For example, the Venetian chandeliers are side by side with a simple, quite high-tech built-in light. A white lacquered kitchen looks almost minimalist next to the richly decorated dining room.
S: Is it possible to determine the style of the apartment?
A.R .: It is difficult, but possible. Only historical names are not suitable. This is not a classic, not eclectic, not Art Deco ... This is a fantasy in line with decorative kitsch (if you remove the negative shade from the last word). We have relied on an external impression, on a purely female admiring of beautiful things, for which the space of an apartment is a spectacular setting.
Andrey Rudakov: "This apartment is completely different from what we have done so far. It is not modern, but not historical, one should not look for traces of influences of any particular style. This apartment is a fantasy that fully corresponds to the character of its owner and causes in people, if not admiration, then, in any case, surprise ... "