Architects Foster + Partners completed a luxury project in the City of London in the fall of 2017. The headquarters of the American news agency Bloomberg received the title of the most sustainable office in the world.
By topic: 10 of the most ambitious buildings in 2017
The office complex consists of two nine-story buildings connected by a pedestrian passage. It occupies a quarter close to the Bank of England and St. Paul's Cathedral, with a total area of ​​102,190 square meters. m (territory includes commercial facilities, food courts, two public areas and a new entrance to the metro station).
The BREEAM complex received the highest rating of the British system of certification of "green" buildings, as it spends 73% less water and 35% less energy than conventional office buildings. Representatives of Bloomberg emphasize that "the building was designed in such a way as to maximize the benefits of waste and respond to environmental conditions."
The facades are finished with sandstone and bronze to match the surrounding buildings. The bronze panels on the windows are sloped and arranged in such a way that they help maintain natural ventilation. The overall smart control system controls the temperature, automatically opening and closing the panels as a kind of shutter. The ceilings are made of aluminum plates in the form of petals, which regulate the level of illumination, and also absorb external noise. The light system of 500,000 LED lamps consumes 40% less electricity than traditional fluorescent lighting systems, which saves Bloomberg about $ 100,000 a year.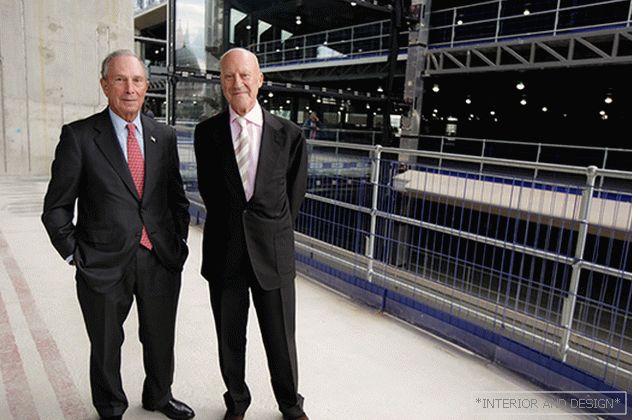 Michael R. Bloomberg, founder of Bloomberg L.P. and Lord Norman Foster, Foster + Partners announce the start of a grand project on September 17, 2015. Photo by Jason Alden.
In the interiors designed for 4,000 employees, oak has become the main finishing material. Only on one floor took more than 37 thousand square meters. m of wood. "People feel more comfortable being in a space where natural materials dominate," says architect Norman Foster.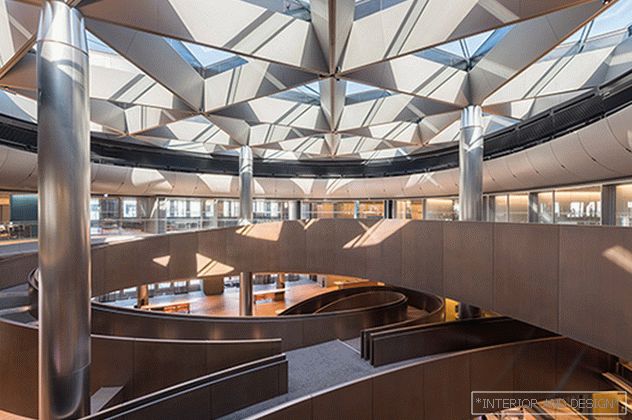 The breathtaking design, trimmed with bronze and wood, leads to the very top. It combines all floors and levels.
Archaeological finds that happened in the office building area half a century ago were returned to their former place, and now a museum will appear in the City dedicated to the temple, which stood here in about 240 AD e .: guests of Bloomberg will have the opportunity not only to find out where the global financial news is created, but also to turn to antiquities.