The XV Architectural Biennale in Venice - the main review of the achievements of modern architects - will be held under the ideological leadership of Alejandro Aravena. The Chilean curator formulated the theme as Reporting from the Front - "News from the Front." It is about the struggle for the quality of life that an architect leads on the border of civilization in the poorest areas of the world.
Tadao Ando, ​​Peter Zumtor, David Chipperfield have recently confirmed their participation in the Biennale. The list includes dozens of other world-famous pros, including Jacques Herzog and Pierre de Meuron, Norman Foster, Renzo Piano, Rem Koolhaas, Richard Rogers, Shigeru Ban, Kengo Kuma and Van Shu. "Reporting from the front" should show a new look at the global problems of our time: crime, traffic collapse, waste management, migration, environmental pollution and, of course, housing shortages. Of the 88 participants 50 - debutants, 33 - younger than 40 years. "This is not a deliberate move," commented Aravena. "Sometimes old people with great experience are surprised by the most recent ideas, while young people sometimes do not rush to waste energy and passion in their profession." Chilean architect Aravena is known for his brutal approach and minimalist aesthetics. His Elemental bureau provides affordable housing for the poorest segments of society. From 2000 to 2005 he worked as a visiting professor at Harvard University, was a member of the RIBA (Royal Institute of British Architects). In 2016 he received the architectural "Nobel" - Pritzker Prize (Pritzker Architecture Prize).
Russia will go to the Biennale dedicated to socially oriented architecture, with the "Exhibition of Achievements of the National Economy". The curator of the Russian pavilion will be the chief architect of Moscow, Sergei Kuznetsov, the commissioner - Semyon Mikhailovsky. Moscow decided to choose the theme of VDNH for the exhibition in the Russian pavilion.
Center for Innovation at the Catholic University of Santiago, Chile (2014). Architect A. Aravena.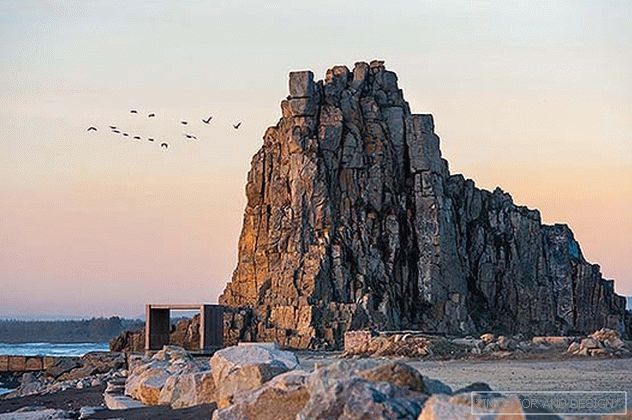 Sea Promenade, Chile. Architect A. Aravena.
The International Architecture Biennale in Venice will be held from May 28 to November 27, 2016 (opening day on May 26 and 27).