In the mountains of Sierra Nevada, in the south of Spain, the hotel El Lodge, decorated in alpine style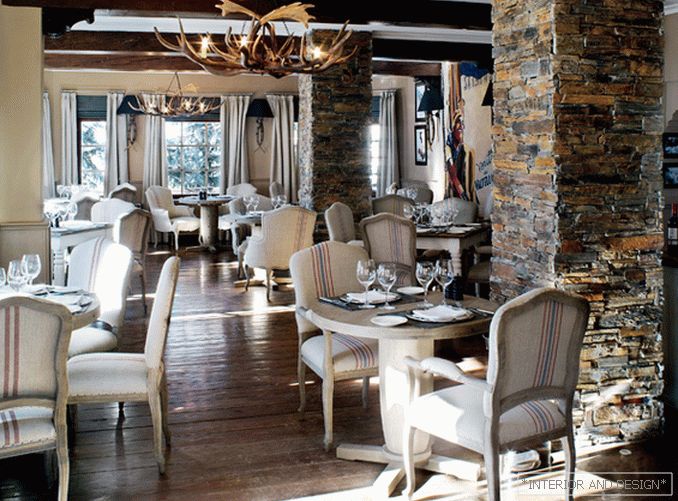 Passing the gallery
Text: Marina Volkova
A photo: - hotel press service
Magazine: N5 (182) 2013
In the mountains of Sierra Nevada, in the south of Spain, the hotel El Lodge, decorated in alpine style
История этого отеля–шале, расположенного в горах, тесно связана с морем. Гостиница принадлежит группе Marbella Club, главный отель которой находится на средиземноморском побережье — в Марбелье. Его основатель, принц Альфонсо фон Хоэнлоэ, одним из первых стал внедрять систему Ski&Sun, сочетающую отдых в горах и на море.
Benefit Sierra Nevada, where stands the El Lodge, responsible in this bundle for Ski, is the southernmost mountain range in Europe, and the coast from the Marbella Club is within reach. The interiors and finishes of El Lodge are not stingy. The building, a classic chalet, is a log structure, organically incorporated into the landscape. The interiors are designed by Martin Waller, the owner and art director of ANDREW MARTIN, and fully furnished with furniture of this brand.
Martin Waller - master of interior scenography. Work in cinema (scenery for many sensational pictures), cooperation and friendship with famous directors help. El Lodge - his Alpine-style fantasy. The designer made an emphasis on natural wood, hides and other signs of the chalet. In these interiors it is somehow homely cozy, the El Lodge hotel looks like the last. Understanding this, the owners provide an opportunity to rent a whole floor of four, five or six spas, and even the entire building. The main thing here, of course, is skiing. The resort has tracks of varying difficulty, a total of 119. This is for the whole Sierra Nevada, and there are 45 of them near the El Lodge. The lift is 50 meters from the hotel. The hotel has its own ski school and equipment "park", which is rented.